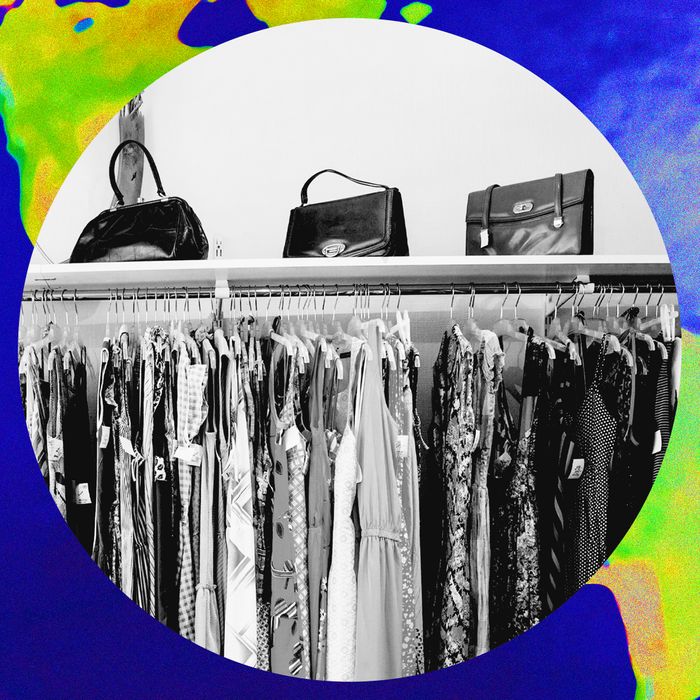 Photo-Illustration: by The Cut; Photo: Getty Images
With the rise of TikTok hauls and Depop resellers, thrifting has become lucrative. Influencers and resellers infiltrate their local thrift stores to find Y2K faves like low-rise jeans and chunky cardigans. Sure, thrift-store shopping is a great way to build your wardrobe. But there's been overwhelming discourse about the ethics behind thrifting and how it affects the communities many of these stores are meant to serve.
"The rise in popularity of thrifting can perpetuate systems of inequality," says Cynthia Alozie, seller and founder of Oluchi Vintage in Dallas. "Anyone thrifting long enough would agree that thrift stores are getting gentrified. This gentrification leads to an increase in prices, making it more difficult for low-income earners to access affordable clothing. Many thrift stores rely on donations, and these donations are a lifeline for those who cannot afford to shop anywhere else. I can see both sides of the argument around the ethics of thrifting. There are a lot of pros, including supporting a circular fashion economy, affordability, and long-term environmental sustainability."
Nancy Volpe Beringer, the founder of the Vault by Volpe Beringer — an online designer-resale store with adaptive styles — and a contestant on season 18 of Project Runway, calls it a balancing act. "The sad and hidden reality of thrifting is that a very large percentage of donated clothes go unsold and end up in landfills or are uncaringly shipped to third-world countries," she says. "However, I do strongly believe in the importance and benefit to the environment and community that comes from being a sustainable, conscious consumer. I believe the harm and destruction to the environment can be corrected by getting more people to support their local thrift stores, which do so much good for the community through the money raised through sales."
Thrifting is different from vintage shopping. For an item to be considered vintage, it must be at least 20 years old and of a particular era. Ness Isabella, founder of Nünü Vintage, says that to thrift successfully, one must have a certain level of gravitas. "Thrifting revolves around digging through lower-priced items where the buyer is doing the work and gets to be creative envisioning how each piece can be an added gem to their wardrobe," she says. "Vintage shopping, on the other hand, puts less pressure on the buyer because they're presented with a more curated selection of second-hand pieces to choose from." She says that the business behind thrifting comes at a cost.
So the question remains: Is there such a thing as truly being able to thrift ethically? According to Victoria Cooper, founder and curator of Miami-based vintage shop Capsool, there's no definitive answer. But there are some ways that both resellers and consumers can ensure they're being responsible.
Identify what's motivating your purchase.
If you're shopping for the thrill of acquiring large quantities of clothing for dirt cheap rather than out of necessity, it's time to reconsider. "Some people use thrifting as a way to justify buying more clothing items without considering the environmental and societal impact of their consumption habits," Alozie points out. "It's an easy trap to fall into when buying clothing at a low cost. Thrifting ethically requires mindfulness and discipline. That's the only way to avoid the cycle of overconsumption where we are constantly buying and discarding clothing."
She suggests that consumers think about what they can actually wear with little to no alterations and how much space they have in their closet to properly store clothes. They should also be aware of whether they're buying according to fleeting trends or their own personal style, and to choose items they're likely to wear longer. Also, she says, plan ahead to ensure your inventory is aligned with the current climate or season. For resellers, shopping with intention could include some factors mentioned above, in addition to planning ahead to ensure your inventory is aligned with the current climate or season and asking yourself whether the items you're purchasing are ones you know your audience would be interested in.
Buy pieces with your practical needs in mind.
Some content creators on TikTok are doing weekly or even monthly "thrifting hauls" in which they share their latest pick-ups with their followers. As entertaining as they can be to watch — because who doesn't love a good find at an even better price? — this is an example of going beyond your practical needs. The premise inspires others on these apps to do the same. Instead, it's best to use thrifting as a way to fill the gaps in your wardrobe. Isabella says that if we are collectively being mindful and have conscious shopping habits, we can make a positive impact. "At the end of the day, we have a responsibility to the environment, as well as to those around us," she says. "I think it's important to find a happy medium in all aspects of life — everything in moderation."
Look at the entire lifecycle of an item.
Another part of shopping with intent is thinking about the item you're buying in all its stages — mapping out its entire lifecycle before bringing it into your closet. In other words, how often do you see yourself wearing it, and once you're finished, do you have an exit strategy for it? You may want to rethink the purchase if you are unsure of the answers.
Respect the community that thrift stores serve.
A big concern about thrifting is that the rapidly growing interest impacts the communities that need these pieces the most. Abby Price, the founder of New York–based vintage shops South of Houston and Abbode, asks herself the following questions before starting the buying process: "Do I really need this, or can I really sell this? Because you wouldn't want to take items away from someone who could really use them."
You should be mindful of how much you're buying and the types of clothing you're picking up. Seasonal items like vests and coats, practical separates like workwear (suits, blazers, dress pants), school uniforms, and scrubs are essential for surrounding communities. For a lot of people, these pieces are a necessity. Steer clear of these sections when piecing together the Halloween costume you'll wear once at a party.
Gatekeep when necessary
Fight the urge to post your go-to thrift stores — especially if they're located in neighborhoods where the locals rely heavily on the inventory. Social media is a driving force behind thrifting concerns, because once a creator's post sharing a thrift shop goes viral, the store may be inundated with shoppers hoping to recreate the experience. Inversely, Brooklyn-based stylist, and founder of vintage shop By Colby, Ryan Gale notes that despite its pitfalls, one good thing to come out of this digital boom in the secondhand market is that it's prompting the fashion industry to slow down a bit. While you may feel compelled to share with your online community, you don't have control over the video's reach once it leaves your drafts.
However, Cooper says that increasing the number of consumers at thrift shops often means that the demand increases too. In turn, stores are reorganizing by raising prices, which can make it more difficult for the local communities who can't afford to shop elsewhere. "Some thrift stores may also be guilty of racial or socioeconomic discrimination, which can further perpetuate inequality and harm marginalized communities," she says.
Educate yourself on the secondhand market.
Gale says that part of being a conscious shopper in the secondhand space is familiarizing yourself with the existing resources, whether that means participating in clothing swaps with friends, trading with family, or donating your own gently worn pieces to places that could use them. Cooper furthers these sentiments: "There is still a lot of ignorance about this topic, and it creates a lot of miscommunication in the system as a whole." This means it's important to make sure the place you're buying from is transparent. "Responsible thrifting involves being mindful of the social, economic, and environmental impacts of our actions," says Cooper, "and making informed choices to reduce harm and promote ethical and sustainable practices."
"Just make sure you are purchasing from a seller that has the right motivations when selling and whose ideals align with yours," Isabella advises. For resellers, this includes pricing the items for what they're worth, rather than upselling them. This requires a significant amount of research to ensure you're aligned with current market prices. Price calls the process tricky, adding that you must have a really strong understanding of your customer base: "Something might be worth a certain amount based on the designer or what other sites have it listed for, but if customers aren't into it, they won't buy it for that amount." The Vault by Volpe Beringer searches the net to offer the lowest price for a particular designer piece.
Ask yourself how you're supporting your local thrift stores (and then do more).
Volpe Beringer wishes people knew how important it is to become sustainable, conscious consumers by supporting their local thrift stores. This looks like volunteering your time and donating money and gently worn clothes to continue the cycle. It also includes doing your due diligence to understand each specific store's needs. Some are geared toward women or children, while others only accept things like blazers and suit pants to help provide people with items they can wear to job interviews and work. So if you plan to pick up a few things at a thrift store, consider what their community needs before taking them.
Experts on thrifting:
Ness Isabella, founder of Nünü Vintage
Cynthia Alozie, founder of Oluchi Vintage
Ryan Gale, stylist and founder of By Colby
Abby Price, founder of South of Houston and Shop Abbode
Nancy Volpe Beringer, founder of the Vault by Volpe Beringer and finalist on season 18 of Project Runway
Victoria Cooper, founder of Capsool