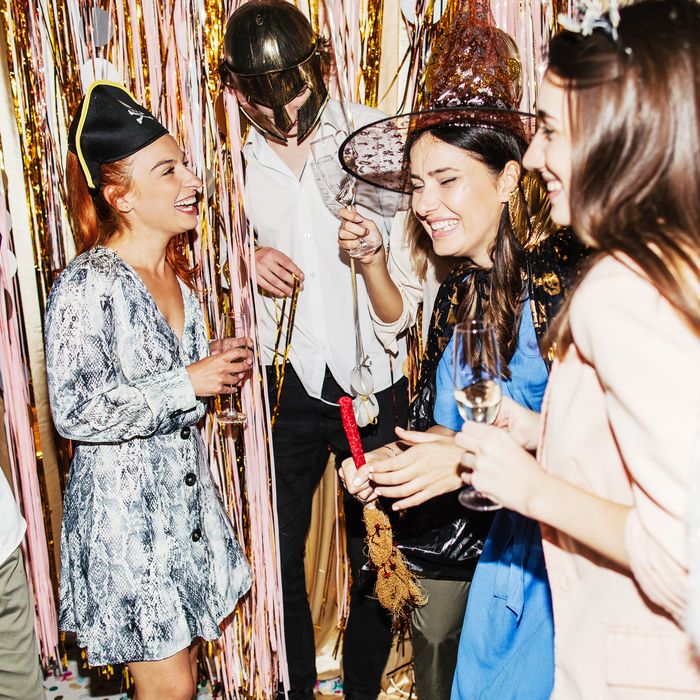 Photo: AleksandarNakic/Getty Images
Your friend is hosting a party and the theme is "dress like your favorite problematic person" — who are you going as? TikToker Liyana Kukkadi went as Kim Kardashian; her friends showed up as Chrissy Teigen, Steve Jobs, and Indian Matchmaking's Sima Aunty. You could go as Trump so you can reuse the suit for next week's themed shindig: "dress like your toxic type," which is (sadly) finance bros.
If you're a partygoer who also lives online, then this all makes complete sense to you. Gone are the days when a party's cool quotient was determined by trashed living rooms sprayed with used red Solo cups, sticky spilled White Claws, and regrettable mirror selfies on your Instagram Stories. Today, we measure how wild a party is with how wacky its theme is, often witnessed through a semi-viral TikTok video complete with costumes and catchphrases. Any gathering, no matter how intimate, apparently needs a theme.
It all started with the infamously chaotic presentation night, which has its origins in lockdown; then we got the "dress like your cocktail," "charcuterie board," or "whatever color you've been assigned to both wear and bring as food and drink," and the "bring your Hinge date," or better yet, "bring an ex." Real ones will recall Charlotte's "used dates" party from Sex and the City fame — it's that, but even more awkward and even more peppy.
The culture trending-news-to-trending-costume turnaround is so quick that rumors of Kendall Jenner and Bad Bunny dating had barely begun before people started mocking them at a meme-themed party. "Social isolation forced us to be more creative in the way we hang out; such themes end with an artifact and story that lives on well after the party is over," says Shreya Murthy, the CEO of party-planning app Partiful. And if these concepts weren't bizarre enough, Murthy says the next theme-party trend will be … water tastings.
Here's how it works: Guests bring different bottles of branded sparkling water. There's a blindfolded water-tasting challenge, and whoever guesses the highest number of brands right wins a prize; yay! "This has to be the funniest one I've seen recently," Murthy says. "Another popular one is hamburger parties. You carry chaotic ingredients and make random fillings together."
How did we get here? The pandemic, obviously. It's no surprise to hear that there are studies showing that after prolonged social isolation, we were craving real, meaty human connection more than ever.
But baking banana bread and being on mute on Zoom all day left most of our conversation-making social skills rather blunt and awkward. With this dilemma brewing, theme parties emerged as a validating icebreaker clad in sparkly rented dresses and borrowed hats. "We forgot how to interact without a catalyst for conversation, so dressing in a theme, where people put actual thought into their outfits, is a fun bonding experience. They always help in getting to know new friends better as well," says 24-year-old Kukkadi, who hosts a costume house party every couple months to expand her social circle.
Back in the aughts, parties were centered around a ferocious drinking culture. It was all about snapping grainy photos of people chugging down four-packs and sneaking bottles out of their parents' fancy stash; the night typically ended with terrifying thoughts of alcohol poisoning, blackouts, or both. Endless alcohol drove the tension in and out of a social gathering, but Gen-Z parties, like their attendees, are more sober-curious. With a growing number of teetotalers, Gen-Zers curate their hangouts with thoughtful projects that focus little on alcohol. Think of the Instagram-famous card game We're Not Really Strangers, created to redefine intimacy with play, or theme parties that make outfits and props a revealing point of conversation.
"We're a less drinking-centric culture these days, so people are looking for another activity to help them gather and participate," explains Murthy. A 2018 report by European investment bank Berenberg's research team surveyed 6,000 people between the ages of 16 and 22 in the U.S. and found that Gen-Zers drink 20 percent less alcohol than their millennial predecessors. Backing this, Arizona-based Becky Baize, 25, says her friend group spent their early adult years overwhelmed by the drunken stupor and rowdiness of a classic house party, so the face-lift of social gatherings was surely long due.
Baize posted a TikTok of her sister's birthday party, where everyone's costume was inspired by the birthday girl. "This spiced things up since we wore our own interpretations of my sister, and discussing the different versions and why we chose them brought us closer and made her feel really special," she explains. Baize's experience represents the ways theme parties can make people feel seen and accepted in friend groups. On presentation nights, even silly topics like "Taylor Swift songs that describe my friends," "everyone's most toxic ex," and "prediction of who Pete Davidson will date next" reflect a closeness between the group chat.
"I love how everyone's active on the group chat before a theme party; it's like we're collaborating on a creative project together," says Kukkadi.
These gatherings also serve as welcome relief from pricey nightclubs. In 2022, market-research company GWI surveyed 700,000 internet users between the ages 16–24 globally and discovered that 20 percent of Gen-Zers don't buy alcohol because it's too expensive for them. Although theme parties demand thought-out ensembles and personalized props, the more DIY and low-cost, the better. Case in point: the presently trending "coffee shop" theme. Here, the host makes custom sleeves for the cups; imagine how a Starbucks barista would scribble your name wrong, except this time a friend does it, possibly with an inside joke. Sometimes people tweak themes to give them a more make-it-yourself feel, like the popular "disco cowgirl" party. Instead of merely dressing in costume, partygoers come together to paint and decorate their cowboy hats with sequins, beads, and other embellishments. This helps to take the pressure off of sporting big brands or glamorous "more is more" outfits.
"For a lot of people, it's default to get a drink together, but these theme parties introduce a new level of play in our friendships — fresh anticipation to the dynamic," says Danielle Bayard Jackson, a friendship coach and educator based in Florida. The 35-year-old's clients are mostly women under 40 who want to strengthen their platonic relationships. From feeling stuck in a social group to being excluded from a best friend's bridal party, Jackson's sessions hope to facilitate better female friendships.
People have told Jackson that watching videos of friend groups doing TikTok trends makes them crave such intimate interactions. Comments like "I want to be in your friend group" are also common on theme-party videos. "Watching others have this relationship online encourages people to invest more in their own friendships too, like they start initiating plans or text on the group chat more," she says.
If you see a trend enough times (and with the robust TikTok FYP, it's many, many times), it's only normal to want to re-create it and be in with the cool kids. Being drawn in by the allure of unique parties is inevitable. So if you're invited to an "anything but clothes" or "fur coats, no knickers" dinner — the names are literal — or asked to dress as your favorite historical trauma, type of cheese, animal print, or the first letter of your name, buck up. It's for a good cause, whether it's the enduring bond of friendships or pure algorithm-driven, online clout-chasing. Even if the theme is "dress like it's your sugar daddy's funeral."