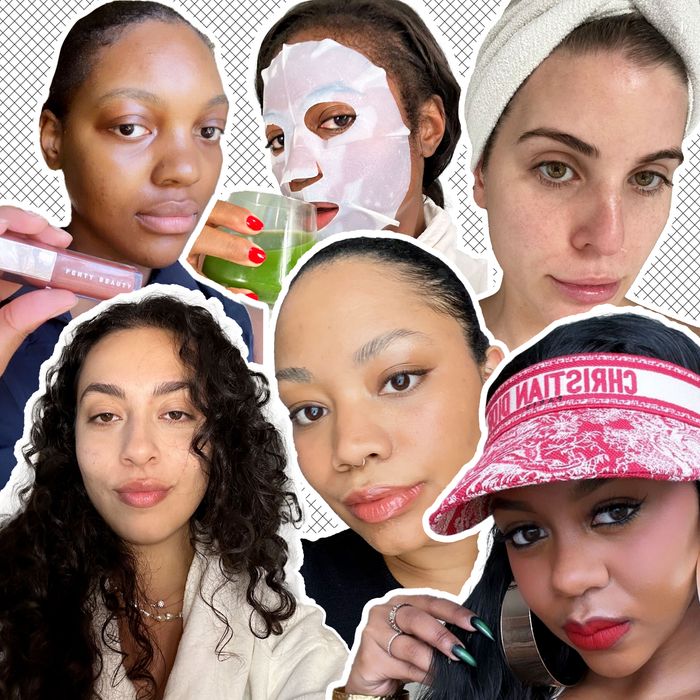 Photo-Illustration: The Cut; Photos:
For more of the Cut's favorite fashion, beauty, and home finds, sign up for the weekly Cut Shop Newsletter.
As journalists who report on the beauty industry, we try dozens of new products and treatments a month. Some are great, and some will just steal your money. To cut through the noise, we are suggesting products that we've tried and know are worth your coin. Most are new, but some are tried-and-true items that we're using again and again.
Maya Allen, Beauty Director-at-Large
I'm a frequent flyer, which can wreak serious havoc on my sensitive skin. After international or cross-country flights, my skin feels completely dry and depleted of every last drop of moisture. During those moments, I swear by these sheet masks to soothe and replenish my skin's moisture barrier. At this point, I put one of these masks in every suitcase so I have one on hand. The luxurious mask feels like a tall glass of water for my skin. It makes me look more glowy and awake than before.
I love working out and have learned how to pair my fitness routine with an effective recovery plan. Camila Perez at MOVA is an incredible expert and one of the pioneers bringing Brazilian lymphatic massage techniques to the U.S. Receiving her treatments has taught me so much about my body. After a high-intensity workout or a long plane ride, this massage feels detoxifying and relaxing for my muscles and mood. Her method is gentle yet effective.
Joanna Nikas, Deputy Style Editor
I had the pleasure of visiting Patricia Vernhes, owner of Mojave Desert Skin Shield, in Palm Springs. She took a couple of friends and me through a three-hour experience, including a sound bath, fascia facial, and infrared blankets. I've never been more relaxed. Vernhes created an organic skin-care line that left my skin feeling smooth. I love the nourishing oil I use to massage my face.
Asia Milia Ware, Beauty and Fashion Writer
TikTok got me. I saw Jackie Aina raving about the Nishane Hundred Silent Ways scent and a few other creators followed. It's a blind buy that everyone falls in love with, so I had to see what the hype was about. I wore it for a night out and immediately understood why everyone likes it — I guess I would call it love at first spritz? The gourmand fragrance is rich and warm with base notes like vanilla and vetiver that lure people in. The compliments are endless when I wear it.
I'm a blush girl. I love layering it on and applying it in different ways; it brings the flushed finish to my face that I'm always looking for. Rare Beauty's liquid blush was the blush that reignited my love of flushed cheeks. It's buildable, and the liquid melts into my skin for a radiant finish. Lately I've been layering it with Haus Lab's newest blush for a powder finish. This pairing will be my go-to for my spring-summer makeup look.
I'm always on the go, which means that my beauty products are on the go, too. Whether I'm packing my fair share of serums to combat dryness from flying or packing new products to test, a toiletry bag is necessary. I recently started traveling with Calpak beauty bag, and it's been a game changer. It's compact and fits everything I need for my routine plus some, and the clear packaging makes it easy to find what I'm looking for without digging in a bag and making a mess.
Danya Issawi, Fashion News Writer
Kiehl's Nourishing Dry Body Oil does the trick. My skin has been dehydrated this winter, and I have done it no favors by blasting the heat in my apartment. Now I'm stuck playing catch up on hydrating it, so hallelujah for this oil. Since I started using it, my skin has been way less flakey and scaly looking, and an eczema patch on my shin has completely cleared up. I like to lock in the oil with a body lotion on top. Added bonus: My legs look like little bronze Hercules legs right after use, and I will undoubtedly be slathering this on once miniskirt season comes around.
Something about Omorovicza Perfecting Lip Balm makes me feel pretty. Perhaps it's the sheen it gives my pout or the gentle, cool tingle my lips feel right after I put it on, but this product is the gift that keeps on giving. It's pricey, but I've used it consistently for weeks and have barely made a dent. My lips are rarely ever chapped now that I've started using this product regularly.
Chinea Rodriguez, Shopping Writer
Since I've replaced most of my liquid liners with pencil liners, I've been looking for a brown liner that goes on without tugging. Roen Eyeline Define Eyeliner Pencil glides on without any effort, and the color is perfect. I've been using it for a quick and easy cat-eye, and it takes less than a minute to do.
Tiana Randall, Editorial Assistant
As someone who grew up buying $5 lip glosses from the beauty supply store, Fenty Gloss Bomb in "Hot Chocolit" is the only product that can make me take several trips back to Sephora to purchase a $22 lipgloss and not regret it. The color is the perfect shade for darker skin tones and makes you look like you tried today when you didn't. This lipgloss's "heat" element gives me a plumping effect, and the thick doe-foot applicator allows for maximum application.
I have super-sensitive skin, and every time I try to explore other pockets of skin care, my skin reminds me that my tried and true will always be Cetaphil's daily facial cleanser. It's non-foaming, unscented, and has a tacky consistency, making the process of taking off makeup much quicker.