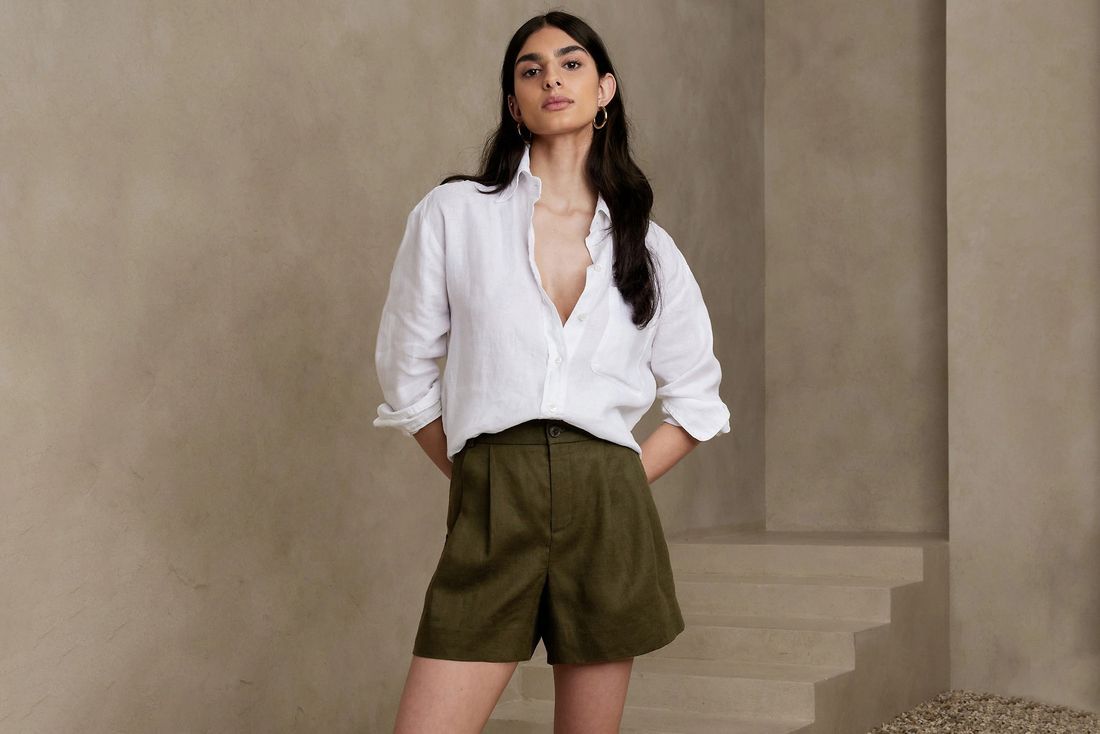 Anyone that lives in a place with actual seasons knows how frenetic spring can be: A typical April forecast can run the gamut from 72-and-sunny to 40-and-hailing — all in the same hour. It makes putting together an outfit tricky, but not impossible.
The key to getting dressed during transitional uncertainty is twofold: Rely on lightweight fabrics with smart design details, and think about layers that won't be a pain to carry around if you need to peel them off.
Long-Sleeve Mini Dress
A classic shift dress — especially in a breathable cotton fabrication — makes for a great spring outfit staple. Throw a similarly colored tissue turtleneck underneath for chillier days until it's warm enough to wear on its own.
Cut-Out Faux Leather Pants
Leather pants with ventilation? What more could you need for the confusing in-between days?
Knit Cardigan
Until it's warm enough to wear on its own, use this marl cardigan as a layer of warmth underneath a blazer or bomber jacket.
Long Linen Shorts
Linen shorts may seem like something made for summer proper, but the longer length lends itself to spring, too. Pair it with its matching blazer for an easy and sophisticated look.
Short-Sleeve Midi Dress
Don't underestimate the power of short sleeves to keep you warm when a subtle breeze picks up.
Skinny Scarf
This controversial '90s trend can be practical, too. Revel in its comeback by wearing yours with a simple midi dress and sneakers.
Boot-Cut Jeans
Wear this stretchy boot-cut jean with a chunky sweater and khaki trench.
Ballet Flats
A simple closed-toe ballerina is the perfect transitional weather shoe for work and play.
Twill Jacket
Swap out your traditional trench for this utility-inspired workwear jacket.
Sleeveless Sweater
Wear this short-sleeve dolman sweater atop your favorite button-down to style it like a modern sweater vest.
Knit Pants
The Y2K-inspired silhouette of these knit pants means they'll make a great layering piece, too. Wear them with a leather bomber or under a skirt now and with a ribbed white tank later.
Cropped Faux Leather Jacket
Combine this glossy faux-leather jacket with a mini skirt, socks, and loafers for a preppy spring look.
This advertising content was produced in collaboration between Vox Creative and our sponsor, without involvement from Vox Media editorial staff.