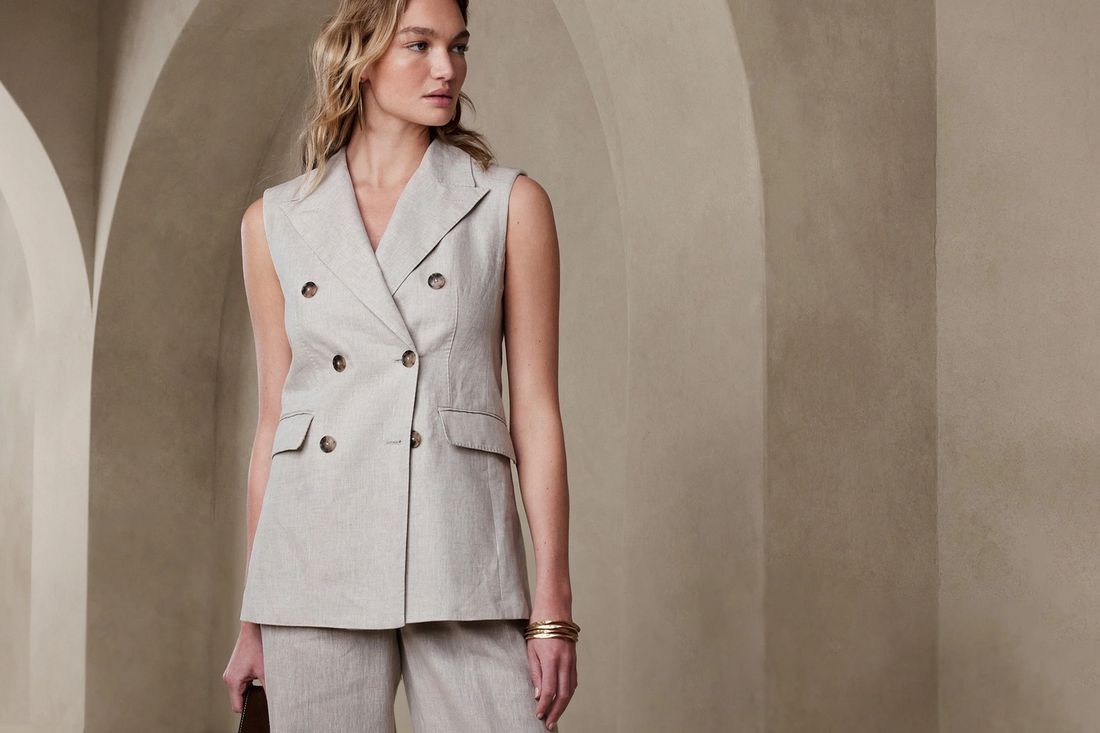 It's no secret that womenswear trends often inspire what happens in menswear, but the opposite is equally as true. And this season, any cursory glance at a social media network will show you that the influence has gone beyond oversized button-downs, penny loafers, and suits with shoulder pads.
In fact, 2023's new suiting heroes don't involve a blazer or a trouser at all — instead, it's menswear-inspired vests and pleated, office-ready shorts that are dominating the racks. While you can certainly wear them together, try pairing the vest with a column maxi skirt, and resist the urge to layer something underneath. Alternatively, look for pleated shorts with a longer inseam to make them appropriate for work and play.
Plaid Wool Vest
Ignore the inclination to layer this traditional wool vest atop a white button down and instead think of it like a fancy tank top.
Khaki Cotton Shorts
These cotton gabardine shorts are structured enough to hold their shape, but have sharp pleats and adjustable side tabs for a great fit.
Asymmetrical Vest
This asymmetrical vest from Scandi brand The Garment is two steps ahead of the trend cycle.
Long Linen Shorts
Shorts with a longer inseam are intrinsically work-appropriate, especially when paired with a blazer or jacket in a similar fabrication.
Longline Vest
This darted, full-length vest looks especially chic when paired with its matching trousers.
Striped Linen Shorts
Wear these striped linen shorts with a blazer and heels for a look that's fit for the boardroom. Then, swap the blazer for a white tee on the weekends.
Denim Vest
Wear this denim vest, which is made from 100 percent organic cotton, with similarly rigid jeans for a '90s look.
Printed Shorts
Listen, maybe retro-style eyeballs on your buttocks aren't the most work-appropriate, but not every short can be ready for the office.
Long Halter Vest
A smartly-designed halter vest, this style from looks like it was ripped off Christy Turlington circa 1994.
Longline Double-Breasted Vest
Opt for a vest that you can wear open, like this longline double-breasted version.
Bermuda Shorts
Here's solid proof that Bermuda shorts are still stylish — and probably always will be.
Slouchy Silk Vest
This silk vest is perfectly oversized for a slouchy, casual vibe.
Tailored Twill Shorts
Wear these pleated, dual-buckle trousers with a cropped, ribbed tank.
This advertising content was produced in collaboration between Vox Creative and our sponsor, without involvement from Vox Media editorial staff.