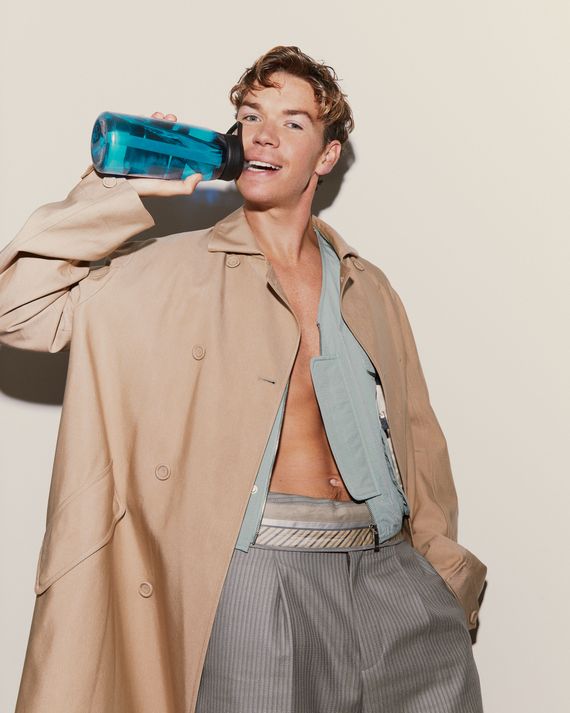 Photo: Rosie Harriet Ellis
Will Poulter has a barely discernible red scar running up the side of his hand. You would never notice it unless he stood next to you, which he's doing right now as we prepare for a cooking class in central London and realize to our horror that our lack of knife skills and respective injuries may be a bad omen.
"I don't tend to be a good cook, but I do love to cook," he tells me, tying the strings of his apron behind him. "It's one of my favorite activities." We're at Migrateful, a cooking school that offers classes led by asylum seekers, refugees, and migrants, and our teacher is Helen, an Eritrean refugee who fled a dictatorship after being imprisoned for evading the unlivable conditions of military service. We've never tried this cuisine before, and Poulter absorbs everything, asking questions about typical ingredients and the Italian influence on Eritrea's food culture. Helen demonstrates our menu for the day with the finesse of a true professional: timtimo (brown lentils and onion in a spiced tomato sauce), hamli (a side dish of braised greens), and a salad on a traditional flatbread. "Smells amazing, Chef!" Poulter says, grinning.
With his ice-cream swirl of strawberry-blond hair and the arch of his famously expressive eyebrows, Poulter is an actor who embodies his characters with full physicality. They range from the hilarious (We're the Millers) to the biting (the Maze Runner franchise, Midsommar) and always lead him to unexpected places. On May 5, he will enter the Marvel Cinematic Universe in Guardians of the Galaxy Vol. 3 as Adam Warlock, an artificially created antagonist genetically engineered to be a perfect specimen. "That doesn't really describe me," he says humbly, "and I knew the second they cast me that they were going in a different direction." His version of the legendary character is still "in his infancy" and "far from physically perfect in just about every way."
Poulter is, proudly, an enormous foodie who stans chefs the way Twitter accounts fawn over Taylor Swift and Timothée Chalamet. "Chefs are my rock stars. I worship chefs more than I do actors or musicians; I just think they're amazing," he says before recalibrating. "Actually, rephrase that: nurses first because I've got so many in my family. But then after that, closely followed by chefs." He loves Caribbean food, Japanese, and Thai but also underrepresented cuisines of the world because they should be "recognized at the same degree as their European counterparts." He recommends David Chang's books and a visit to Darjeeling Express, a Soho Indian staple with an all-women staff. His mind is a directory of all-time-great culinary wizards.
This love of food, however, placed Poulter in a bit of a predicament when presented with a strict superhero diet for Guardians. It was tricky, but he found he was more concerned about what was happening beyond his body. "I really appreciated that they prioritized my mental health throughout the process," he says, "because I was concerned about how it might affect me when I was really hungry or tired or stressed." By the time filming wrapped, he was let loose in Atlanta and embarked on a feast so immense he can't even recall what he ate, as if he were experiencing a hangover after a heavy night of drinking. "It was a blur of calories," he offers, laughing.
As a fellow sous-chef, Poulter is humble ("I need to make sure I'm not burning anything," he says, grimacing at his slightly charred greens) and ceaselessly encouraging, complimenting my not-so-great chopping skills as he sips a black coffee. ("I blame jet lag," he explains, revealing the source of his caffeine addiction.) He is frankly so kind that he may be setting the bar too high for any and all future dates. These culinary interests — perhaps his good manners, too — were passed down from his mother, who spent her childhood in Kenya and then cooked the dishes she grew up with back in England. "She went to culinary school and picked up a lot of different influences," he adds. "It was really interesting to grow up around."
Recently, Poulter has been reflecting on what it means to be a grown-up. His early roles in Son of Rambow and The Chronicles of Narnia brought him fame at a young age, and now, on the precipice of a new career phase, he's about to star in what could be his biggest film yet. He's wondering what will change and how he'll be perceived. "Obviously, as a man, you're less subjected to ageism," he explains. "But I would be lying if I said I didn't have some apprehension about it." After some encouragement from friends, he's evading the quarter-life crisis with renewed gratitude: "People talk about one's 20s as a learning period, and in your 30s, you put your learnings into action."
You could say food is Poulter's love language — not just for the sensory pleasures but because cooking and eating are communal activities. "Eating experiences that are somewhat unique and maybe explore less represented food cultures," he says, are ideal for a first date. "It's quite Eurocentric to order your appetizer and then your main course, but I like cultures that promote sharing food."
As for dates over a home-cooked meal, Poulter admits he's probably "better at eating than I am cooking." He has had his victories, such as his successful first attempt at a twice-baked cheesecake, which was passed around to friends and family. Still, he has been known for the occasional kitchen disaster. "I remember trying to cook duck breasts, which is actually really hard," he recalls. "I burned them so badly the smoke set off the fire alarm. They were basically inedible. I had somehow managed to burn them to oblivion on the surface, but then they were totally raw in the middle." He lets out a baffled laugh. "I couldn't do that again if I tried!"
Luckily for us, nothing has gone up in flames here. The spinach and kale of his hamli have wilted nicely, while I stir the remaining spices into my timtimo, soon to be plated on top of fragrant injera slices. Feeling accomplished, we move the conversation to the dinner table, where Poulter devours his dishes, then swiftly apologizes for being such a fast eater.
On our way out of the cooking school, Poulter offers me a short ride to the tube station, and in the car, he turns the questions back on me, curious to learn about my life and cognizant that I now know far more about him than he does me. "I feel bad because normally if you were on a date, you'd ask the person as many questions as they've asked you!" he laughs. Any dating faux pas are forgiven, though. The food was delicious, no blood was accidentally shed, and we part ways holding bags loaded with takeaway boxes.