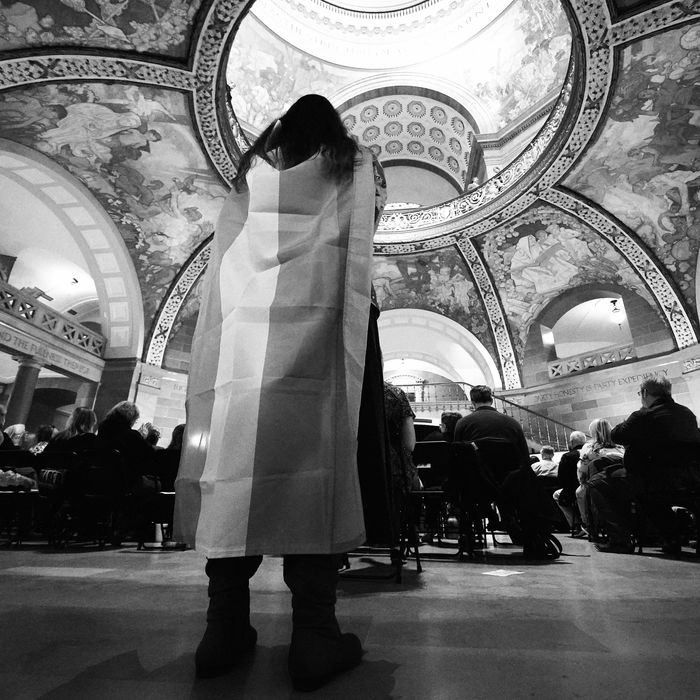 A counterprotester wears a transgender flag during a rally for a ban on gender-affirming care at the Missouri Statehouse.
Photo: Charlie Riedel/AP
In April, Missouri Attorney General Andrew Bailey announced an emergency rule that would dramatically limit access to gender-affirming health care for trans people of all ages. The order would make Missouri the first state in the country to restrict treatments such as hormone replacement therapy (HRT) and puberty blockers for both minors and adults. While a judge has blocked the order from taking effect until May 15, trans Missourians are worried about — and in some cases already experiencing — disruptions to this medically necessary care.
The emergency order would require that, before offering treatment, health-care providers make sure patients have three years of documented, "persistent and intense" gender dysphoria; did at least 15 hour-long therapy sessions in the last 18 months (at least ten of those sessions must be with the same therapist); "treated and resolved" existing mental-health diagnoses; were screened for autism; and, in the case of minors, were screened for social-media addiction.
The language of the rule suggests trans people currently receiving care will be able to continue their treatment — but only if they already meet, or take the necessary steps to meet, all of those criteria. After a group of plaintiffs that includes several trans patients sued to block the order, citing possible disruption to their care, Missouri Solicitor General Josh Divine said in a court hearing that "nothing prevents them from continuing the intervention that they're already doing." However, the Cut spoke with one person who said their doctor wouldn't continue providing care, while another was unable to reach their doctor to get any clarity on the situation.
Many others said they were making contingency plans and attempting to stock up on hormone therapies, such as estrogen and the harder-to-access testosterone, unsure if they'll find doctors willing to write new ones. Below, nine trans Missourians detail how the order is affecting them.
Oliver, 30, he/him
I've been on testosterone for three and a half years, but I am on Social Security disability insurance. I'm legally disabled by PTSD and depression, and one of the clauses in the order said that if you have mental-health comorbidities, then that should restrict your access to care. It's a catch-22. You have to have what the attorney general calls severe dysphoria, so serious emotional distress is what he's saying you have to have in order to receive HRT or any surgeries or trans-affirming care. But if you have that diagnosis, he thinks you're too mentally ill to consent to the treatment that you need. A lot of mental-health professionals are trying to figure out, How can I document my patients' stuff in a way that's ethical, but still going to get them access to care, but also not going to get me in legal trouble?
I'm pretty politically informed and knew that my access to care was always going to be precarious. With Roe v. Wade being overturned, I knew what was coming. So over the summer I had my hysterectomy, because I knew that my bodily autonomy was going to be compromised by Missouri and federal legislation. I decided to keep my ovaries because I didn't want to be in a position where I wouldn't be able to produce sex hormones if my access to sex hormones was taken away. I'm really worried for trans people who can't produce sex hormones anymore because, aside from osteoporosis, there's a whole host of health issues that can accompany that.
Right now, I don't know if I'm still gonna have my testosterone. My voice gets a little shaky every time I talk about it. My doctor told me to fill a 90-day supply to try to stock up. I contacted Planned Parenthood of Illinois and they confirmed for me that even though I have a Missouri address, I can go over there and get my medication filled if I need to. Testosterone is a Schedule III controlled substance. If I have to acquire my medication illegally, or if I help somebody by giving them testosterone, I can get in really serious trouble.
Virgil, 16, he/him
With the order, you can't start HRT if you've been diagnosed with depression or anxiety. I have depression and anxiety, I just haven't been officially diagnosed. Depression can come with gender dysphoria, and HRT is treatment for both of those things, so I probably would choose going on testosterone — I'll have to choose between diagnoses. It's ridiculous. I don't think anybody who agrees with the order should be surprised when the trans suicide rate in Missouri goes up, because it's going to.
I'm going to major in music history. My instrument for that major would be my voice, and since testosterone would affect my voice, I had the plan for hormones and college very thought out, and the attorney general's order threw a wrench in that. My whole life I expected I would be going to Mizzou, but now I have to consider going out of state and possibly even out of the country.
Damon, 29, he/him
After the order, I messaged my doctor and their assistant got back to me, so my testosterone is supposed to be at the pharmacy. I tried to order as much as I could, but I am thinking about stocking up and about friends I have in Illinois that would be willing to let me use their address if I can't access my medication here.
I'm in my third year of taking testosterone. I don't know if I would be grandfathered in under the order, but also the problem is I have been diagnosed with severe depression and anxiety and I've not had consistent therapy. It's on my records. I've been on and off with therapy since my transition. The therapy that I've been getting is just not really doing it for me, so I've been in between therapists.
I graduated from college in December. I just need to finish off one class. It was already a lot before the order, thinking about post-grad and figuring out how to stock up on testosterone until I get health insurance again through another job. Now I'm just like, Oh, shit. It feels more urgent than it did before. I'm really trying to think about how I'm going to survive.
Devyn, 34, he/her
I sent a message to my doctor the morning after the order was announced asking whether there's anything I needed to provide or anything we need to take into consideration. That's when I got the email stating that I needed to try to get my prescriptions extended out to 90 days, and stating that my doctor's office would not be able to continue to fill them after April 27 because they don't have the resources to defend their license.
I did get this month's prescription filled recently. I contacted my pharmacy, and it sent a request to the doctor to get the 90-day prescription, which should get filled as soon as it's allowed by insurance. So hopefully that'll buy me closer to a three-and-a-half-month to four-month lead on estrogen and progesterone. But here's the kicker: I am also prescribed a very, very low dose of testosterone, and I'm having difficulty getting that one covered in time.
I've been on hormone-replacement therapy for over a decade, and I would've certainly assumed by any sane measure that I wouldn't be impacted by this. My body doesn't produce hormones anymore. It's not like I'm going to transition back the other direction if I stop taking estradiol — or in my case, I also take progesterone. It's not good to not have any sort of sex hormones in your body because your bones start to deteriorate, on top of going through menopause symptoms and everything else. Beyond that, just the psychological effects and everything that can come with it — it's very cruel. I think that's the point.
Dana, 43, she/they
I started HRT at the end of January 2019. My clinic has been unclear on whether I will be able to get any new prescriptions, but the prescriptions that I have on file with the pharmacy — I get the sense that they will be honored. I have traditionally gotten estradiol in 90-day increments, so two fills of that is technically six months. But the progesterone I was prescribed recently is in one-month increments. So I have only two more months of that available. That could be a problem.
I have actually had two separate people offer me "spare" vials of estradiol. I'm on oral at the moment. Switching to injections would be a significant change. If I was not able to get HRT through prescription, I would switch to what the community refers to as DIY, which is essentially ordering whatever you want to put into your system from sources that will sell it to you.
The criteria in the order are intentionally constructed to force us out of treatment. I don't know of a single trans person at all that can fulfill those criteria, and I don't just mean in Missouri. If I have to be assessed for autism while I'm here, I'm going to do my damnedest to pass as not neurodivergent. Although I have never been formally assessed, I meet a lot of the criteria, so I feel like I'm dodging a bullet at the moment.
Quinn, 16, he/they, and mom Nancy, 46
Nancy: I felt a sense of urgency to try and get Quinn on testosterone. I made an appointment with Quinn's endocrinologist, who we've already been seeing for over a year and a half, and got in position to start T. But now I don't know if we're going to be able to soon enough. We're kind of in limbo, scrambling. There's a therapy process that Quinn has been involved in that we wanted to finish, but then the legislation became threatening. I realized that we might be killing two birds with one stone by starting the testosterone, as far as balancing out the mental-health care and the gender dysphoria.
We got a letter from Quinn's therapist and took the required paperwork to the endocrinologist's office about a week after the order was announced. They were in a meeting and told us to leave the paperwork, make an appointment in four months, and wait for a call from his nurse. I called but still haven't heard back from them.
Quinn: It is very frustrating. I can't do anything to help this process go faster, and speed is what we need right now. It feels like this is only the beginning. They're gonna take every right to gender-affirming care I can get, even when I'm an adult.
With the amount of dysphoria I have, it's created a lot of anxiety with going outside and being misgendered. I just don't feel comfortable in my own body, and that's really hard. I don't know how else to describe it. It just feels like I'm not who I want to be. I love talking, but it's very uncomfortable when I listen to my voice because it sounds very feminine to me even though I've done some vocal training from YouTube.
Soli, 25, they/she
I started HRT in October 2017. I recently swapped my provider to my primary-care clinic because my hormone levels have been stable for so long that I haven't needed to change dosages. I was hoping that they would be in touch with me and we could talk about how the order might impact me, maybe look at transferring my care to a Kansas-based facility or starting to fill prescriptions on the Kansas side of the border. But I haven't been able to yet, so it's a little worrying.
This year has been the first time in my transition that I've had decent insurance and have been able to start looking at gender-affirming surgeries. Now that I'm finally able to start looking into getting the recommendation letters necessary to go through insurance, it's getting taken away.
Penny, 20, she/they
I need to message my endocrinologist, but I think my script will likely become defunct because it is a Missouri script and, to my understanding, the readings of the order are far too vague for anyone to be willing to give trans people HRT — even if technically they do pass the grandfathered-in clause. So I'm likely going to have to figure out a different provider, and luckily I can just go across the river to Illinois.
That my depression diagnosis could prevent me from getting HRT was a conversation I previously had with my mom. Should I start trying to hide one medical diagnosis in order to get another medical diagnosis? But if my endocrinologist had said, "You're fine for right now, but if you qualified for one of those medical comorbidities, then you're for sure out," I would've made sure not to get a depression diagnosis so I could continue HRT. It's a crazy choice. But estrogen is a much better antidepressant for me.
I am here for university and the semester is almost over, so I'm going to be leaving for the summer soon. I'm going back home. I'm originally from Ohio. My mom and I need to have a longer sit-down conversation about this, but I'm not unique in processing whether or not it makes sense to stay at this school. If I couldn't get hormones, it wouldn't be a choice. I would be dropping out.
Blue, 20, they/him
I wouldn't be here without HRT. I started when I was about to turn 15 and it was lifesaving, because a lot of us do have increased thoughts of suicidal ideation.
When the order was announced, I got an email from my clinic and it was basically like, we're going to talk with our lawyers and see how this order affects us. They haven't sent another email yet explaining what their plan is, but I might have to find a new care provider. I have plans to try and get top surgery at some point, but I don't know how the order affects that either. I have privacy concerns with therapists and mental-health professionals, because the attorney general is requesting all these records and documentation from all these hospitals about their transgender clients. It's all this HIPAA-protected information. What do I do with that?
I thought about moving, but I just bought a house in January. I grew up here in Missouri my whole life. I'm still a Missourian just as much as anybody else who lives here.
These interviews have been edited and condensed.