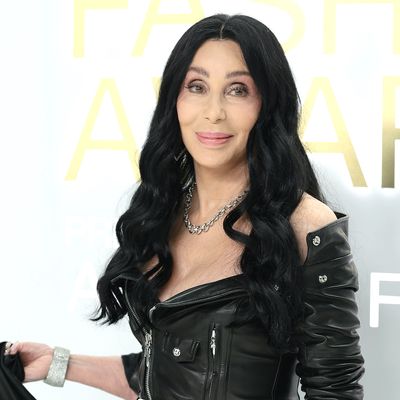 Say more!
Photo: Dimitrios Kambouris/Getty Images
I hate to be the bearer of bad news, but it looks like Cher and her music-producer boyfriend, Alexander Edwards, have broken up after six months together. On top of that, TMZ claims that the couple was actually never engaged.
Cher and Edwards were first spotted holding hands in public in early November, and in an impromptu Twitter AMA shortly thereafter, Cher confirmed the relationship. She also responded to comments from select fans — some of whom had opinions about the couple's 40-year age gap — with rejoinders such as "LOVE DOESNT KNOW MATH" and "As we All Know … I WASNT BORN YESTERDAY." Cher also said that she and Edwards met at Paris Fashion Week, that he treated her "like a [crown emoji]," by which she presumably meant "queen," and that "everyone" in her family has met him.
In December, Cher tweeted a photo of what looked like a massive engagement ring alongside the all-caps text, "THERE R NO WORDS, ALEXANDER,A.E." However, the meaning of the ring was not entirely clear: As many of her followers sent their congratulations, Cher came back with an alternate explanation that did not clarify the situation. "I posted this cause his nails are so cool," she wrote, resharing the pic. Meanwhile, one unnamed E! informant said the ring was "just a beautiful gift," totally neutral, and "they are not engaged."
Now, a source tells E! that the couple separated a few weeks ago, but that their split was amicable. Apparently, wearing a sparkling diamond on your ring finger doesn't mean you are engaged, and Cher was always just messing with us? May we all be gifted enormous diamond rings.
This article has been updated.