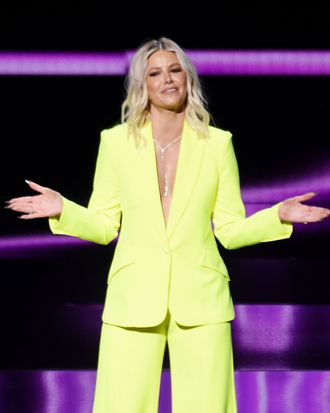 Photo: NBC/Scott Gries/NBCUniversal via Getty Images
You've heard of the "revenge body" and "revenge dress" — now welcome to the world of "revenge spon," a concept Vanderpump Rules star Ariana Madix has expertly demonstrated in the months since she was humiliated in the public eye by her partner of nearly a decade, Tom Sandoval. In the wake of the "Scandoval," as the affair between Sandoval and Vanderpump co-star Raquel Leviss and its fallout have been christened, Madix has turned her pain literally into profit by scoring a number of brand deals that, if it were me, would certainly soften the blow of being deceived by both my partner and the best friend he cheated on me with, in my own house and hot tub, for seven months. If you haven't been keeping track, here is the list of sponsored content deals, gigs, and appearances Madix has gotten so far since becoming our official national spokesperson for scorned women on March 3, when the scandal broke:
- Partnership with a sex-toy boutique
- Modeling for Bloomingdale's
- Celebrating something called "Natural Joy Day" for a flavored seltzer called "Joy Burst"
- A BIC razor ad that very obviously compared her ex to a drain clog
- An invitation to the White House Correspondents' Dinner
- A role in a Lifetime movie co-starring Meagan Good called Buying Back My Daughter
- A rumored upcoming appearance on Dancing With the Stars
- Collaborations with a clothing brand called Boys Lie and Uber Eats
- An Uber One ad featuring her co-stars Scheana Shay and Lala Kent parodying Shay's dance track "Good As Gold"
- Hawking her own merch, including for her sandwich shop that has yet to open
Ironically, Madix has secured the very thing that Sandoval, her former partner, claimed was keeping him from leaving her when he realized their relationship wasn't working: a new level of visibility for her personal brand. If you're a longtime Vanderpump viewer, what's been fascinating to watch has been the show's evolution from being largely about broke waiters to being a program about influencers airing their interpersonal issues so that fans buy their makeup and lip balm, listen to their podcasts, and patronize their restaurants. Because the stars aren't allowed to talk about that stardom explicitly by Bravo, their fame adds an unspoken pressure to the drama — many fights are obviously about who got what opportunity, and why it might make someone jealous, but they aren't really supposed to tell us that.
The Scandoval has finally put so many of these transactions into the open air; on last night's finale, the cast talked explicitly about the business of being reality stars, about tabloids, about appearing at BravoCon and on Watch What Happens Live. No one is pretending to pick up hostess shifts at Sur anymore, and the honesty feels cathartic: Sandoval has said that part of why he resisted ending his relationship with Madix was the strength of their brand together, alluding to products like their cocktail book and various other sponsorship deals that touted the pair as a loving couple. He didn't want to lose his ability to pay for his modern farmhouse in Valley Village by posting. What he didn't realize was that Madix's brand is so much better without him. Meanwhile, tickets to his cover-band concerts are half off.