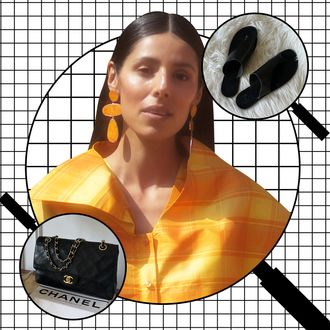 Photo-Illustration: by The Cut; Photos: Rebecca L Alaniz, Babba C. Rivera
For more of the Cut's favorite fashion, beauty, and home finds, sign up for the weekly Cut Shop Newsletter.
You'll rarely catch Ceremonia founder Babba C. Rivera in a black suit or pencil skirt. "I love to make an appearance," she tells us over Zoom. "I love to be fully me, and a big part of that is my brand's colors" — bright red, pink, yellow, and orange.
For Rivera, comfort is just as import as color: "There's nothing more stylish than seeing someone being fully comfortable in whatever they're wearing. You can tell when people dress for them versus trying to dress to impress." That's why her shopping habits are as intentional as her styling habits. She shops online out of convenience but loves a good concept store like T.A. New York and shopping vintage sites like Vestiaire Collective and What Goes Around Comes Around.
Below, see where Rivera got the pieces that made it into her curated lifestyle.
Where did you get the inanimate object that brings you the most joy?
My orange set from Christopher John Rogers from T.A. New York. There's something nice about having something that is so dressed up but not a dress, and it's very comfortable. I would definitely wear that at any Ceremonia event.
Where did you get the last thing you bought?
An orange bag from Swedish brand ATP Atelier, which has this trending bag it launched in fun colors for spring. I got in bright orange. I'm currently into orange.
What's your nighttime routine?
Nighttime is when I have the most time to do anything, because I have two babies. I do hair oil with Aceite de Moska and scalp massage, and I usually pair that with a face mask. I like the Tata Harper one. It feels like a spa moment and doesn't need to take more than fifteen minutes.
Where did you get the item you wear the most?
My tank tops from Anine Bing. I live in these. I initially got it in white to layer under a white shirt. The tank top is so thick, and most white tank tops are just too see-through, but this one is really solid. When I realized that, it became my go-to tank top. I keep some in my house upstate and in my apartment. The brand launched one with thinner straps, and I got that in black and white too.
Where did you get your signature scent?
I created it. The base note is tonka beans. It's in almost every fragrance from Latin America. It's considered a lucky charm. The tonka beans provide a sense of familiarity, and a lot of people say it smells like home. It has bergamot, pink pepper, violet, vetiver, and driftwood. It's inspired by our Aceite de Moska.
Where did you get the item you splurged on the most?
My Hermès Kelly bag from Vestiaire Collective. I've been on the hunt for quite some time, and I really prefer luxury vintage — it feels more sustainable. I feel like, back in the day, they used better materials. My vintage Chanel is my favorite, and I don't think that anything lives up to the vintage one I have. With the Kelly bag, I wanted a smooth leather surface, and the ones that Chanel sells today are more structured. Initially, I wanted a black one, then I found this navy one, and I just fell in love. It pairs really nicely with black and denim.
Where did you get the item you've had for the longest time?
My black Rosa sandals from ATP Atelier. I haven't really loved my feet (it's a super-weird thing to waste energy on), but I've come to terms with the way they look. So I struggled with sandals, and the Rosa was the one sandal that felt elevated enough. It covers your foot a little bit more, so it feels more chic, and I could wear it in a professional setting (like to the office) without feeling like I was coming straight from the beach.
Where did you get the item you'll never get rid of?
My vintage black Chanel bag from What Goes Around Comes Around. It's very sentimental for me, because I've always dreamt of a Chanel bag. It feels silly in retrospect, dreaming of a material thing like that, but I'm fascinated by Coco Chanel's story and everything the brand stands for. It has always been on my vision board as something unattainable. My husband is my biggest cheerleader. I think he sees more potential in me than I see in myself. For one Christmas, he decided to get me a Chanel bag. I don't think he fully realized how expensive they were, but he had already mentally committed to it, so when he went to the store, he was like, "Oh, okay, I don't have any other ideas now, so I guess I'm just going to be broke." He got it, and he read up about Chanel, and apparently, this bag has this little weird inner pocket on the flap, and nothing fits there. He was so curious about it that he did all this research, and it turned out she'd created it for you to store your love letters. So he gave me the bag with a little love letter in there. The gist of the letter was that soon I will be able to buy all these things by myself without even thinking twice and he wanted to take the opportunity to surprise me while he can.
Where do you get your favorite gifts to give?
Ghia and Drizly. I'm a last-minute person, so I order Agua Mágica mezcal on Drizly, and it shows up at my door in an hour. I buy a case of Ghia bottles, and I keep them handy to gift and keep at home for when I'm hosting guests. I like the glasses the company did in collaboration with Sophie Lou Jacobsen.