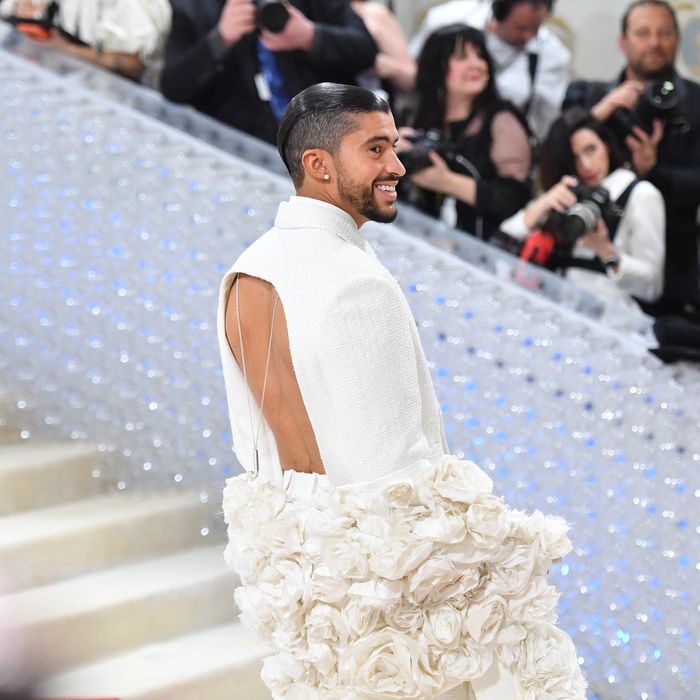 Hellooo, Benito!
Photo: Noam Galai/The Hollywood Reporter via Getty Images
Want more of the Met Gala? Sign up for The Cut daily newsletter so you don't miss any of our coverage. Newsletter readers will also receive exclusive interviews with attendees and Cut staffers' personal picks for the best — and worst — looks of the night.
Recent news regarding Bad Bunny has not exactly been peachy, so I was both relieved and delighted to see him — and just him — on the 2023 Met Gala red carpet. The creamy off-white of his tweed suit. The shawl made of roses draped over his forearms. Peaceful, soothing, a refuge from Met Gala chaos. And then he turned around.
Hellooo, Bad Bunny's bare back! What are you doing here? What is the meaning of your big J pendant? No matter. I'm happy to see you. Your trapeziuses look great. Have you met your paler cousin, Timothée Chalamet's back? You'd get along great.
While Bad Bunny's rumored girlfriend, Kendall Jenner, did show up to the gala tonight, they don't appear to have linked up (at least not before getting inside). Maybe they'll officially announce their relationship via bathroom selfie?