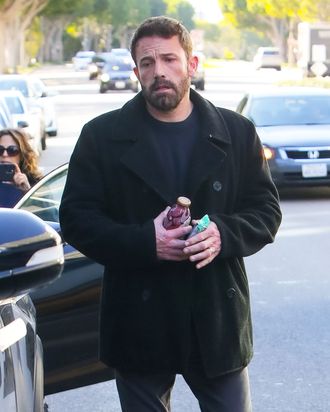 Same.
Photo: BG020/Bauer-Griffin/GC Images
There are some celebrities who you can always depend on to be in the exact same mood. Nick Cannon? Forever horny for unprotected sex. Gisele Bündchen? Consistently glowing with the light of a thousand suns now that she doesn't have to live in Boston. And then there is Ben Affleck, who is perpetually at his wit's end. I cannot blame him.
Affleck briefly abandoned his post as Hollywood's most fed-up man when he got back together with J.Lo, engaging in an impressive amount of public grinning while dressing like a Bonobos model. Which was nice and all, but the laws of celebrity physics dictate that what goes up must come down, and lately, Affleck has returned to being brutally honest about being in a Very Bad Mood.
This week, video evidence emerged of Affleck patiently holding a car door for his wife before closing it with the defiance and exasperation of, well, Ben Affleck circa 2016. He and his iced coffee then head around the car to the driver's side, where he gives whoever's filming him a pissed-off shrug. Please, observe him channeling all the rage and agony in his body into one hand motion:
Many people have interpreted the terminally miserable look on Affleck's face as signs of trouble between him and J.Lo. ("Page Six" interpreted an apparently tense moment at J.Lo's movie premiere as a sign that Ben "wanted this girl gone," which, hmm, no?) Personally, it seems to me like he's more pissed off at the paparazzi who've presumably been following him around all day than at his wife, who, need I remind you, he just held the door for.
I can't speak to the status of Bennifer's relationship, but I will say this: Ben looking deeply annoyed is simply his resting mood. It is nature healing. It is celebrity transparency. Our guy is just trying his best to make it through another day of being filmed while parallel parking. He's had enough. Haven't we all?