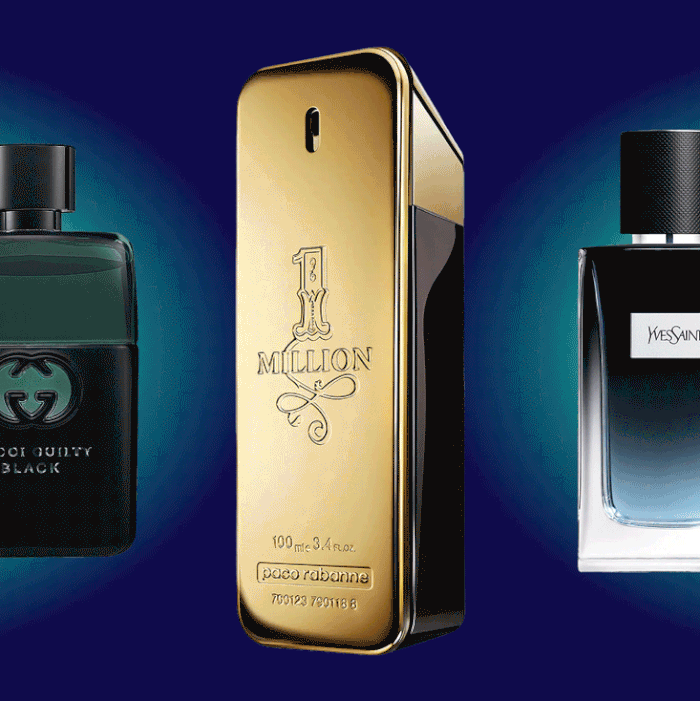 Photo: Sephora; Photo Illustration: Marissa Dickson
Fragrances make the perfect gift, but finding the right one for someone in your life can be a challenge. Blindly plucking a bottle of cologne off a Sephora shelf is a valid Father's Day gift-giving strategy, but we have a way that can make the elimination process more personal and, if you can believe it, easy. Just look at the fragrance family.
Every fragrance, from toilettes to colognes, fall within a fragrance family, which is really just a way to categorize scents by notes. It can be argued that there are many genres of families (and subgenres within them), but more often than not, any given fragrance can be classified as spicy, woody, or fresh. Does this dad seem more like an earthy note person or an aquatic one? Or would they prefer something smoky and spicy? Once you answer those questions, finding the perfect fragrance is a breeze. We broke down each fragrance family, so you can get started on buying dad — or any father figure in your life — their annual cologne at Sephora.
Warm and Spicy
This fragrance family can include a lot of notes of varying intensities. On one side of this category lives the amber notes, like vanilla, musk, and rum absolute. The latter adds the warmth, but notes like pink pepper, ginger, nutmeg, and cinnamon bring the spice. The combination of the two make for a sensual family of fragrances.
Take the Maison Margiela REPLICA' Jazz Club Eau de Toilette, for example. Inspired by the inside of a jazz club, its cocktail of notes blends the aroma of cigar smoke and worn leather with the syrupy afterglow of dark liquor. It's strangely romantic and sexy in the kind of way only a jazz club could be. Valentino Uomo Born in Roma Eau de Toilette lives in a similar vein with one of its hero notes — vetiver. Vetiver is usually classified as a woody scent, but when paired with ginger, it can create a warm smokiness that quietly entices anyone who gets a whiff.
Sometimes you don't have to search very long for a fragrance's notes. Viktor & Rolf Spicebomb Night Vision Eau de Parfum offers it up right in the name. If the last fragrance is quietly spicy, this bold blend wants to wake you up with fresh black spices, like black chili and clove. It's made to make a statement.
Earthy and Woody
Primarily made up of notes derived from wood materials (trees, moss, resin) and some grasses and leaves, this fragrance family is all about the beauty of the natural world. Research has shown that being outside can have a range of cognitive benefits, but to keep it simple, touching some grass actually can make you feel happier. It makes sense that this group's most common notes evoke similar sensations. A bottle of luscious, full, and soulful notes, derived from the woods most dads wish they'd retired to long ago, will transport them away from their computer and straight to their happy place.
Classic, solid, and cool, the Yves Saint Laurent Y Eau de Parfum embodies everything dad loves about this fragrance family (even if he doesn't know it yet). The bold fragrance combines "sensual wood" with sage and geranium to create an energizing cocktail. Prada Luna Rossa Ocean Eau de Toilette pulls inspiration from nature, too, using notes like vetiver and sage to result in a uniquely masculine blend. Designed to resemble the ocean, the bottle's dark graduation of blue will give this dad a glimpse of the fragrance's intensity.
If you think they'd prefer something more aromatic and green, consider the Gucci Guilty Black Pour Homme. We're betting they don't own anything like this aromatique fougere, an olfactory subgroup that uses a particular composition of citrus, floral, and woody notes. Lavender, orange flower, and patchouli make this fragrance a must have for the dad who likes scents with an innately masculine undertone.
Fresh
Have you ever spent a Sunday afternoon at your local farmer's market? What about sitting on the beach on the first remotely warm day of the season? If you've answered yes to at least one of those questions, then you're familiar with some of this family's most common notes (think: sea salt, lemon, and grapefruit). The aromatic category is defined by its citrusy, clean, and oceanic compositions.
Fruity notes can be powerful, so it's not uncommon to find them paired with softer notes like tonka bean or white wood. See: Paco Rabanne 1 Million Eau de Toilette. This fresh and spicy fragrance combines a slew of notes you'd think could never go together — frosted grapefruit, leather, cinnamon bark — but blend in perfect harmony.
You can't bottle the Mediterranean Sea, but the Armani Beauty Acqua di Gio Eau de Toilette comes pretty close. The splash of marine notes, including Carabrian bergamot, neroli, and green tangerine, embody exactly what it would be like if this dad were to take a seaside vacation. A light blend of persimmon and rosemary round out this fresh scent.
This advertising content was produced in collaboration between Vox Creative and our sponsor, without involvement from Vox Media editorial staff.