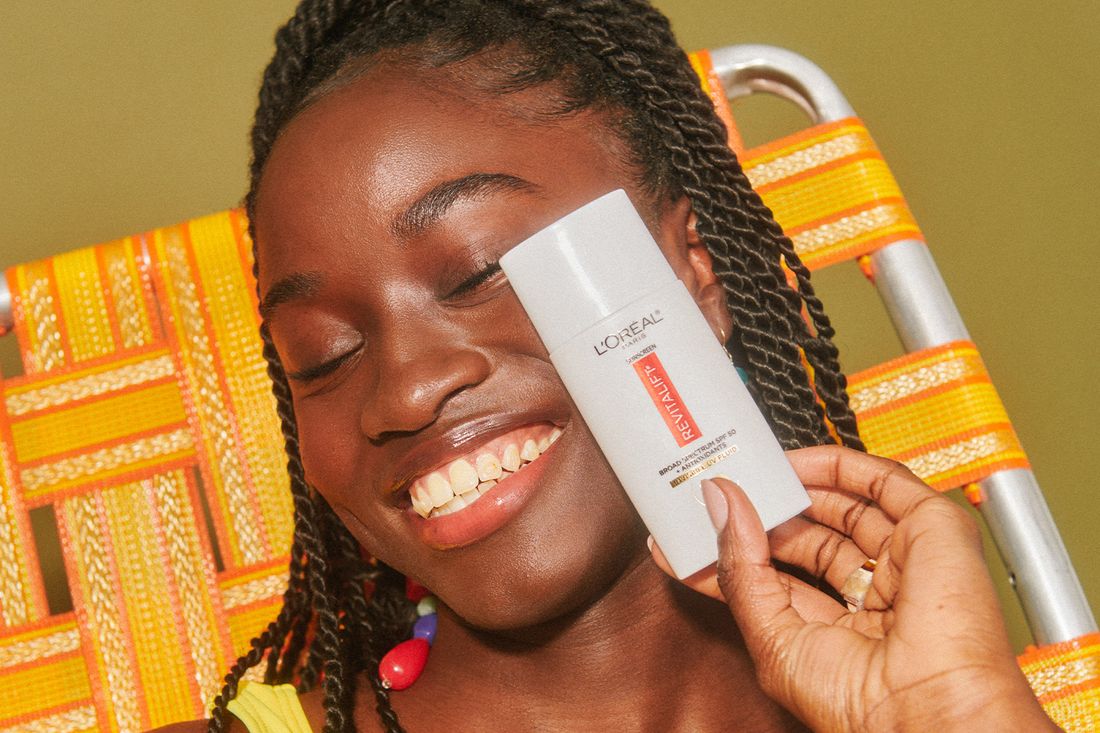 While National Sunscreen Day is a great reminder for us delinquents to wear sunscreen, it's really important to remember to slather on the skin-care product every day, no matter the season. Simple, right? But it can get expensive, especially when you already have cleanser, serum, moisturizer, and targeted treatments to invest in. Healthy skin can be pricey.
The good news is that your go-to sunscreen doesn't have to leave your pockets on E. L'Oréal Paris has a variety of sunscreen lotions, serums, and moisturizers with SPF that you can add to your skin-care routine to make sure you're protected. They're all pretty affordable (especially compared to some popular celebrity faves) and available at the drugstore.
L'Oréal Paris Revitalift Derm Intensives Broad Spectrum SPF 50 Invisible UV Fluid
This lightweight liquid sunscreen applies as seamlessly as a serum (but should still be the last step in the skin-care routine) and absorbs just as quickly as one. The fragrance-free and dye-free formula never feels tacky or greasy and won't leave a white cast on any skin tone. Since it's made with vitamins C and E, it also helps to brighten the look of skin while it protects from the UV rays that cause aging, the ones that cause burning, and free radicals.
L'Oréal Paris Revitalift Triple Power Day Lotion SPF 30
This pick is less a sunscreen lotion and more a moisturizer with built-in UV protection. That means it lets you combine the last two steps of your skin-care routine and leaves your skin feeling (and looking) moisturized. It's formulated with hyaluronic acid (our skin-care bestie), vitamin C, and Pro-Retinol, a trifecta of derm-approved ingredients for an effective anti-aging routine. Apply it before you start your makeup routine each day and watch your skin look brighter, firmer, and smoother over time.
L'Oréal Paris Wrinkle Expert 55+ Age Defense Lotion SPF
Don't let the label fool you — you don't have to be well into your 50s to use this calcium-rich sunscreen lotion that helps fight and prevent wrinkles. It keeps the skin hydrated for up to 24 hours while built-in SPF 30 protects your complexion from UV rays that cause burning and aging (read: more wrinkles). If you don't already have wrinkles, it's still helpful for a preventive skin-care routine.
L'Oréal Paris Age Perfect Skin Care Rosy Tone Broad Spectrum SPF 30 Sunscreen
A daily face moisturizer and sunscreen in one, this option gives mature skin back that rosy, youthful tone that can dull with aging. Made with lipo hydroxy acid to gently exfoliate and imperial peony (for that rosy glow we just mentioned), it leaves skin feeling softer and smoother and looking more glowy with continued use.
L'Oréal Paris Age Perfect Skin Care Collagen Expert Day Moisturizer With SPF 30
Collagen is a derm-recommended skin-care ingredient because it helps give skin its bounce, elasticity, and firmness. This sunscreen moisturizer is equipped with the powerhouse ingredient, plus niacinamide, which is known for its skin strengthening and brightening properties. The moisturizer immediately hydrates the skin, and after weeks of continued use you'll notice a more toned, contoured visage.
This advertising content was produced in collaboration between Vox Creative and our sponsor, without involvement from Vox Media editorial staff.