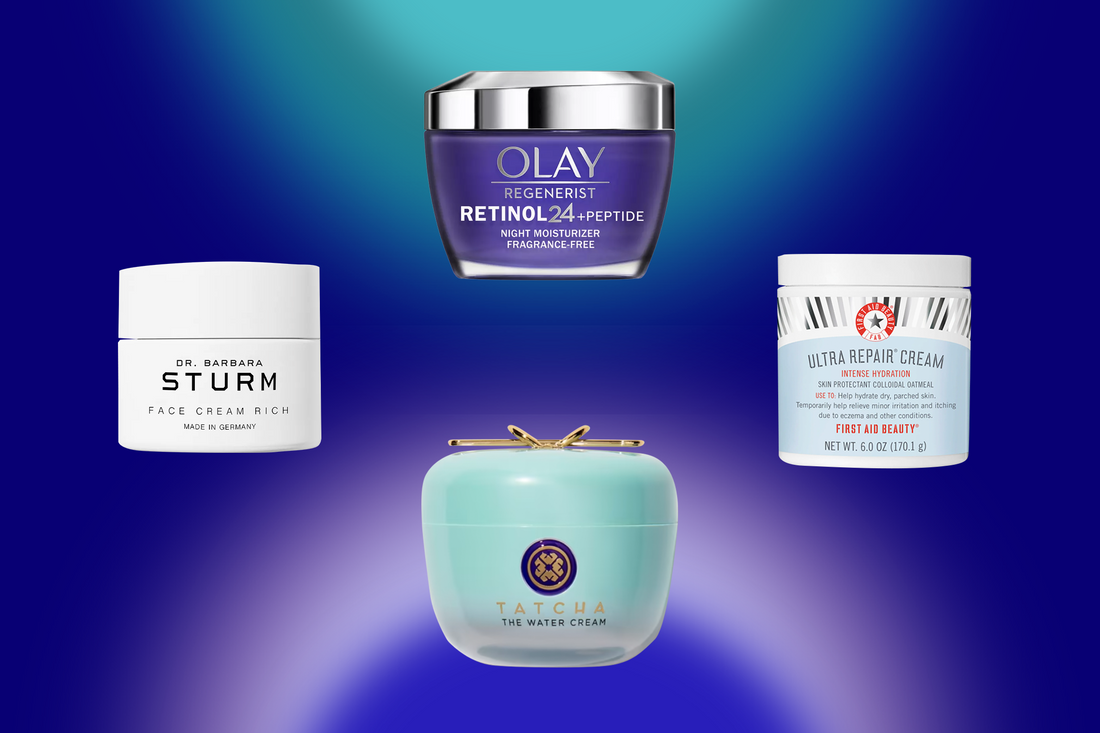 Photo: Olay; Nordstrom; Tatcha; Bloomingdale's
Your skin-care regimen probably already includes a moisturizer, but the real question is: Are you using the right one for your skin's specific needs? Moisturizer might not be the most exciting step in your daily routine, but it is the most crucial. Like the icing on a cake, or whipped cream on a milkshake — it's just not as satisfying (or effective) without that final flourish. Rather than addressing dryness with a blanket one-size-fits-all cream, why not use your moisturizer to target specific skin concerns? The more you can rely on certain ingredients and formulas to address things like redness or excess oil, the more you can make your regimen work for you.
To smooth the look of fine lines and wrinkles
Until fine lines and wrinkles can magically disappear IRL as easily as they can with the tap of a TikTok filter, a retinoid moisturizer is the next best thing. The retinoid complex helps to visibly improve fine lines and wrinkles, smoothness, brightness, firming, dark spots, and pores, while moisturizing ingredients help the skin stay hydrated through the night (and into the next day).
To strengthen a weak moisture barrier
Say it with us: Good skin begins and ends with a healthy moisture barrier. If yours is compromised (from over-exfoliating, harsh chemicals, environmental stressors, etc), this moisturizer is made to bring it back to its optimal state with rich, restorative ingredients like ceramides, squalane, and a plant-derived lipid complex.
To sooth itchy skin
Whether it's eczema or just a rough patch, this rich cream is intensely hydrating and soothing, thanks to the shea butter and colloidal oatmeal. Even if you don't normally experience itchy, irritated skin, it's a good one to keep on hand in case of allergic reactions, rashes, sunburns, or even just over-exfoliation.
To target dark spots
This moisturizer is uniquely designed to tackle hyperpigmentation, especially for skin of color. Ingredients like peptides, ceramides, and snow mushroom help boost hydration and protect the skin barrier to prevent the appearance of dark spots and melasma.
To balance oily skin
If you have oily skin, the last thing you want is a thick, heavy cream. This beloved gel moisturizer is refreshingly lightweight, leaving behind a glow that's all dew, zero grease. And since it doesn't pill under makeup, it can be used in the morning, too.
To neutralize redness
Dr. Jart's Cicapair line is great for soothing visible redness since the star ingredient is tiger grass, a plant with anti-inflammatory properties to help calm irritation and reduce redness. This one is best for dry skin, but there's also the Calming Gel Cream for oily skin.
To hydrate dry skin
Hello, glowy skin, is that you? If your parched skin is looking for some extra hydration, this intensely moisturizing, cult-favorite cream contains rich oils to take your complexion from dry to dewy.
To protect your skin
If sun protection is your concern (or maybe you're just lazy and want to combine two steps in one), this mineral SPF face lotion protects from ​​harmful UVA/UVB radiation while also nourishing your complexion with skin-loving ingredients like hyaluronic acid, niacinamide, aloe, and baobab. Bonus: It plays nice with makeup.
To calm inflammation
Avène is a mainstay for those dealing with hypersensitive skin, inflammation included. This skin recovery cream is created to soothe reactive, intolerant, or allergy-prone skin in 30 seconds, with barrier restoration in 48 hours. It's no wonder dermatologists love it.
To prep skin
Tackle hydration and makeup prep in one with this priming moisturizer. The buttery texture and blend of botanical oils melt into the skin to counteract dryness and leave behind a smooth, dewy canvas ideal for makeup.
This advertising content was produced in collaboration between Vox Creative and our sponsor, without involvement from Vox Media editorial staff.