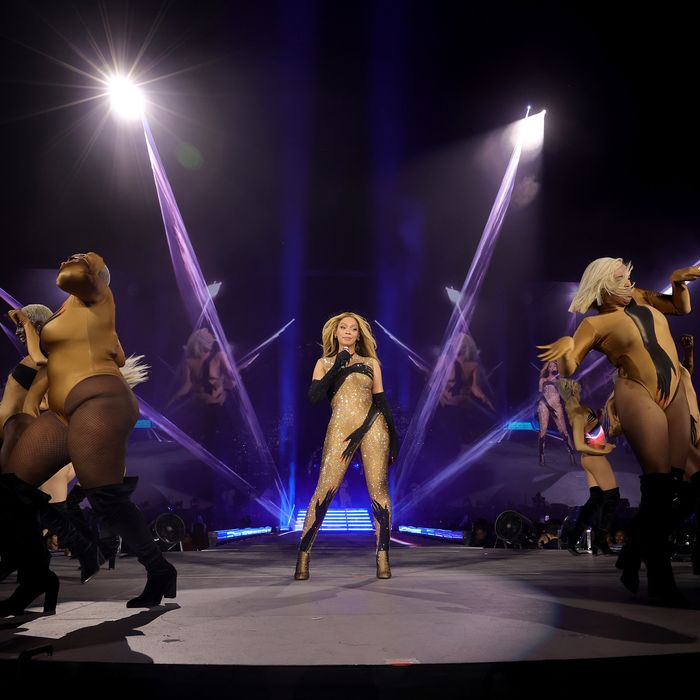 Photo: Kevin Mazur/Getty Images for Parkwood
For the sake of my sanity and life savings, I did not buy tickets to Beyoncé's Renaissance tour, a decision I was mostly okay with until this week. The tour kicked off in Sweden on Wednesday, and the subsequent flood of fan videos sent me into a fit of rage and regret that I was not there to bear witness. However, somewhere between frantically Googling flights to Marseille and wondering how much money I can make selling feet pics, I realized I had actually absorbed a fair amount of the performance by scrolling through the endless clips of pitch-perfect choreo, off-the-cuff riffs, and wild outfit changes. It's a great time to live vicariously through the Beyhive.
Even though I would willingly risk my eardrums and personal space for a few hours in a stadium with Beyoncé, watching the Renaissance tour from the air-conditioned comfort of my home is not a horrible alternative. After spending several hours drooling over fans' videos of her show, I believe I've pieced together a somewhat coherent sense of the Renaissance experience. (Please, if you go to the tour and want to tell me how much better it is than watching two-minute videos on Twitter, don't.) Here's everything I've learned from afar.
.

The music
The set list, as reported by fans, runs through all of Renaissance in chronological order, with past hits and a couple deep cuts sprinkled throughout, including "Dangerously in Love," "Formation," "Savage Remix," "Before I Let Go," and "Drunk in Love."
Based on videos, Beyoncé also worked in a handful of nods to other musicians. She covered Mary J. Blige somewhere toward the beginning of the show, and rumor has it she sampled Britney Spears's "Toxic" during "Thique."
One clip shows her singing "Love on Top" over the Jackson 5's "I Want You Back," a version she first performed in 2014 during the On the Run tour. Please note the deeply unimpressed face she makes when the crowd loses the tune:
At one point, she sang "Alien Superstar" over the bassline of "Sweet Dreams," which is both confusing and glorious:
.

The Vibes
Futuristic, campy, girly, glamorous, sensual, indulging the feminine urge to look like a gadget from the '60s. If Beyoncé designed the future, it would look like the Renaissance World Tour. Suddenly I believe in the power of technology. I feel optimistic about the next three decades. I want to invest in robots and space travel, two famously evil industries. Anyway, here are a couple images that should help you wrap your mind around the general vibe.
An alien with enormous boobs and stars for nipples:
Beyoncé, our generation's Botticelli, singing "Virgo's Groove" inside a giant aluminum clamshell:
A shiny alien tank that made me briefly question my stance on the military:
News-anchor Beyoncé breaking a critical story for Channel KNTY 4:
.

The Fashion
Beyoncé performed in a parade of playful, outrageously sexy custom looks, many of them inspired by either new collections or iconic archival designs. She opened the show in a custom Alexander McQueen bodysuit before changing into a glittery mirrored look inspired by Courrèges's 2023 collection.
Also in the mix: a bejeweled bodysuit by Jonathan Anderson that made me truly believe she had grown two new arms, a psychedelic David Koma getup, a feathered Coperni cape, and a pearly Balmain leotard. Two of her wildest costumes were designed by Mugler's Casey Cadwallader and referenced two beloved Mugler collections from the '90s: a fembot "robot suit" and an haute couture bee headdress.
Oh, did I mention Beyoncé did a fashion magic trick?
.

The Choreo
Business as usual, which is to say mind-blowing. And, it should go without saying, heavily inspired by drag and ballroom.
In addition to her backup dancers, Beyoncé joined forces with several robot arms who absolutely nailed the "Cozy" choreography. The dancing robot dogs are fuming.
This robot arm got to hold a fan!
Also involved in the choreo: the camera that a uniformed crew member used to get close-ups of Beyoncé, which she grabbed to film herself singing "PURE/HONEY." I guess I like technology now?
.

The Visuals
Between songs, Beyoncé offered a little note about the Renaissance album visuals, in case you dared to wonder about those. Via the voice of Kevin JZ Prodigy, the ballroom commentator who was featured on "PURE/HONEY" and seems to have recorded new vocals for the tour, she let us know that they'll arrive when she's good and ready, thank you very much.
"You've asked for the visuals," Prodigy's voice boomed. "You've called for the queen. But a queen moves at her own pace, bitch. Decides when she wants to give you a fucking taste. So get your fork and your spoon if you've got one."
Beyoncé did seem to give a little preview of the album's visuals during one of her interludes:
.

The Merch
Another clue into the Renaissance visuals arrived in the Renaissance World Tour book, which is being sold along with other tour merch at the shows and features Beyoncé in even more high-design futuristic looks.
The Renaissance VIP package also apparently included a custom fan that says "FAN ME OFF" when you turn it on. Let me tell you, my jaw dropped.
I'll leave you with one more video of Beyoncé ending the show by flying around on her glitter horse, as one does. Her next stop is in Brussels on May 14. See you there — spiritually, that is.