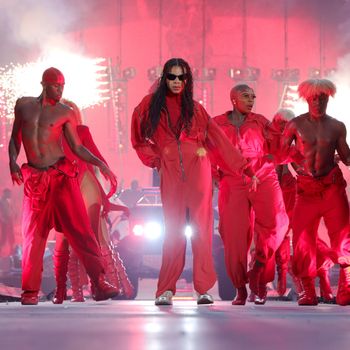 Photo: Kevin Mazur/WireImage for Parkwood/Getty Images
There's nothing like the casual antics of an A-list celebrity's kid to make you feel like a total loser. The last time I saw Blue Ivy on what was probably, to her, an unremarkable if embarrassing outing with her dad, I was rudely reminded that she is one whole decade old and we are all hurtling rapidly toward death. Now, she's started her summer job, except that instead of scooping ice cream for $15 an hour, she is performing on the Renaissance World Tour. Celebrities may be just like us, but their children absolutely are not.
Over the weekend, clips circulated of Blue Ivy joining Beyoncé and several professional backup dancers on the Renaissance tour stops in Paris and London. She, 11, danced alongside the other fully grown adults for "Black Parade," "Power," and "Alright," outshining both her mom and those dancing robot arms (duh).
The gig, I imagine, comes with incredible perks. The networking opportunities alone are surely huge — Pharrell Williams, Megan Thee Stallion, and Lenny Kravitz were three of the many famous audience members in Paris alone. Still, considering her credentials include a Grammy at age 9, I hope Blue Ivy negotiated the salary she deserves.