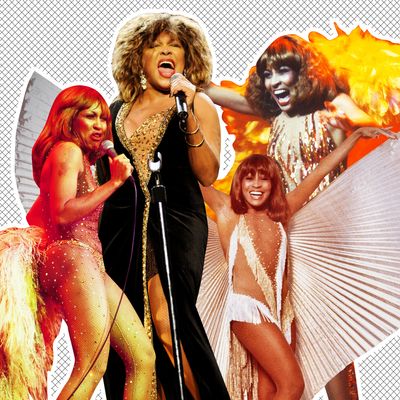 Photo-Illustration: by The Cut; Photos: Getty Images, Shutterstock
Tina Turner has died at the age of 83 after suffering a series of health issues over recent years. The prolific singer was no stranger to the world of fashion and had a penchant for turning heads in her glamorous outfits and costumes. In 2021, the Cut revisited some of Turner's most awe-inspiring and iconic looks through the eyes of her longtime collaborator and designer, Bob Mackie.
The first time Mackie visited Tina Turner's Swiss estate, in the summer of 2008, he arrived to discover Turner outside. Mackie emerged from the taxi and there the singer stood, giving a gardener instructions about what she wanted to do with her yard and how she wanted it done — the same way Mackie had seen her direct her dancers onstage. "I thought, Well, she's the same everywhere," he said.
The storied costume designer has been a pivotal force in Turner's career. As chronicled in the new HBO documentary Tina, Mackie helped to cement the singer's style following the tumultuous era when she performed in a husband-and-wife duo with her then-husband Ike, who abused and monopolized Turner throughout their 16-year marriage. By the time Turner left Ike in 1976, Mackie was one of the best in the business, having worked with Judy Garland, Diana Ross, Carol Burnett, and Elton John. Mackie made sexy ensembles for Turner's first big solo shows, and when Turner launched what would become her farewell tour in 2008, she recruited Mackie to capture the magic of their early days together. Accentuating Turner's soulful rasp and signature propulsion, Mackie's outfits told the story of her liberation.
By his account, Turner, now 81, is a consummate performer — the sort of artist who is at her best before an adoring crowd. "You don't get a Tina Turner very often who knows exactly how they want to look and how they want to move," he said. "Sometimes you have to kind of inspire them to do it, but I never had to inspire Tina Turner. She came already equipped."
During a spirited phone conversation with the Cut, the 82-year-old Mackie recounted the stories behind several of Turner's most fabulous looks.
That Flame Dress
Outside of the jean jacket that accompanied her "What's Love Got to Do With It" comeback in 1984, this red and gold attention-grabber best characterizes Turner's aesthetic legacy, which married dazzling disco sensuality with rock-star prowess. And yet she wasn't the only A-list diva to wear it.
Mackie was designing Cher's wardrobe for CBS' The Sonny and Cher Show when Turner appeared as a guest on a March 1977 episode, eight months after filing for divorce. She and Cher put together a medley that included songs by the Osmonds and Natalie Cole. Mackie crafted a short dress meant to resemble flames, so he made an identical one for Turner. The women had performed together before, and Mackie could sense their mutual admiration. "Just to watch what happens to a performer when somebody like Tina all of a sudden walks in the room and they start rehearsing — all of a sudden Cher's performance level took on a whole other thing. Tina was looking at Cher the same way, and they became the best of friends and really were great together."
The decadent orange turkey feathers — a big hit with gay audiences in San Francisco, Mackie recalls — would come when Turner hit the road as a solo performer later that year and commissioned him to build a wardrobe specifically for her. Three years later, Lynda Carter asked Mackie to re-create the dress (sans feathers) for a TV special where she performed "Proud Mary" in the style of Turner. RuPaul then wore the same dress, with some alterations to accommodate his height, for a calendar photo. And when Beyoncé did a tribute to Turner at the Kennedy Center Honors in 2005, she, too, wore the version that Mackie had given Carter.
Tina's Silver Wings
During Turner's years with Ike, she didn't have the money for bespoke fashion, so she would tweak items found while touring. "She'd go to these little French dress boutiques and she would buy something and then she'd try to screw around with it and make it into a costume," Mackie said.
When Turner first performed at Caesars Palace and hotel nightclubs as a solo act in the late '70s, she wanted her image to be as operatic as possible — a different approach than the one she'd take throughout the following decade, when she opened for the Rolling Stones and wore leather to heighten her rock 'n' roll persona. One of Mackie's flashiest outfits featured pleated lamé wings and fringe that had to be constructed from chain because he knew beaded trimming would fall apart after a few of Turner's notoriously kinetic shows. When Turner dashed across the stage, the wings fanned out behind her. "I looked like I was about to take flight and soar — which was exactly how I felt about being on my own for the first time," she wrote in her memoir, That's My Life. It was, in a way, a precursor to the theatricality that became customary as Michael Jackson, Madonna, and Prince crystallized the modern pop template in the '80s.
"It wasn't like I was making a lot of money working with Tina Turner at that point, but just the fact that it was her was exciting," Mackie said. "There are a few performers in this world that have that quality that you want to do it for them. You don't care if you get paid or not. There are people like Bette Midler, in the early days, that made you want to do stuff for her and adore her because she was so good."
Shaking Her Tailfeather
Because everything she wore was so vibrant, Turner became known for costume changes, seamlessly swapping multiple outfits in one show. Channeling fishnet, Mackie devised this nude-colored mesh bodysuit, studding it with topaz and other sparkling stones. That alone would be far too humdrum for Turner, so he layered over it a G-string attached to cascading feathers.
It wasn't the only posterior appendage Mackie made. "I did one sort of zebra thing that, honest to God, coming out of her backside was a tail — a big, shaped tail that had a big swoosh of ostrich at the very tip of it," he recalled. "I think it was almost too much for Tina, but it was amazing because when she would move her hips, the tail would flip around like a real animal tail. I remember it just made her a little nervous. She thought maybe she'd gone too far, but I tell you she looked amazing in it."
An Evening Gown to Show Off Tina's Famous Legs
Turner, then 69, hadn't collaborated with Mackie in nearly three decades when she called on him to construct the wardrobe for the 2008–09 tour that marked her 50th anniversary and final tour. (Eight years had passed since Turner's previous road show, and her friend Sophia Loren told her she needed to "get back to work.") When Mackie ventured to Zurich, where Turner and her partner Erwin Bach relocated in 1995, he discovered her old costumes hanging from rafters in her garage. They decided the tour would comprise a mix of repurposed classics (including the apocalyptic chain-mail garb from Mad Max Beyond Thunderdome, which Mackie redid from scratch) and fresh couture.
To perform the Bond theme "Goldeneye," Turner descended a staircase in an evening gown that boasted a Tina signature: a slit all the way up to her waist, showing off her famous legs. When the song ended and "Addicted to Love" began, she tore off the smock to reveal a shimmering brown minidress. Inevitably, the crowds went wild. "When you're working with that kind of a performer and the audience gives that kind of reaction, you go, 'Yeah, this is working. This is good,'" Mackie said.