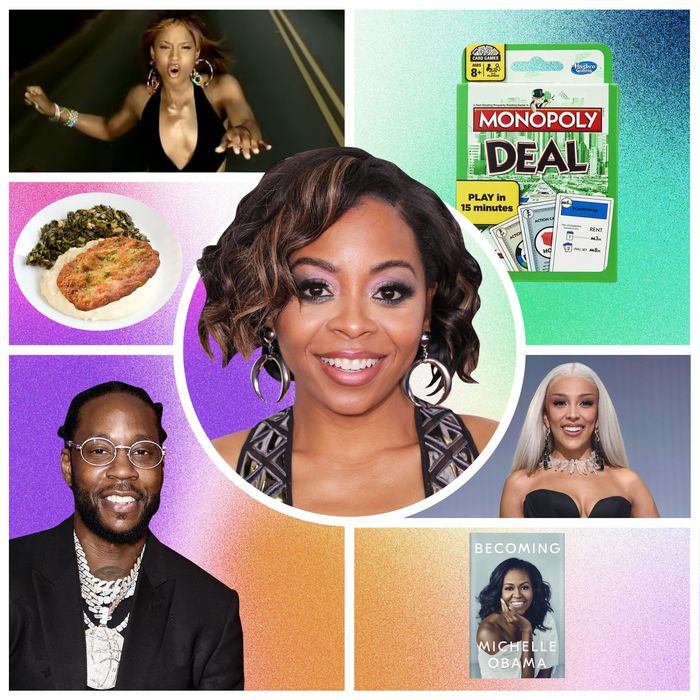 Photo-Illustration: by The Cut; Photos: Getty Images, Ciara/Youtube, Amazon
Lately, Bresha Webb is feeling relieved. "We left everyone on such a high cliffhanger," the actress says about the season-one finale of Run the World, which aired in 2021. In the Starz comedy series, created by Leigh Davenport with the help of Living Single writer Yvette Lee Bowser, Webb plays Renee, an advertising professional who leaves her stable career to pursue her own business. The show also follows her two best friends — Whitney (Amber Stevens West), who's reeling from a dissolved engagement, and Sondi (Corbin Reid), a budding academic — as they navigate their respective careers and relationships à la Sex and the City and Girlfriends.
Each character faces major change this season as they settle into their 30s, a theme that reverberates from a major cast departure after the first season (Andrea Bordeaux, who played Ella, declined to return to the series). "We reflect on it throughout the season, and it was a new transition," Webb says, adding that the shift allows for a thoughtful deepening of each character's story. As with the first season, the cast's onscreen chemistry is infectious, thanks in part to Webb's high-octane performance. She tells the Cut she's "gotta be twerking to something" before filming her Run the World scenes, and off-screen, she can't stand a wet blanket at a party. Her guiding principle for handling someone who won't give in to the festivities? "Shut up and have fun!"
Where do you get your best culture recommendations from? 
I'm always looking for what's hot in fashion on Instagram and Pinterest. I follow fashionbombdaily to see what's on the red carpet. I'm always looking at the fashion trends, what's hot in the streets. I love magazines. I look to Essence, gotta shout out the Black publications as well. If I see something pretty, I want it.
Say you're hosting a dinner party and you're inviting four celebrities, dead or alive. Who's coming?
I'm inviting Prince, Whitney Houston, Dorothy Dandridge, and Doja Cat. That meowing on the Met Gala red carpet killed me. She's a really dear friend in my head. I would say Beyoncé, but I've already met her; she's great. Wait, can we bring Beyoncé? Then we have to pull up my sister Kelly Rowland too — that's gonna be a fun time. And Michelle Williams, we have to! I don't think you're ready for this jelly. Just bring Destiny's Child, it's gonna be great.
What is the last meal you cooked for dinner? 
Fried pork chops, garlic mashed potatoes, and greens. Collard greens. I have a Southern husband; I like to keep him fed.
Do you have a pre-filming ritual?
I have to listen to music. I have to have the jams on, that keeps me in good spirits. Gotta be twerking to something, some 2Chainz. Gotta be shaking it, you know? That's what I like to do, if I keep it fun and loose, that's where the creativity comes from. Of course, this is after I center myself and have my prayer, making sure that the art is coming through and I'm prepared. But I like to keep it fun and loud. I'm very loud.
What else is on the playlist?
I like feeling very sexy, for Run the World specifically. It's different for every project. I like Victoria Monét, Lucky Daye. I have a great playlist. Actually, Run the World's playlist that they put together is so bomb. Amber Mark, Alex Isle, Robert Glasper, there are so many people I love. A little jazz in there. There are so many songs that get me right where I need to be, like "Coffee" by Kelly Rowland. You just gotta feel yourself — your most confident and sexy self.
What's your comfort rewatch?
I love music videos. That's one of my favorite things to do, put on music videos from the 2000s, when they actually had big budgets — 2000s pop was the best! For my birthday, I made a music video to "Lucky" by Britney Spears, which makes me so happy. I'm that girl. All of us girls love pop music and learning the dances. TikTok is fun, but I like turning on the TV and watching a YouTube playlist. Or when MTV used to play music videos! TRL … I'm telling my age. But that's what I like! I can't have a bad day if I'm watching that; it's like sensory overload.
The girls had choreography back in the day!
Come on! Everyone knew the "Goodies" dance or anything by Janet Jackson. Real content, real visuals that went with the song. It's necessary! There are some artists getting tapped in and committed to that now … give me a visual album. I want to be at the concert but in my house.
What is something you'll never, ever watch, no matter what? 
I'm an actress. I want to make sure everyone gets their view, you know? Especially with streams. I support everybody! But … I could never watch It. I'm terrified of clowns. Even the trailers are like … [Screams] I can't do it.
Do you have a favorite game you like to play?
Monopoly Deal was brought to me by my castmate Amber Stevens West, and we played it the entire time we were in Jamaica for Corbin Reid's wedding in December. We played it all day. We take those cards everywhere now; they're bent out of shape. My husband and I can't even go a night without playing it. It's so quick. So much fun. You're talking about property and making fast decisions; it keeps your brain active.
Is there a book you couldn't put down? 
I'm not doing well with the reading part, I'm gonna be completely honest. The last book I read was Becoming by Michelle Obama. I finished it with the audiobook while washing the dishes and getting the house together. Michelle Obama, she should be at the dinner party! But then I want Barack too. I want all of them; I can't just have four people. It's gonna be a party. Bresha deserves a party. So add Michelle and Barack to the table.
What's the best advice you've ever received?
The best advice, you can find on YouTube. It's a music video. It's called "Think From Your Heart" and not from your … yup. That was advice that was given to me, and I turned it into a song.
How about the worst advice?
The worst advice came from someone who said something to me when I was back home, along the lines of, "Dreams are dreams, but you have to be practical and be real. How are you going to pay your bills?" I was like, how are you supposed to live if you're not doing something that makes you happy?
How about the worst thing to do at a party?
Go do coke in the bathroom. [Laughs] That's the first thing that came off my head … don't do that. Also, don't be a party pooper. Don't complain. I hate people who complain when they're at parties. Lose yourself in the fun or go home. You're here, you're dressed, play the song. I've gone to the DJ several times and been like, "This party needs to pick it up, and this is what I need you to play." It always works! I am that person who's a little too aggressive, but once I put in my time, I get what I want and it has worked. I've done it for several parties, and people ask me back. I guess I'm not a bad person to have at a party.