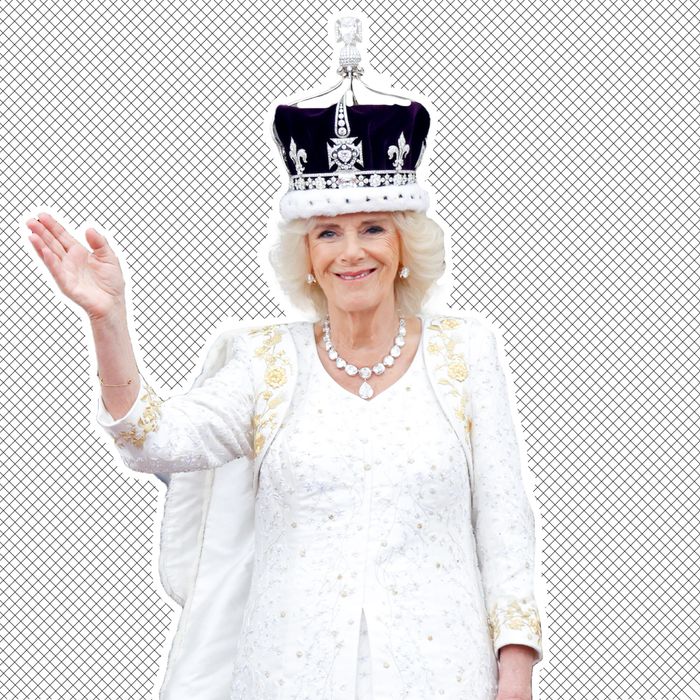 Photo-Illustration: The Cut; Photo: Getty Images
"No leeks at the palace!" laughs Bruce Oldfield from a corner table at Claridge's, his eyes dancing as the lunchtime crowd politely sips its tea. It's been just 48 hours since the 72-year-old British couturier's biggest design to date — the coronation gown of Queen Camilla — unfurled out of the horse-drawn carriage and up the aisle of Westminster Abbey, seen by the 2,000 guests gathered and tens of millions more watching from home.
A gown of this magnitude required a heaping dose of symbolism, starting with the emblems of the four nations of the United Kingdom. On a couture silk fabric with a muted shine known as peau de soie, Oldfield embroidered a rose for England, a thistle for Scotland, and a shamrock for Northern Ireland. But he drew the line at a leek for Wales. "I refused," Oldfield recalls, scrunching his nose and shaking his head. "No, no, no." Norman Hartnell, the famed British couturier who made the gown for Queen Elizabeth II's coronation in 1953, was told by the Garter King of Arms to incorporate the vegetable into the design. In perhaps a small sign of the changing times, Oldfield was permitted to use the daffodil instead, the national flower of Wales.
Oldfield is in high spirits when we meet, delighted that his Instagram following has risen by 1,500 people since Saturday to 11,000. His most recent post, a close-up of the gown's embroidery, garnered more than 2,300 likes and 400-plus comments, a stream of congratulations and clapping emojis. "It went mad," he says.
When he delivered the dress last Thursday, Oldfield stayed on hand for one final fitting — and found himself holding Queen Mary's crown, containing some 2,000 diamonds, which Camilla opted to wear for her coronation. Arms stretched out, hands cupped, Oldfield holds his face steady to re-create the moment before breaking into a full-face smile: "I thought that was really kind of cool." King Charles III was there, too, with his crown and the crown's minder. "Am I really here? Am I really doing this? Is this really my destiny?" Oldfield recalls thinking. "'Cause who would've thought?"
Oldfield was born in London to a Jamaican father and a half-Irish mother, and was put in the care of Barnardo's, now the largest children's charity in the U.K. He was in foster care through age 13 in the northeast of England, raised by Violet Masters, a seamstress who introduced him to the world of tailoring. He went on to graduate from Central St. Martins School of Art, moving then to New York to work for Henri Bendel. He admired what American fashion offered at that time, a sort of streamlined simplicity that felt entirely different from the over-the-top offerings by London designers. (Nothing Oldfield does now is "off the peg," as the Brits call ready-to-wear. His bespoke pieces run £8,000 and up for a suit and between £12,000 and £18,000 for a long dress, more if it's embellished or embroidered.)
As the chicken pie we've ordered for lunch arrives, the conversation turns to Oldfield's work with Charles's first wife, Diana, Princess of Wales. The designer had returned to London and started a namesake line in 1975. His association a few years later with Diana raised his profile markedly, while his fashions helped transform her from a shy country girl to a glamorous princess. Diana's role as president of Barnardo's cemented their friendship. But after nearly a decade of working together, as Oldfield puts it, "Diana did dump me." The princess, faced with a marriage that was crumbling, was stepping back from royal duties and no longer needed the kind of gowns Oldfield designed, he says.
Some two decades later, he met Camilla, then the Duchess of Cornwall. She had taken over as president of Barnardo's and Oldfield was now vice-president. As they were chatting, she said to him, "I think it's time we did a few dresses."
Oldfield's first design for her came in 2013, a long, pale-blue gown she wore to the investiture of King Willem-Alexander of the Netherlands. The dress features a two-layer skirt, with the more voluminous outer layer coming from underneath the bust. "I always like to have fluidity in the garment. You rarely see a straight column from me," he says. He prefers a "flick at the hem" for the movement it gives a garment, even if the wearer is standing still.
Queen Camilla's career-defining invitation came six months ago, almost as an aside. During one of their fittings, she called to him from another room (here he raises his pitch a bit to channel her voice): "Oh, yes, Bruce, I want you to do the coronation gown." He reenacted his response for me, too, almost in a whisper: "Sorry, ma'am, what was that?" A week later, he presented her with three sketches. She pointed to one decisively. "Really, ma'am? That's it? That's the one?" he queried, again in a hushed voice. Oldfield then taps his pointer finger firmly on the table twice and returns to his Camilla voice, saying with certainty, "Yes, that's the one."
He says he was clear from the start that he wanted this gown to remain light, rather than formal. Camilla is queen consort, after all, a supporting role to the sovereign — not the star of the show. "It didn't have to be quite as flag-flying" as the late queen's coronation gown, he says. "We could have a little bit of fun." The silk was made by Stephen Walters in Suffolk, England, while the embroidery was done in Mumbai, the long distance manageable thanks to Zoom and WhatsApp.
"I wanted the embroidery to be all over, but loose, like a drawing," he says. Strings of wildflowers that seem to cascade down from the shoulders were inspired by Charles and Camilla's joint love of the countryside. The blooms were intertwined with delicate bunting, a staple of U.K. celebrations.
But what garnered the most headlines were the personal touches Oldfield tucked into the design. Along the hem, flanking the queen's stately cypher, were her two rescue dogs, Bluebell and Beth. Surrounding the pups, Oldfield embroidered the names of Camilla's children and grandchildren, and on the train Oldfield added something else that is close to the queen's heart: books.
"They were in silver, so they were quite hard to find, but they were there," he says. "Those were the first thing that Her Majesty looked for." He again slips into the pitch of the newly crowned queen: "Oh! There they are!" I asked whose idea it was to include those very personal details in the design, to which Oldfield responded with a raised brow: "I didn't suggest any of them." He describes their work together as "a collaboration." Throughout our lunch, Oldfield mostly demurs when I ask what Camilla is like, offering up little tidbits including "she doesn't mince her words" and "she's very confident."
He hasn't heard from her — although, to be fair, it's been a pretty busy weekend for the queen — but he has heard from her dresser, who said Camilla was "so happy." Oldfield is happy, too. This gown was technically tricky, Oldfield explains, because of all of the sitting involved in a coronation, upping the risk of bunching and wrinkles. But the person from his team who helped undress the queen at the end of the day said that it looked like the gown had not been worn, save for a bit of dirt on the train. "It really, really, really worked out," he said.