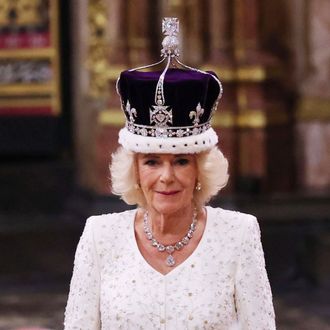 Photo: WPA Pool/Getty Images
On Saturday, King Charles III had his big, fussy party to formally usher in his big, fussy reign as the king of the United Kingdom. In official terms, this event is known as his coronation, and the country is honoring it with a bank holiday and a Lionel Richie concert. Though Charles was the main event, he was not the only one being crowned during the ceremony: His wife, Camilla, officially stepped into her role as England's new queen consort. She was crowned with Queen Mary's Crown by the Archbishop of Canterbury at the Saturday morning ceremony in Westminster Abbey.
Camilla's involvement in the royal family is not without controversy. Charles's first wife was, of course, Princess Diana, who famously said that there were "three of us" in their marriage, referring to Charles and Camilla's infamous affair, which ultimately ended Charles and Diana's (admittedly already unhappy) marriage. Camilla and Charles got married in 2005, and she's largely won over the affections of the British public, but her promotion to queen consort still came as something of a surprise. Here's what to know.
What's Camilla's deal?
Charles and Camilla were longtime friends and dated on and off before he married Diana in 1981. According to several royal biographers and also The Crown, Charles wanted to marry Camilla but was steered away from her by the royal family, who didn't think she'd be a suitable wife largely thanks to the fact that she had a few ex-boyfriends and therefore was probably not a virgin. Also, Camilla may not have been interested in marrying Charles: In 1973, she had married a lieutenant named Andrew Parker Bowles, whom historians say she was genuinely in love with. But at some point, Charles and Camilla rekindled their relationship, striking up an affair that ultimately became a public scandal and led to Charles and Diana's divorce.
Charles and Diana finalized their divorce in 1996, about a year after Camilla signed her own divorce papers. Over the following decade, he gradually worked her into his public life, even hiring a royal PR expert to sway the public in her favor. After all, Diana was the People's Princess, and the embarrassing details of Charles and Camilla's affair — most notably the leaked transcript of a horny phone call where Charles told Camilla he would like to be a tampon so he could hang out in her underwear — didn't exactly make them an appealing alternative.
There was also the more official matter of legal approval. Given the monarchy's close ties with the Church of England, divorce and remarriage are not looked upon kindly in the royal family: Elizabeth's uncle, Edward VIII, gave up the throne to her father because the British government wouldn't let him marry a divorced woman and remain king. When Charles and Camilla finally married in 2005, the queen didn't attend the wedding because the Church of England hadn't officially changed its stance on remarrying after divorce.
Even so, Elizabeth, British Parliament, and the Church of England had all consented to the marriage, which helped minimize the public backlash. Another thing that may have helped: Because the Princess of Wales title was so strongly associated with Diana, Camilla opted not to use it, and has instead gone by Duchess of Cornwall, which corresponds with Charles's highest subsidiary title, Duke of Cornwall.
Since then, England seems to have warmed to Camilla. So did Elizabeth, who was reportedly not a fan of Camilla throughout the affair and subsequent relationship but was pictured amicably hanging out with her over the last decade of her life.
So now she's the queen?
Well, she's a queen. The spouses of British monarchs are typically deemed "consorts," and it looks like Camilla will be no exception. In February 2022, Elizabeth confirmed in a special announcement that Charles would inherit the throne after her death, and said it was her "sincere wish that, when that time comes, Camilla will be known as Queen Consort as she continues her own loyal service." This was a change from the previous plan, which was for Camilla to become the inferior Princess Consort instead of Queen Consort, given the controversy surrounding their marriage. A few royal biographers recently claimed Prince William and Prince Harry both objected to the idea of Camilla becoming queen consort, with one saying they were "blindsided" by the 2022 announcement. (Unsurprisingly, Harry is not a fan of Camilla and has accused her of leaking private conversations to the press in exchange for positive coverage.)
Regardless of internal family politics, Charles seems intent on giving Camilla the full royal treatment. She seems to have gotten something of a promotion in the months leading up to the coronation: On invitations, Buckingham Palace dropped the "consort" qualifier, referring to her simply as Queen Camilla. The palace confirmed the invitation didn't represent any kind of formal title change — in the past, queen consorts have usually been referred to as queen plus their first name. Leading up to the ceremony, Charles also reportedly issued a royal warrant decreeing that all official royal prayers in the Church of England use "Queen Camilla" instead of "Camilla the Queen Consort." It's not clear if this is how former queen consorts have been referred to in prayers.
Okay, will she ever be THE queen?
Once she officially takes on the position, Camilla won't have any formal duties but is expected to make public appearances alongside Charles. Per the Mirror, the consort's main job is "to provide support and companionship" to the monarch. In the past, consorts have served as a glorified assistant of sorts, hosting events and going to charity galas to represent the monarchy. Camilla is apparently a patron of over 90 charities, so she has plenty of practice there.
The line of succession follows Charles' blood descendants, so Camilla will never become the actual queen, even if he dies before her. His successor is Prince William, which might complicate Camilla's title if she does outlive her husband — if William were her biological son, she would probably become the Queen Mother (a role Elizabeth's mother held for several years), but being a stepmother makes things a little more complicated. She also has two children of her own from her first marriage, Tom and Laura Parker Bowles, who won't get any royal titles.
How was she crowned?
Like the rest of the coronation, Camilla's portion was largely in line with tradition, with a few light tweaks. Most of the official business seemed to consist of handing her an assortment of elaborately decorated objects. In what the palace described beforehand as a "similar but simpler ceremony" to Charles's, she was anointed with holy oil in full public view. She was then presented with a ruby ring that has been worn by queen consorts since 1831, designed to symbolize her marriage to the monarchy. She also received an ivory "dove rod" — the "rod of equity and mercy" — and a crystal-coated cross scepter. She then walked over to her throne and sat down next to Charles. From here on, she'll officially be known as Queen Camilla.
Camilla's crown was the subject of a lot of chatter as the U.K. geared up for the weekend. While queen consorts have commissioned their own coronation crowns since 1761, Camilla will be anointed with an upcycled headpiece: the crown Queen Mary wore at her 1911 coronation, which has been reset with diamonds from Queen Elizabeth's brooch collection. While the palace framed it as an environmental choice (I guess excess crown production is in fact a contributor to climate change?), several royal experts have noted that this sustainable crown practice conveniently ducks potential backlash over the Koh-i-Noor diamond, which was used to crown the last queen consort (Queen Elizabeth's mother, also named Elizabeth) in 1937. India has made several efforts to reclaim the jewel, which was not-so-voluntarily given to Queen Victoria in 1849 when the Kingdom of Punjab was annexed to the British East India Company. So you can see why they'd want to keep that particular pillaged relic out of the conversation this weekend.
And then what?
For the foreseeable future, Camilla will probably be making plenty of public appearances at King Charles's side. To me, her best moment is this video of her winking during a 2019 visit with Donald and Melania Trump:
I look forward to seeing more of this energy at all royal engagements to come.