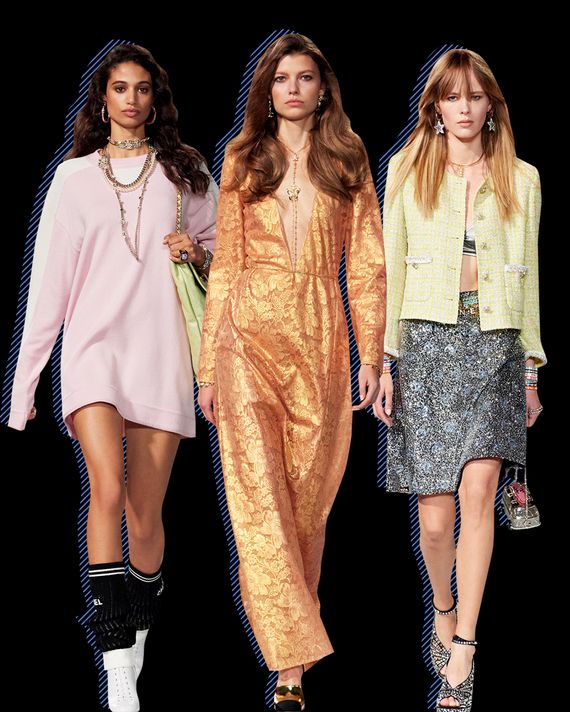 Photo-Illustration: by The Cut; Photos: Courtesy of Chanel
In 1931, at the behest of the studio chief Samuel Goldwyn, Coco Chanel came to Hollywood to dress some of its leading ladies both onscreen and off. Goldwyn thought the designer could bring some "class" to Hollywood, according to biographies. Chanel knew otherwise. She worked on a total of three movies, in the end likening Tinsel Town to an evening at the Folies Bergère: "Once it is agreed that the girls were beautiful in their feathers there is not much to add."
But Coco, through no fault of her own, never met a Valley girl. Or sweated to a Jane Fonda workout video. Lord knows she never roller-skated on the Venice beachfront. Here, for decades, glamour has been in the human and the SoCal lifestyle, and the rest is detail. That's what Virginie Viard, the creative director of Chanel since 2019, tried to put across last night for her cruise collection.
Let's set the stage: a plaza near the Melrose gate of Paramount Pictures Studios in Hollywood. A guest list that numbered roughly 975 and included Margot Robbie, Kristen Stewart, Vicky Krieps, and Marion Cotillard. At both ends of the plaza, which was surfaced in black-and-white rubber tiles that spelled out CHANEL, were electronic scoreboards. We could have been on the track at Hollywood High, in other words. Looming behind the audience was a massive screen, on which played a short film by the photographers Inez & Vinoodh with swaying palm trees and the actress Alma Jodorowsky. So the classic dream of Hollywood.
Meanwhile, in an adjacent area of the studio, Chanel had invited food trucks and caterers to serve mini-tacos, BLTs, fries, and pizza. The no-frills atmosphere in the midst of a storied setting struck the right note. And after the runway show, Snoop Dogg — wearing a scarf tied under his chin like a babushka — performed, though many guests didn't seem to know there would be a performance and left before it started.
The problem was the clothes. An editor I know, decked out in Chanel, remarked, "At least they were younger this time." Actually, Viard can do youthful clothes and accessories well enough: Look at her recent haute couture collection with its frisky skirts, snug jackets, and adorable slingback loafers and majorette boots. In Los Angeles, possibly for the first time, Viard tried her hand at gym shorts, tube socks, sneakers, and a kind of tracksuit, including one in a ghastly shade of aqua satin and a black knitted version with what seemed to be fuzzy pink palm trees. She mixed in these looks with styles she does more confidently, like a slinky dress in silver spangles, a flirty lace dress in an ombré blend of pink and orange, and an embroidered crystal blazer with a fuchsia-trimmed neckline that evoked Chanel's original sailor blouse. Viard has a definite knack for nonchalant glamour.
The house is having a big synergistic moment with the Karl Lagerfeld exhibit at the Met, which celebrates the craft tradition in fashion as much as it does Lagerfeld's galloping curiosity, and the opening of a new 30,000-square-foot boutique on Rodeo Drive. In an interview with Women's Wear Daily, Chanel's president, Bruno Pavlovsky, said of the store, "It's more a question of image than return on investment." And he boasted that ready-to-wear is leading all fashion categories in sales. Chanel has estimated total annual sales of $15 billion.
And despite what you may believe about the wonders of the internet, the company has built up its relationships with customers through its boutiques, rather than through e-commerce. In 2019, Alain Wertheimer, the chairman of the family-owned house, told me the company found that what mattered most to its customers was how they were treated in stores — more so than who designed for Chanel, even. In a globalized world, that logic makes a certain amount of sense.
Last night at Paramount, I was struck when a stylist, defending Viard's approach, observed that Chanel is one of the few luxury brands not to see its sales dip in recent years. I'm not sure that's actually the case, and anyway, a great fashion name is more than its sales figures and synergies, or at least it should be in the long term. Image, to quote Pavlovsky, does matter — the image of daring, excitement, and specialness. That's the essence of the problem with the clothes. Viard's sporty looks didn't lack for youthfulness. They simply lacked vision.