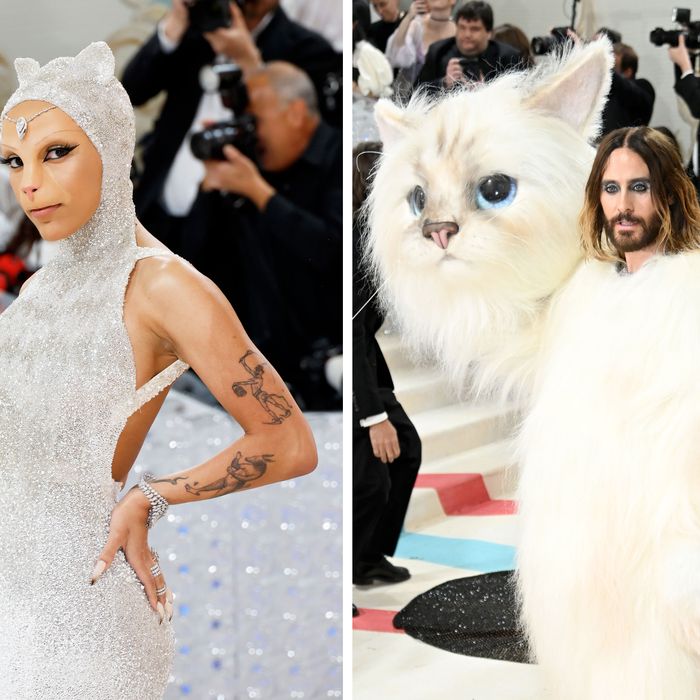 Photo-Illustration: by The Cut; Photos: Getty Images
Want more of the Met Gala? Sign up for The Cut daily newsletter so you don't miss any of our coverage. Newsletter readers will also receive exclusive interviews with attendees and Cut staffers' personal picks for the best — and worst — looks of the night.
There are many esteemed guests at the 2023 Met Gala, but none are more important, more influential, more stylish than Choupette, the late Karl Lagerfeld's beloved pet cat. While Choupette did not show up herself (though her representation confirmed she did receive an invite, as she should), there were several couture-ified odes to her circulating the Met steps.
While most guests chose to interpret the Karl Lagerfeld theme by reimagining or wearing one of his designs (or channeling his unique personal style), a few honored him by channeling his pet. Never one to pass up an absurdist fashion opportunity, Doja Cat rolled up in a sparkly backless mermaid gown with a cat-eared hood. Of course, when Doja Cat dresses like an animal, she doesn't just dress like the animal: She also applied feline prosthetics to her face and clawlike nail extensions, topping it all off with a forehead diamond dangling from her hood, because why not?
Meanwhile, Jared Leto, who loves to use the Met Gala as an opportunity to indulge his Surrealist side, showed up in a full costume that appears to be customized to look like Choupette. Behold, the Met Gala mascot:
While Leto's furry suit looks like more of a commitment at first glance, he took it off immediately before entering the museum, suggesting Doja actually invested more time and energy into pulling together a more pragmatic (and frankly convincing) cat look — one that would also allow her to vape on the red carpet without hotboxing her own costume. She is (to my knowledge) the only guest who did Vogue's entire red-carpet interview in cat mode:
There is also Lil Nas X, whose full-body coverage of jeweled paint did not register with me personally as a cat until he meowed into a reporter's microphone:
I guess those are glittery whiskers? Anyway, long live Cats.