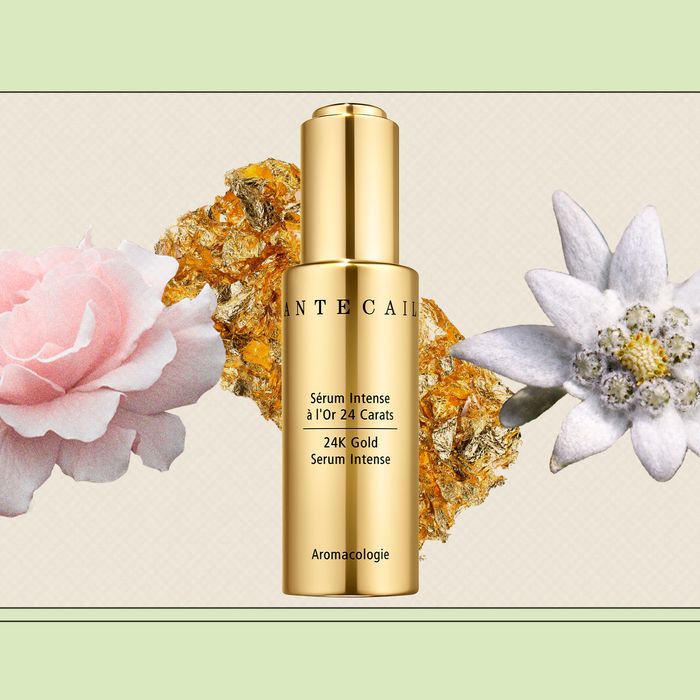 Photo: Chantecaille; Photo Illustration: Rebecca Hoskins
Long before the beauty industry was a billion-dollar business, people relied on natural ingredients and resources around them to create everything from their lipstick to their face cream. Malachite was crushed to create eye pigments, almonds were burned to darken eyebrows, flowers were boiled to create softening balms — you get the point. Slowly, technology developed and the industry was able to utilize new ingredients — some chemical, some synthetically modified — that slowly pushed "natural" beauty products to the dark depths of health food stores.
It wouldn't be until around 2016 that the industry began to take natural, or botanical, beauty seriously again. But before the market became greenwashed and sustainability was prioritized, there was one brand leading the charge decades before the mainstream market caught up. In 1997, Sylvie Chantecaille launched her namesake brand with a mission to create luxurious cosmetics and skin-care products that utilized botanical beauty ingredients.
At its start, Chantecaille committed to finding the best ingredients nature had to offer, combining the power of botanicals with modern technology and innovation. 25 years later and the brand is still leading the charge — driving the bandwagon everyone else has finally hopped on. The biggest criticism about the larger green, natural beauty market is that a lot of the terminology is subjective — definitions can change from brand to brand. For Chantecaille, botanical beauty means product formulas that are powered by flowers and plants; it means sustainable formulas that are skin-friendly both in the way the ingredients are sourced and in the impact the formulas have on the earth. It also means vegan formulas and no animal testing.
According to Marta Cammarano, PhD, Vice President of Research & Product Development at Chantecaille, the brand defines natural ingredients as anything that comes from nature. "We strive to use only sustainably-sourced ingredients that do not deplete natural ecosystems or the wild," she says.
Technological innovations have always been a cornerstone of Chantecaille's product development ("Nothing is launched if it is not innovative," Cammarano says), but in general, she agrees that technology is to credit for the industry's growth across the board. More technology means more chances to uncover efficacy studies; more efficacy studies lead to a wider range of botanicals in your beauty products.
Two decades ago, we couldn't tell you what a plant stem cell was, let alone how it could affect your skin. Save for one Austrian botanist, the concept alone was unheard of to most people. By 2017, a study confirmed that there was something to be said for including botanical ingredients in cosmetics. Today, we can count at least 13 Chantecaille products that utilize plant stem cell extracts.
"Although they're made in a lab, plant stem cells are completely natural," she says. "They draw on the plant's natural resilience and anti-aging properties while serving as a pure source of ingredients that aren't tainted by pesticides." The results Chantecaille is able to produce through scientific innovation like this wouldn't be entirely on brand if they didn't find it more sustainable. Cammarano adds that plant stem cells are a key element in Chantecaille's formulas because they use little soil and far less water to source.
Chantecaille aims to be in a league of its own — compromising isn't in the brand's vocabulary. "It is certainly more complicated to create a beautiful texture using our high percentage of naturals than it would be with synthetics, but we work with such brilliant formulators that we can almost always get there," she says. "It requires a lot of trial — and it's not cheap — but the results speak for themselves."
In a greenwashed industry, Chantecaille strives to create real botanical beauty and not just use it as a marketing term. For starters, Cammarano says the brand's products offer visible benefits thanks to all of those natural ingredients — no hoax there. Secondly, the brand continues to innovate using new sustainable science-backed methods.
In just the last year new research emerged from the Plastic Soup Foundation showing that 87 percent of products from the ten best-selling beauty brands contain microplastics. We've seen enough memes by now to know that microplastics are everywhere despite the fact that the Microbead-Free Waters Act passed eight years ago. Regulations aren't nearly widespread or strict enough to cover every type of microplastic nor does it address all microbeads. So the problem persists.
Chantecaille is making it a priority to move away from all microplastics this year. "We are implementing this change with our new skin-care launches and will do the same with our color products starting with our new launches next year, which will bring our percentage of naturals up even more," Cammarano says. This isn't a new effort for the brand — in fact, they've been actively monitoring and responding to the environmental impact of glitter and microplastics and the larger issue of unsustainably sourced mica since at least 2019.
If you're new to botanical beauty, Cammarano offers her personal suggestions to shop Chantecaille's best offerings. "A product from each skin-care collection would be the perfect introduction to the line and to what our botanical formulas can do for your skin," she says. To start, consider the Pure Rosewater, Bio Lifting Mask+, Flower Harmonizing Cream, and the brand's newest launch, 24K Gold Serum Intense.
"The 24K Gold Serum Intense embodies what we do best. It's an incredibly groundbreaking combination of actives that give the skin remarkable smoothing results and beautiful radiance in a serum texture that feels incredible," Cammarano says. She adds that the luxurious serum is 98 percent natural and includes eight actives that are a blend of botanical extracts and peptides. Nothing is launched if it's not innovative, remember? This serum is a skin-care enthusiast's dream, but does include some ingredients even the most well-versed consumer may be unfamiliar with.
According to Cammarano, the glow-enhancing botanical in this serum is a new generation ingredient which comes from a plant that has evolved to become resistant to long periods of drought. Turns out that this extract can help activate key genes and proteins responsible for DNA repair, antioxidant defenses, and cell repair. The result: Enhanced skin luminosity, radiance, and elasticity.
Besides innovative science-backed formulas — and major goals, like eliminating microplastics — Chantecaille manages to stay ahead of the industry curve in one other way: Its philanthropy. "We are committed to the world we draw inspiration and ingredients from and work hard to ensure all ingredients and products are cultivated and created as sustainably as possible in ways that don't harm animals, people, or the environment," she says. For Chantecaille, philanthropy ties directly into that mission. "Chantecaille's deep commitment to animal and environmental conservation supports the protection of wild species and spaces across the globe — which inspire us daily."
This advertising content was produced in collaboration between Vox Creative and our sponsor, without involvement from Vox Media editorial staff.