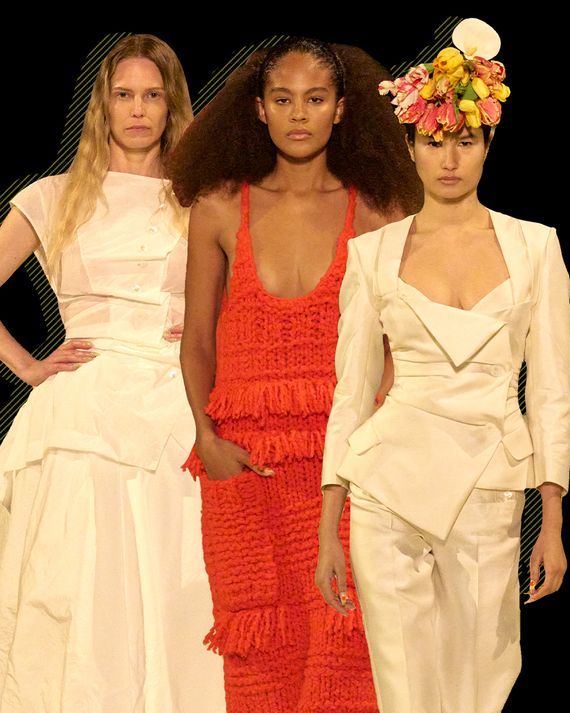 Photo-Illustration: The Cut; Photos: Fillipo Fior
Christopher John Rogers called his latest collection "To Have and to Hold, a Happy Cry." Did he mean a good cry, the kind that feels like an exorcism in your pillow? Or did he mean the kind that feels like an exultation, a battle cry? Once more unto the breach, you beautiful people. Methinks he meant a bit of both, given the ambiguities that tenderly laced through his beguiling show at the Brooklyn Navy Yard on Saturday night.
Rogers acknowledged before the show that the designs (for resort 2024) were tinged with a melancholia that people might not expect from him. Frankly, I didn't see it. Instead, I saw a designer expand his selection of materials to include those with a hard-to-identify, almost industrial edge. He then modestly applied the same dressmaking details to those strange fabrics as he would any other. For example, he used an off-white nylon that has the crunch and loft of paper for a shirt that has a built-in ruffle down the front — created in the patternmaking — and which he put with an airy, asymmetrical skirt in the same material. One of its benefits is that it's semi-transparent and it lends itself to designs for other garments. It just looks cool.
Rogers also got a lot of mileage out of a black coated taffeta; he referred to it as "a trash bag." He used it for a long shirtdress that twists around the body and hardly looks disposable, though of course the inference is there in the glossy fabric.
This was a collection loaded with textures, from the brushed, slightly hairy wool of a pair of coats in Sesame Street yellow and blue to the ultrasoft, custom-printed jersey of a high-neck, bias-cut long dress ("elegant but also chill," in Rogers's apt description) to the chenille of a 1970s-style ribbed sweater. His use of color — in bold, graphic blocks, as with the deep royal-blue wool coat over a print — was also impressive.
But, in general, Rogers's work has developed a lot since his first collections in 2018 and 2019, when he was often touted as showman. He can be that anytime he wants. Look at his juicy colors and extravagant shapes. But the other night in Brooklyn, he also showed a natty, nipped-waist pantsuit, with lacing up the back of the jacket. It's not a shape we've seen much this season on the runway. In fact, it's the opposite of the blocky-pants silhouettes. That distinction matters. And Rogers did a nice bit with the ruffled edge of a casual evening outfit. Instead of doing a conventional, poufy trim, he twisted the ruffle slightly. In other words, he took the stodginess out of the style and made it cool — and perfect for another fabric, like denim.
He's showing us his incredible versatility as a designer. If the folks at LVMH and Kering don't already have Rogers on their radar, then it's high time they did.