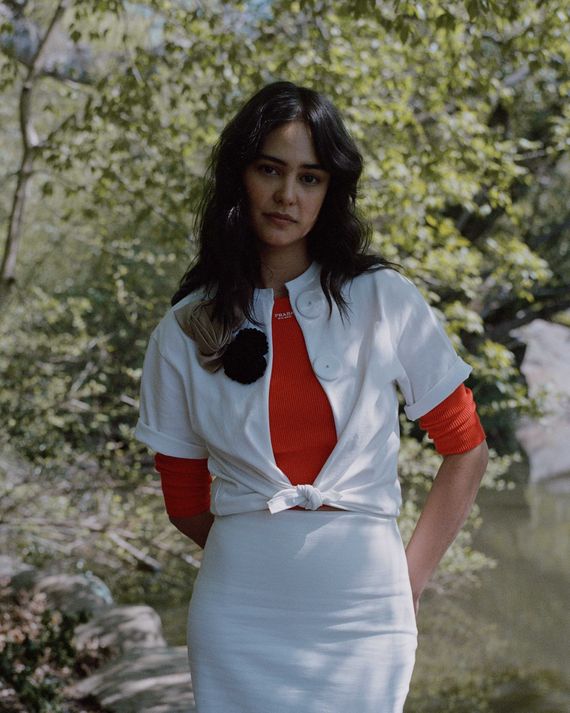 Courtney Eaton arranges chunks of a thigh on the firepit between us. In the uneven heat, it's the pure fat that blackens first, shapeless little bits she finds "so cute" but will nourish no one. Eaton prods the fleshier cuts with her metal tongs and pierces inside. The meat quivers, pink and raw. "Ew," she says, wrinkling her nose and pressing the thigh down firmly into the flame. "Die, chicken."
The 27-year-old actress has just bobbed down Amsterdam Avenue, past the blooming tulips and small dogs, to meet me at Gyu-Kaku Japanese BBQ on the Upper West Side. After changing out of her white Prada photo-shoot heels ("I felt like an idiot trudging along in Central Park, scared I would get dirt on them," she admits) and into a surreptitious uniform of black jeans, a baseball hat, and a T-shirt, we sit inside our booth and swap dog photos — Eaton's 8-year-old pup, Lady, is curled up in a doughnut position on her dogsitter's lap, and it's making Eaton jealous — pray today's heat is a harbinger of a horny summer, and flip through a binder of raw-meat photos until we get to the cocktails. Is it too early for happy hour?
"Never too early! It starts whenever you need it," she exclaims. The actress punctuates her sentences with a healthy smattering of fucks and deadasses and knows how to make a transgression feel good. "Fucking love this for us," she declares as we sip our 11 a.m. margaritas, no salt on the rim.
Onscreen, Eaton plays Lottie Matthews on Showtime's Yellowjackets, the psychological thriller–survival drama that follows a varsity girls' soccer team after their plane crashes in the Canadian wilderness in 1996, leaving them stranded for 19 months; ritual sacrifices, wilderness worship, and cannibalism abound. In a present-day thread, the show also follows a handful of survivors who struggle to reacclimate to their suburban New Jersey lives as they are haunted by their past horrors — the ones they endured and the ones they created (and maybe even delighted in).
Eaton's Lottie is introduced as a seemingly shy and minor character, the rich girl whose father charters the doomed plane and medicates her for what appears to be some kind of schizophrenia. She's someone who, Eaton says, has "never trusted her own mind" as a result. But the wilderness scrambles social hierarchies and norms, and Lottie's ostensibly clairvoyant visions and supernatural ability to commune with the sadistic wilderness elevate her to the position of a spiritual leader, the potential Antler Queen of the team turned cannibal clan.
Going into the role, Eaton spoke to the series' creators, Bart Nickerson and Ashley Lyle, about treading the character's mental health with delicacy. "It's not that I see Lottie as a villain," Eaton tells me, folding her tiny-tattooed forearms on the table. "I really don't think she is at heart, and I didn't want to portray someone who maybe has a mental illness to be a villain." This season, Lottie steps further into her leadership role, but Eaton warns that her acolytes are taking comfort in someone who has no comfort of her own. "She's more destructive to herself — last season, this season, and probably going forward," Eaton says, nodding. A waitress comes around with one plate of spicy tuna on crispy rice and another with fried pork dumplings, and the serious moment diffuses: "Waaayow." Eaton swallows a dumpling and points to the plate with her chopsticks. "These hit," she says.
In Eaton's deft performance of Lottie, she shifts seamlessly between the character's fearful and unassuming nature to gurulike and powerful and back. But growing up in a small town two hours away from Perth, Australia, Eaton never wanted to be an actress. She was a "painfully shy" kid who didn't like drama class in school and was terrified by the prospect of performing in front of people, and the idea of theater still "scares the shit" out of her. It was only after she was scouted by a modeling agency as an adolescent that she started getting comfortable in front of the camera. At 16, she moved by herself to Sydney, where she recalls "growing up pretty quickly," and originally planned to "go down the model route" and move to New York after school. But when director George Miller saw her photographs, he imagined that Eaton and Abbey Lee would star in his 2015 film, Mad Max: Fury Road. Eaton landed the role — her first ever— of captive wife Cheedo the Fragile after one audition tape.
The older she got, the more acting seemed like a reprieve from the limits of the modeling world. "It was nice controlling my own narrative and getting to have fun in front of the camera instead of it being these clothes, this hair," Eaton says. Upon moving to Los Angeles at 19, she worked and occasionally reminded her American friends that Outback Steakhouse's Bloomin' Onion isn't actually Australian. (Although, she admits begrudgingly, she does like the way it tastes.)
For Eaton, it has been challenging and thrilling playing a character like Lottie, who can be as inscrutable to audiences as she is to the actress herself, always straddling the line between real trauma and supernatural interference. "It's hard to talk about her and break her down because motherfuck, she's confusing," she says. Teen Lottie doesn't know if she'll live or die, and neither does her present-day counterpart, played by Kiwi and fellow Maori actress Simone Kessell as a cult leader, but the actresses take a two-pronged approach to the role. "Simone's version, for part of the season, is the light of Lottie, and mine is figuring out her way in the dark," says Eaton. (It helps that the two get along swimmingly off-camera, too: "She's so feisty and sexy — a fucking MILF," Eaton says of Kessell.) And while Eaton initially was worried that the character's opaque motivations would be off-putting to viewers, who can only take so many mysteries before we need to know what the fuck the symbol means, the fandom is down for Antler Queen intrigue.
On Yellowjackets, everyone comes undone. The girls blood-sacrifice and feast on roasted corpses; in a dream sequence, they devour a dead baby. How does an actor handle that kind of heaviness? Over the past few years, Eaton has figured out the necessity of baths and leaving things at the door as well as meditation. "It's just going to go downhill for everyone, but it's fun!" she says. In a show that puts a fine point on teen-girl cruelty, she also praises the friendships among the 20-something '96 cast for keeping her afloat, particularly her roommate, Sophie Nélisse, who plays Shauna. "She's my favorite human, and she's so talented and she doesn't even know it. It pisses me off when she's like, 'I think I did shit in that scene.' I'm like, All right, shut up before I slap you!" she says as we arrange our shrimp and chicken on the grill, crowning the best piece the Antler Chicken.
We take the meat off, and Eaton eyes the chicken on her plate. It's perfectly cooked, but as a former vegan, Eaton throws it back on the grill for good measure. "It's a little juicy," she explains. "My new meat-eating ass just wants to kill it a little more." She's undecided about dessert until she sees s'mores on the menu: "Oh my gosh, let's do a s'moore!"
After helping me incinerate my marshmallow — the charred bits are the best parts — I ask Eaton about her hopes for the future of her burgeoning career. But she's nostalgic for the past, when she was 19 and first felt like, "I'm an adult. I'm me." In her late 20s, all that self-assurance has become scrambled. "I feel like, Holy fuck. Who am I?" Still, it's now that Eaton feels she has started to get a real grasp on her voice, and as her grip tightens, she just wants to keep prioritizing what she loves.
When you're part of such a popular show and golden ensemble cast, the pressure of maintaining those standards gets real. "I'm nervous about keeping up the momentum, keeping everyone happy," Eaton admits. (This is a prime reason why she no longer lurks the Yellowjackets sub-Reddit: She's worried fans with top-notch theories will be let down by what actually happens.) Who's to say what's next, after the debut of her upcoming film, Parachute (which received rave reviews at SXSW), and the eventual third season of Yellowjackets? "Maybe my 30s will be banging," she surmises. "All the fingers and toes crossed."
With her Uber driver pulling up, Eaton savors a last bite of marshmallow. "Oh my God, I just drooled. I just demolished that," she says. "They need s'mores in the wilderness. They need some joy … This was fully a Yellowjackets vibe: meat over a fire," she continues, before it dawns on her that this is the exact reason I brought her to a barbecue spot. "My stupid ass," she says, laughing quietly at herself. "Not thinking about it."