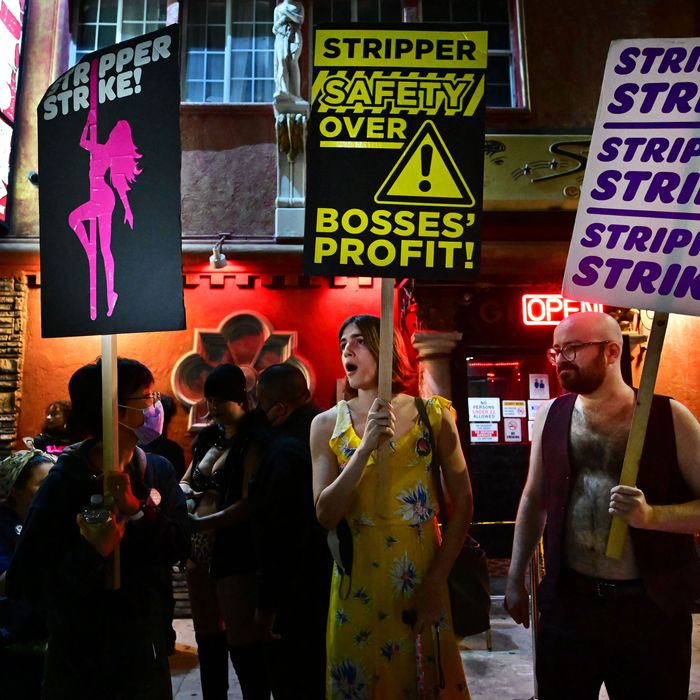 Please clap for the dancers of Star Garden Topless Dive Bar in North Hollywood.
Photo: FREDERIC J. BROWN/AFP via Getty Images
On May 18, the first strippers' union in over 25 years was born. Everyone, please welcome the dancers of the Star Garden Topless Dive Bar into the world of organized labor. We will be passing out birthday hats shortly.
But first, some background: In March 2022, 15 dancers at the North Hollywood club filed a petition for better working conditions, saying management hadn't taken the necessary steps to protect the workers' safety and privacy. They wanted tighter security to deal with patrons who have groped, followed, and filmed them. They wanted repairs to a stage that, according to the New York Times, obligated them to work around holes, broken glass, and nails sticking out of the floor. And as they put it in their letter, they wanted bartenders to help curb harassment and assault by cutting off customers when they become "belligerently drunk" and kicking out the crowd at closing time. Speaking to the Times, some of the dancers recalled being grabbed, even picked up, without bar staff stepping in. "Customers will be there watching us cash out, seeing the cash we're taking with us," a dancer who goes by Velveeta told the outlet. "They would be able to follow us to our cars and stalk us pretty easily."
Many of the strippers say that, rather than considering their list of concerns, management locked them out of the club upon receiving the petition. For over a year, they have been spending their Saturday nights picketing just outside the establishment rather than performing inside of it. By August, according to the Los Angeles Times, they were successfully turning away 80 percent of the clientele who showed up.
They've also been meeting with reps from the Actors' Equity Association, a union for entertainers and stage managers. Although the National Labor Relations Board conducted an election months ago, Star Garden apparently started throwing up obstacles: challenging some dancers' eligibility to participate and filing for bankruptcy. But it looks like the owners couldn't handle the squeeze any longer. According to the Actors' Equity Association, lawyers representing the bar agreed to recognize the dancers' union (the first since the dancers at the now-closed Lusty Lady Peepshow unionized in 1996) and will meet within 30 days to negotiate a contract, the dancers having voted 17–0 in favor of organizing. Star Garden will also rehire the dancers who were dismissed last year and reopen the club rather than pursuing its bankruptcy filing. "This has been a long, exhausting fight," Reagan, one of the dancers, said in a statement, "which is why this victory is so sweet."
Everyone deserves a safe working environment, especially in a job as physically demanding as dancing. So, please, a toast to our "twerking-class heroes," to quote one of their signs. Solidarity.