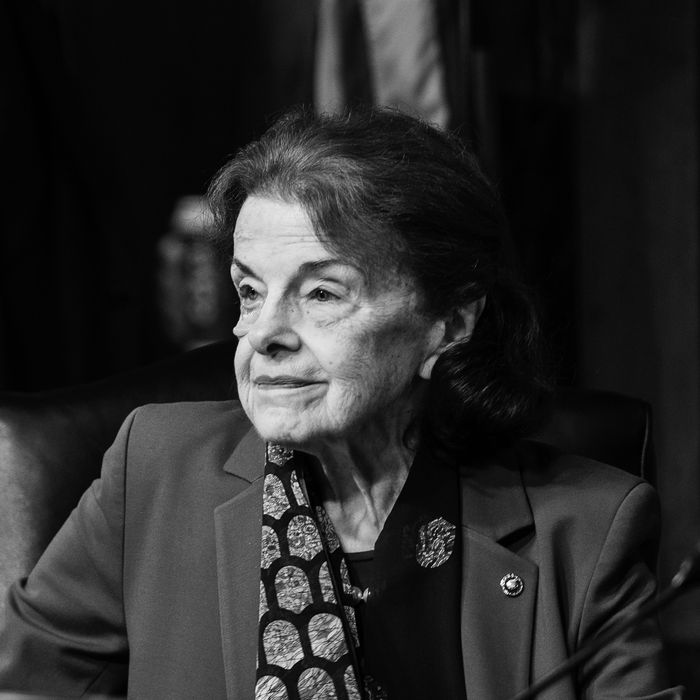 Photo: Kent Nishimura/Los Angeles Times via Getty Images
Senator Dianne Feinstein had been away from Congress for the past several months while she recovered from shingles, causing a political headache for Democrats, whose agenda stalled due to her absence. She returned to the Senate part-time last week, looking frail as aides took her around in a wheelchair. Now, the New York Times has reported that Feinstein experienced a series of complications her team didn't previously disclose, developing Ramsay Hunt syndrome and encephalitis, the latter of which can cause lasting memory and language issues for patients.
For the past several years, there have been concerns about whether the 89-year-old California Democrat, who has served in Congress for six terms, is fit for office due to her age and an apparent decline in her cognitive abilities. Shortly before she became ill, Feinstein announced she wouldn't seek reelection and would leave the Senate when her term ends in January 2025. But her condition as she returned to work has led some colleagues, voters, and donors to question whether she should retire sooner.
In a statement to the Times, Feinstein said, "I'm back in Washington, voting and attending committee meetings while I recover from complications related to a shingles diagnosis. I continue to work and get results for California."
What did we previously know about Feinstein's absence?
Feinstein was diagnosed with shingles while the Senate was in recess in late February and was briefly hospitalized as a result. According to her team, she then spent nearly three months at home in California convalescing and working remotely.
Feinstein's prolonged illness hampered Democrats' ability to conduct business due to their slim majority in the chamber. Her absence was felt particularly on the Senate Judiciary Committee, where some of President Joe Biden's judicial picks were left in limbo. Without her vote, Democrats couldn't get the nominations out of committee. Feinstein suggested a workaround that would allow Senate Majority Leader Chuck Schumer to temporarily replace her. But Republicans immediately rejected the effort and Feinstein faced calls to resign from her position before her term ends, even from some fellow Democrats who believe she can no longer fulfill her duties.
What is Ramsay Hunt syndrome?
Ramsay Hunt syndrome is a neurological disorder caused by the varicella-zoster virus, which causes shingles. The virus can inflame the nerves that go through the face, leading to symptoms that may include facial paralysis, vision impairment, vertigo, and painful red blisters. (Last year, Justin Bieber shared that his face was partially paralyzed due to Ramsay Hunt. His condition has improved since.) Feinstein's spokesperson confirmed in a statement that the senator is still experiencing complications from Ramsay Hunt syndrome.
What is encephalitis?
Encephalitis occurs when the brain swells, often due to an infection or an immune-system response. It rarely occurs as a complication of shingles. Encephalitis can cause a range of lasting health challenges, including language and memory problems, mood and sleep disorders, and mobility issues. Doctors say older patients have a harder time recovering from the condition, which also increases the risk of having a stroke, according to the Times. Feinstein's spokesperson said her encephalitis resolved itself following her discharge from the hospital in March.
How has Feinstein's return to work been going?
The senator is back in Washington, D.C., being wheeled around the Capitol by a small entourage of aides that includes Nancy Corinne Prowda, the oldest daughter of fellow California lawmaker Representative Nancy Pelosi. Feinstein is back to voting and attending committee meetings, although her schedule remains light and she has missed several votes, according to the New York Times.
Feinstein also faced a new round of questions about her cognitive abilities from colleagues and the media following an exchange with two journalists earlier this week. "I haven't been gone," she told reporters from Slate and the Los Angeles Times who asked how her colleagues had received her following her monthslong absence. When they followed up, asking whether that meant she had been working remotely while ill, she replied, "I've been here. I've been voting. Please, either know or don't know."