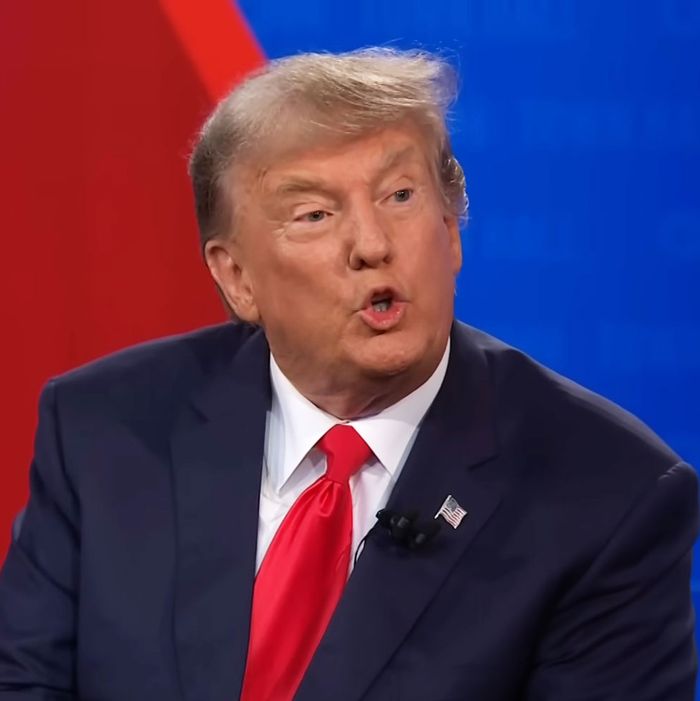 On Wednesday night, CNN welcomed 2024 presidential candidate Donald Trump to a New Hampshire town hall, which he predictably used as a platform to repeat a series of familiar lies. To the audible delight of his MAGA audience, he reiterated his baseless complaint that the 2020 election had been "rigged." He argued that he had "every right" to keep classified government documents after leaving the White House, and once again denied ever having met the woman who just successfully sued him for sexual abuse and defamation. On Tuesday, a Manhattan jury awarded former Elle advice columnist E. Jean Carroll $5 million, finding Trump liable for battery and for damaging Carroll's reputation and career by branding her a liar. Just over 24 hours later, Trump doubled down on similar claims to those that earned him a defamation suit, calling the case "fake news."
"This woman," Trump said of E. Jean Carroll, when moderator Kaitlan Collins asked for his response to the verdict. "I don't know her, I never met her, I have no idea who she is."
Which is more or less the response he has been giving since Carroll first told her story in New York. "Totally lying," he said shortly after the piece published. "I know nothing about this woman." But Carroll — who brought a civil suit against Trump in 2019 —says that when she ran into him in Bergdorf Goodman more than two decades ago, he recognized her immediately. "He said, 'Hey, you're that advice lady.' I said, 'Hey, you're that real-estate tycoon,'" she testified last week. Carroll recalled Trump asking her for help picking out a gift for a woman; she agreed, but when he followed her into a dressing room on the department store's sixth floor, "He immediately shut the door and shoved me up on the wall," Carroll told the court. "For a minute, I thought maybe it was a mistake," she said, adding that he pushed her hard into a wall. "I pushed him back, and he threw me back against the wall again, banging my head again," Carroll testified, explaining that during the attack — which she described as a rape — she didn't scream, because she "didn't want to make a scene" and "didn't want to make him angry."
Ultimately, the jury sided with Carroll on all but the rape allegations, awarding her $5 million for battery and defamation. She has said she feels "fantastic" about the outcome.
Trump, meanwhile, says he plans to appeal, clinging to his threadbare excuses even under oath. In a deposition played in court last week, he accused Carroll of making up "the most ridiculous, disgusting story." He again asserted that she was not his "type," a defense he has mounted countless times not only against Carroll, but also against other women who've accused him of assault. (Jessica Leeds is one: She says Trump once groped her on a plane, and testified about the experience during Carroll's trial.) He also recycled the too-ugly-to-rape line on CNN's stage, telling Collins: "Physically, she's not my type, and now that I've gotten indirectly to hear things about her, she wouldn't be my type in any way, shape, or form." Never mind that, in his deposition, Trump couldn't tell Carroll apart from his ex-wife in a photo.
Given all the overlap, Carroll now says she may file a third defamation suit against Trump (she already had another one pending) for Wednesday's comments. "It's just stupid, it's just disgusting, vile, foul, it wounds people," she told the New York Times. Although she did not watch the program herself, her attorney, Roberta Kaplan, provided her with a transcript. Not only did Trump rehash the positions that got him sued in the first place, but he also said the trial had been "rigged." And at the same time, he seemed to suggest both that Carroll had fabricated the attack and that she was somehow responsible for whatever happened to her. "What kind of a woman meets somebody and brings them up and within minutes you're playing hanky-panky in a dressing room?" he said. Faced with fresh material, Kaplan told the Times, "Everything's on the table, obviously, and we have to give serious consideration to it. We have to weigh the various pros and cons and we'll come to a decision in the next day or so, probably."
Ahead of the town hall, Trump teased an especially chaotic performance in an apparent effort to gin up interest. "Could be the beginning of a new and vibrant CNN with no more fake news or it could be a total disaster for all — including me!" his campaign tweeted on Wednesday morning. But as Intelligencer notes, the crowd comprised Republicans and independents who cheered Trump's talking points, lending a "MAGA rally" flavor to the event. Though it was unsettling to hear Trump's glib dismissal of rape allegations set against a laugh track, nothing about the way the evening unfolded feels surprising. Trump called Collins a "nasty person," just as he called Carroll a "wack job." He talked over the host and dodged her questions, in much the same way he bulldozed his moderators in presidential debates. What's remarkable is that knowing all of this, knowing exactly how he will behave and precisely what he will say, CNN still decides to give Trump a microphone.
This article has been updated.