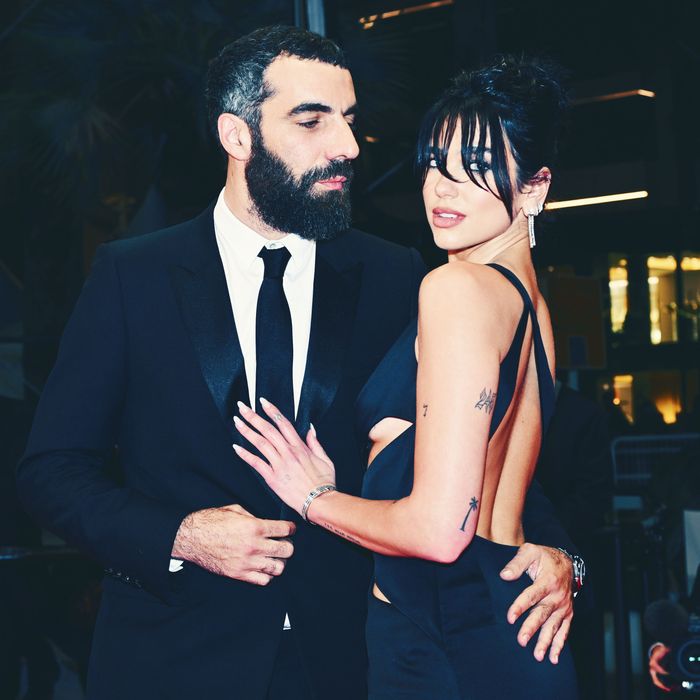 Photo: Stephane Cardinale/Corbis via Getty Images
Dua Lipa hit the Cannes red carpet with her new man, Romain Gavras, on Friday. On Instagram, she posted photos with the French film and music-video director with a caption that translates to "Last night in Cannes with my sweetheart."
According to ET, the English Albanian singer, 27, and Gavras, 41, were first spotted together leaving a party in London in February. Later that month they were seen at the Saint Laurent show during Paris Fashion Week, per Vogue. Gavras is known for directing Jay-Z and Kanye West's "No Church in the Wild," M.I.A.'s "Bad Girls," and Jamie xx's "Gosh" music videos. According to People, he also dated Rita Ora for about six months in 2020.
Meanwhile, Lipa was rumored to be dating Jack Harlow and Trevor Noah, but her most recent serious relationship was with model Anwar Hadid — the brother of Gigi and Bella — from 2019 to 2021. TMZ reports that shortly after Lipa posted about Gavras, Hadid shared alarming messages to his Instagram Story, including a selfie with the caption, "Trying to not to find and kill him." While Hadid didn't mention Lipa or Gavras in his Story, many fans expressed concern. However, according to TMZ, Hadid appeared to respond to speculation that his posts were about Lipa, writing in a subsequent Instagram Story: "Crazy how the internet will just make whole articles about shit they don't know anything about!! Yall are bored as fuck!!!!" as well as "SORRY."
This post has been updated.