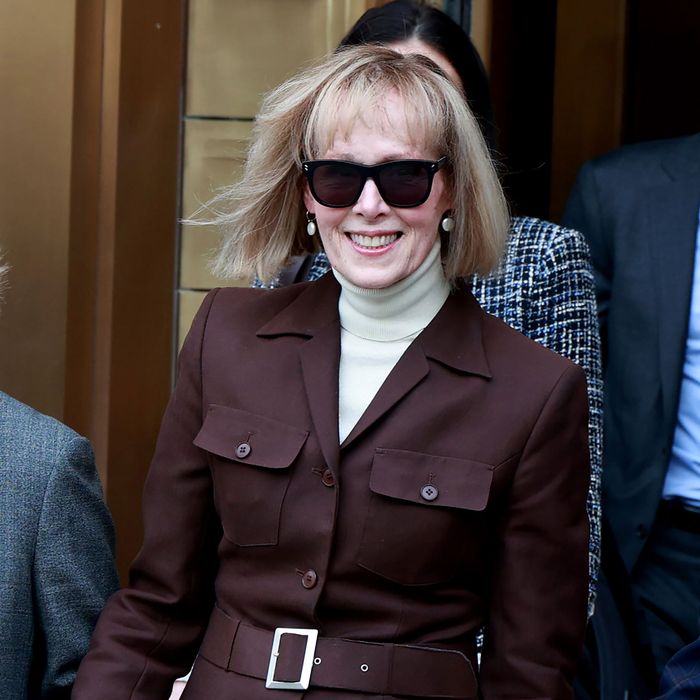 E. Jean Carroll leaving court after winning her defamation and sexual abuse case against Donald Trump.
Photo: New York Daily News/NY Daily News via Getty Images
Earlier this month, a Manhattan jury found former president Donald Trump liable for sexual abuse and defamation against writer E. Jean Carroll, who said Trump had raped her in the '90s and then repeatedly called her a liar once she took the story public. After a two-week trial, the jury awarded Carroll $5 million in damages, and Trump again denied her account, claiming in a CNN town hall that the case was "fake news" and that he had "no idea who this woman is." Now, the Associated Press reports that Carroll is amending a separate defamation suit she filed against the former president in 2019, seeking an additional $10 million, at least. The goal is "both to punish Trump" and "to deter him from engaging in further defamation," according to the filing.
Speaking to the New York Times, Carroll's lawyer, Roberta Kaplan, explained their reasoning this way: "It makes a mockery of the jury verdict and our justice system if he can just keep on repeating the same defamatory statements over and over again."
Carroll first came forward with her allegations in a New York Magazine essay that Trump had attacked her in a Bergdorf Goodman dressing room in 1995 or 1996. Trump fired back that Carroll was not his "type" and insisted that he did not know her. In November of that year, Carroll sued Trump for defamation. Three years later, thanks to the passing of a New York State law that opened a one-year window for civil cases that would normally be outside the statute of limitations, she sued him again, filing a civil suit against Trump for both sexual battery and defamation. That's the suit that recently went to trial. Trump opted not to testify, instead appearing via an hours-long deposition video in which he claimed he had never met Carroll and called her allegations a hoax. At the same time, he was unable to tell Carroll apart from one of his ex-wives in a photo.
After the verdict, Trump said he planned to appeal, while Carroll told Good Morning America, "I feel fantastic."
Calling the verdict "the happiest day of my life," she added that she had been "shaken" throughout her three days of testifying but "felt strong because I knew I was telling the truth, and I just stuck to it." Hours later, Trump went on CNN and called Carroll a "whack job," saying the case was "rigged." Kaplan then told the Times that the legal team were weighing their options, and now, they are petitioning Lewis A. Kaplan — the same one who presided over the most recent trial — to add not only the verdict to Carroll's 2019 suit, but Trump's subsequent statements as well. These, the filing reportedly argues, "show the depth of his malice toward Carroll, since it is hard to imagine defamatory conduct that could possibly be more motivated by hatred, ill will, or spite."
Trump's attorneys, meanwhile, told the Times they viewed Carroll's motion as a "desperate, last-ditch effort … to upend this case" and said they would "vigorously oppose" it.
This article has been updated.