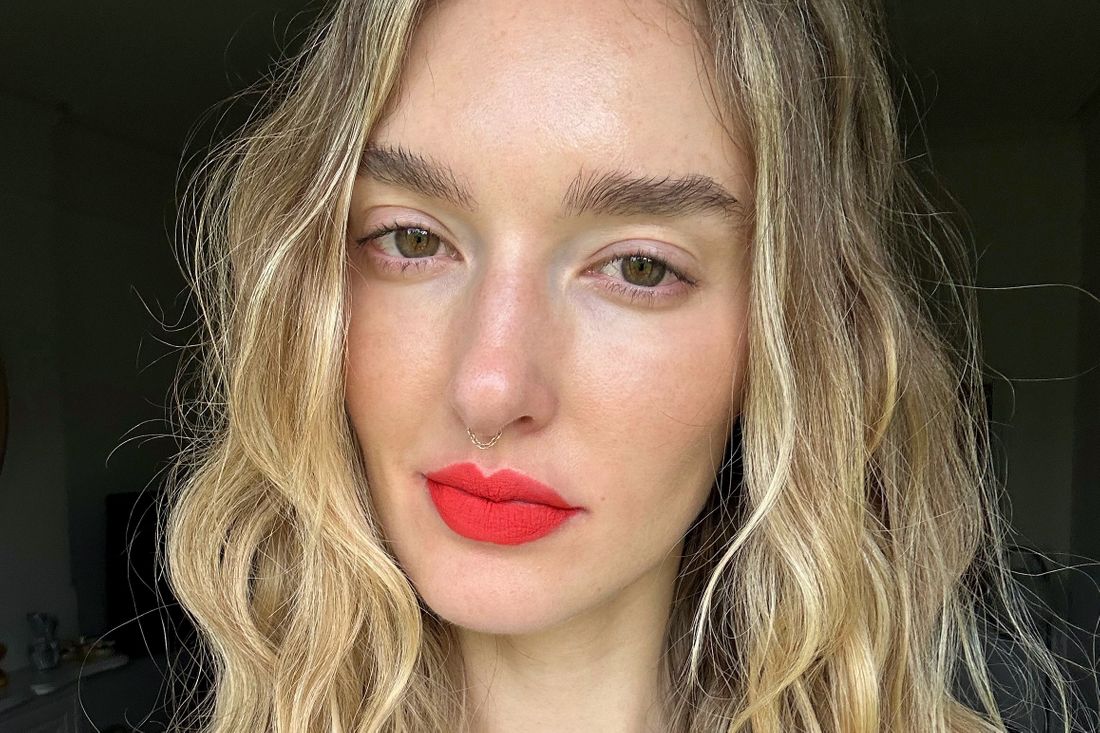 I'm going to hit you with a hard and fast beauty mandate: Red lipstick is sexy. There's no denying it, and it honestly doesn't even matter whose lips you're admiring. Everybody who swipes on a crimson, ruby, cherry, scarlet, carmine — the shade variations are limitless — lip just oozes that je ne sais quoi confidence. The kind that suggests you can walk into any restaurant in the city, kiss the hostess hello, and be led to a table with your favorite bottle of vinho verde already chilled and waiting for you. It's what I like to call Red Lipstick Energy, or RLE if you will, the posh cousin in stilettos to the ubiquitous BDE.
Channeling your RLE is, of course, first and foremost about finding the perfect shade of red. It's a color that flatters your skin tone, your style, and feels as good as it looks, ideally well past closing time. But with hundreds, if not thousands, of options on the market right now, finding a tried-and-true formula that hits all of your lipstick must-haves can be harder than it sounds. Instead of wading through a dozen or more options on a given weekend (which, honestly, is how I spend a lot of my free time) I polled a few editors to learn exactly what red lipsticks they always keep on hand when they want to ramp up the sex appeal and embrace their inner vixen.
NARS Velvet Matte Lip Pencil in Dragon Girl
"I have to be careful with red lipstick: Most classic reds have blue undertones, which can make me look vampy. In the winter, I'll lean into it, but while the sun is shining, I want something bright and fresh. Dragon Girl has a pink undertone, which makes it feel playful while still making a statement. The pencil applicator is easy to swipe on, and once it's on, it doesn't budge or make a mess. It's also matte without drying out my lips, which is a huge plus. The only downside is you need to sharpen it regularly!" — Lee Musho, Branded Content Editor
PAT McGRATH LABS MatteTrance Lipstick in Elson 2
"I tried for years, since middle school, to be a red lipstick person. But the more I tried, the more disappointed I became. The only red lipstick that's been able to convince me that I can, in fact, pull the color off is the Pat McGrath MatteTrance Lipstick in Elson 2. While most red lipsticks — hell, most lipsticks in general — require a liner to outline your lips, this red lipstick is so perfectly sharp and opaque that it takes less than 10 seconds to apply. Even when I mess up, I can tap my finger to my lips and blur out the shade, so it's a little less Upper East Side and a little more Le Marais for summer. Bonus: Even on the sweatiest, hottest day, this lipstick will not melt or fade until you need it to." — Samantha Sasso, Branded Content Editor
Chanel Rouge Allure Ink Matte Liquid Lip Colour in Choquant
"TBH, I'm not a big lipstick person, so a product has to be really good if I'm going to take the time to apply it. I'm also super picky about texture — I prefer a matte finish to something shiny, but it can't be too dry or too tattoo-ed on. The Chanel Rouge Allure Ink product hits the nail on the head; the formula starts out as a liquid and dries down to be a velvety matte. I love the soft blurred effect that it leaves — it gives a more 'cloud makeup' vibe than a shiny statement lip. That being said, the color payoff of the vibrant red Choquant shade provides everything you'd want in a classic French girl look." — Aviel Kanter, Branded Content Director
MAC Cosmetics Powder Kiss Liquid Lip Color in Ruby Boo
"The MAC Cosmetics Ruby collection has stunning shades of red that are so flattering. While Ruby Woo is a cult classic, I have Ruby New and Ruby Boo, both of which are a beautiful, deep red. The shades are elegant and retro, which is exactly what I want out of a red lipstick. The finish is a happy medium between matte and cream, which results in a semi-matte finish that isn't drying. It holds up well, too! I wore it to a wedding recently (all of the bridesmaids did!) and it stayed in tact all night." — Kathleen Owens, Branded Content Editor
NARS Powermatte Lip Pigment in Starwoman
"I'm not much of a lipstick girl, but when I do choose to wear lipstick, I like to go bold. I prefer a blue-red color with my complexion, and especially love wearing it with a warm-weather going out outfit — it adds just the right amount of spice to my look. This NARS formula stays put — once it's on, it's on and doesn't budge until I remove it with makeup remover. It's not super drying either, and feels barely there on the lips, to the point that I almost forget I even have it on." — Stephanie Nguyen, Branded Content Associate Director
Revlon ColorStay Suede Ink Lipstick in Feed the Flame and Byredo Lipstick in Divorce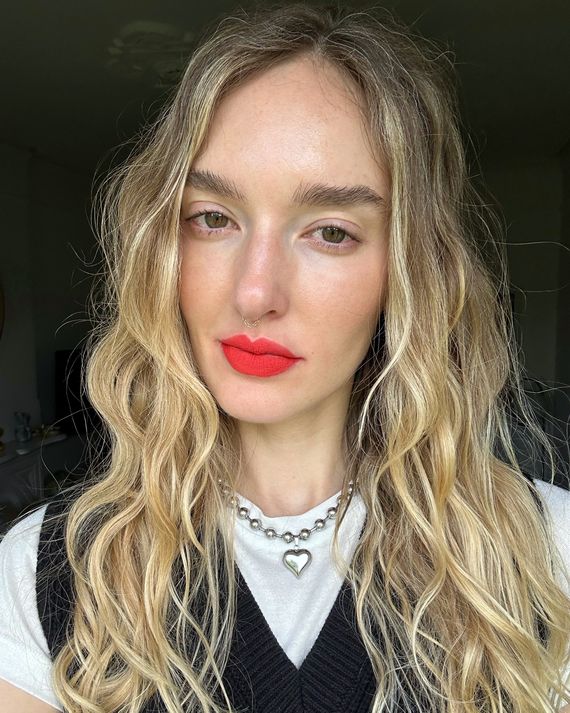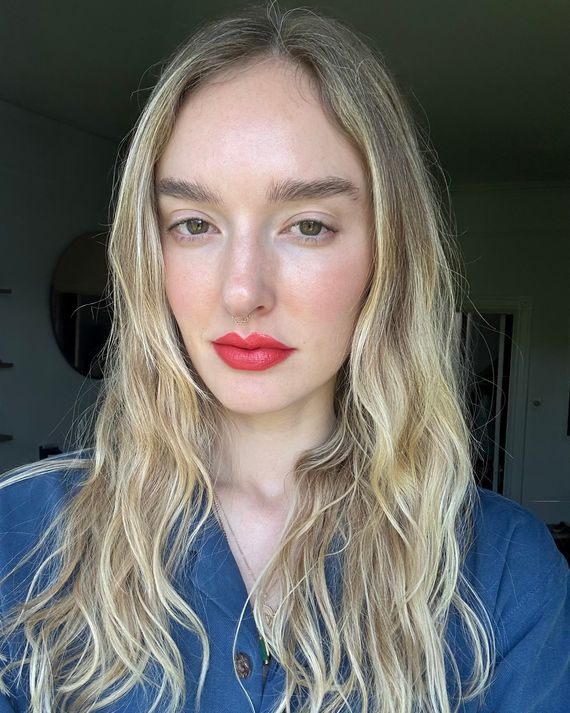 "Asking a beauty editor to pick their favorite red lipstick is like choosing a favorite child (or pet in my case). It simply can't be done. So when it comes to finding the perfect shade that gives me major RLE, I have to choose one option for daytime and another for evening. With summer coming up, I look to a vibrant cherry-meets-orange color, which this Revlon lipstick captures perfectly (and it also stays put all day long, even through an enthusiastic makeout). Then I want something slightly deeper and more classic crimson at night. Byredo's Divorce lipstick is just *chef's kiss* for this vibe, and it's deliciously comfortable on your lips — always creamy and highly pigmented." — Hannah Baxter, Contributor
This advertising content was produced in collaboration between Vox Creative and our sponsor, without involvement from Vox Media editorial staff.