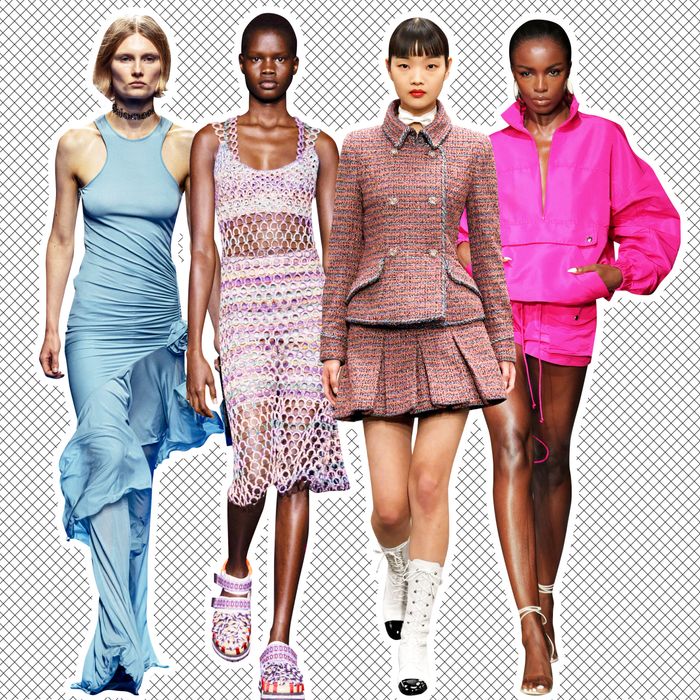 Photo-Illustration: by The Cut; Photos: Getty Images, Shutterstock
For more of the Cut's favorite fashion, beauty, and home finds, sign up for the weekly Cut Shop Newsletter.
Unlike star-sign-label merch, the stars can align us with the designers who embody our inner spirits: Are you a Chanel sun, a Burberry rising, a Gucci moon? You can find the energy you put out in the world below, along with which look you should embrace this season.
Don't worry if your designer budget leans more toward the Outnet or the RealReal. Below, we also compiled pieces that align with each designer's aesthetic.
Aries: LaQuan Smith
LaQuan Smith's designs aren't for the light of heart but fit well with the personality of the bold and self-assured fire sign Aries. The ram is the first sign of the zodiac, which means they like to make an unforgettable splash in their self-presentation choices.
Taurus: Jacquemus
Being an indulgent earth sign means that Taurus likes to wear comfortable, practical, and easy pieces. The caveat is that the sensual nature of the bull needs more edginess to its styling, an element provided by the French brand Jacquemus.
Gemini: Thom Browne
Geminis have two different sides to their personality. Thom Browne captures the playful essence of this air sign by making madras tops (matching bottoms sold separately) with juxtaposing plaid elements.
Cancer: Burberry
Burberry offers up a mix of classic looks that transcend centuries. Despite Daniel Lee's youthful approach, its trench coat is a staple of any wardrobe. Since the zodiac sign Cancer likes to wear comfortable silhouettes that never go out of style, they'll relish Burberry looks similar to the OG trench coat.
Leo: Jean Paul Gaultier
Lights! Camera! Action! Leo and Jean Paul Gaultier definitely like to turn on the charm and glam when in front of an audience. Gaultier has always been on the cutting edge of fashion, which is why dramatic personalities (a.k.a. Leos) are attracted to his clothes. Gaultier's flashy designs serve Leo's desire to stand out: Think Madonna from the '90s.
Virgo: Prada
What aligns Prada with Virgo is decisiveness. Virgos always have a plan. And so does Mrs. Miuccia Prada. It's no wonder why style icon Carrie Bradshaw had a personal shopper at its flagship store in NYC.
Libra: Chanel
Chanel's signature tweed suits are wearable art, and Libras, known for making things orderly and aesthetically pleasing, know that. A Libra knows how to dress a Chanel tweed jacket up with pearls and heels or balance out its classic woven skirts with a simple T-shirt and hoop earrings. They love a balance.
Scorpio: Versace
Versace is pure sex. So obviously, the label appeals to … a Scorpio. The edgy and intuitive sign can relate to her sassy, tough, feminine designs — particularly this black floral-lace number to live out their best rock-and-roll dreams.
Sagittarius: Altuzarra
Go bold or go home is the motto of Sagittarius (who has a larger-than-life personality and likes to wear clothes that accentuates their eclectic and eccentric aesthetic). Altuzarra, known for many prints, can satisfy a Sagittarius's need for passion and intensity.
Capricorn: Blumarine
Decadent gowns, cool denim designs, cheerful suits, and fun clubwear: Blumarine does it all with rose-colored glasses — like a zesty Capricorn. Blumarine can transform any parcel of clothes from boardroom chic to a dashing happy-hour fit, great for the sign ready to live life.
Aquarius: Gucci
The maximalist aesthetic reigns at Gucci. Great for an Aquarius, who is unpredictable and creative. More is more.
Pisces: Chloé
Chloé's bohemian spirit aligns with Pisces's highly creative and imaginative mind. The mystical water sign needs to feel free and fluid, which bodes well with Chloé's easy crochet dresses.