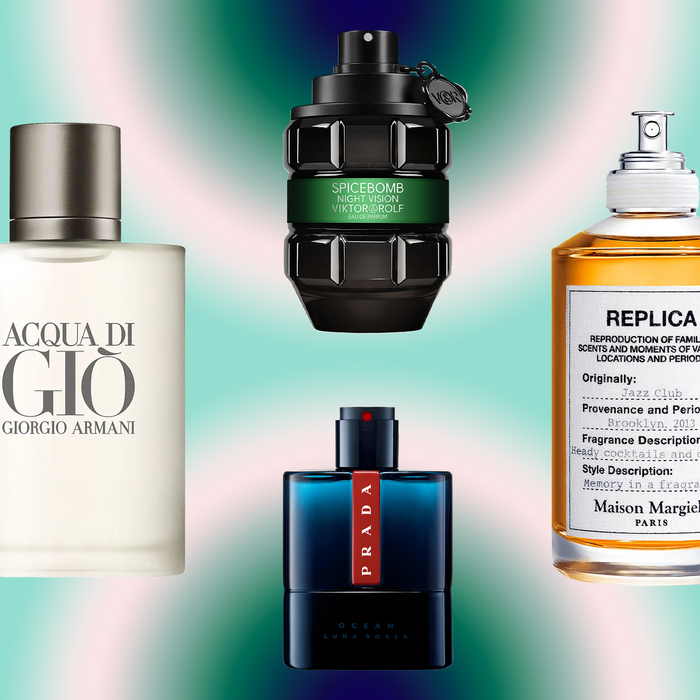 Graphic: Sephora; Photo Illustration: Rebecca Hoskins
When it comes to gift-giving holidays, mothers usually get the short end of the stick. Like clockwork, every Christmas, Hanukkah, birthday, and/or Mother's Day they expect to receive one and only one gift: An ordinary white bathrobe. But if the default gift for mom is terry cloth bathwear, then dear ol' dad's must be cologne.
Unlike a boring bathrobe, cologne is a great gift idea, but it's best when personalized. Blindly grabbing any stone-colored bottle off a dusty department store shelf may have been the last-minute strategy for every other Father's Day, but this year, you're stepping it up. Buying fragrances for people is an art and science, but if you know them well enough, you can find a scent that captures their entire personality in a bottle.
It's time to dig deep and find a scent that embodies who the dad in your life really is. Do they like spending all of their time outside? Do they have Champagne taste on an actual Champagne budget? Do they exclusively drink whiskey and listen to jazz? Take our word for it: There's a fragrance out there for them — and it's at Sephora.
For the dad who prefers vinyl
If the dad in your life has ever said, "They just don't make music like they used to," they need this fragrance. Like the Old Fashioned they sip while listening to their collection of jazz albums, this scent is spicy and warm. They might be surprised to find themselves refreshed by this smoky scent's more unexpected notes like lemon and pink pepper. Sure, they kind of live in the past, but they have great taste and, although you may struggle to admit it, know a classic when they see one. This fragrance will be no exception.
For the dad planning a Euro trip
This seems obvious, but when in Rome, right? In the States they're your average dad who loves talking about lawn mowers and how to braise a short rib, but in Europe they plan on renovating their image, at least as best as an American abroad can do. Help kickstart the adventure with this modern couture scent that combines smoked vetiver and aromatic sage with a hint of mineral salt and spicy ginger. Their midlife crisis will be the most stylish yet.
For the dad who loves the great outdoors
You won't catch this dad relaxing on the couch binging the latest corporate dramedy. Instead, they're hiking, gardening, or bird watching. In an age when screens dominate our attention, being an outdoor enthusiast makes this dad bold, like the notes in this fragrance. The blend of spices, including pepper and chili, is grounded by green resin accord and clary sage, so even when they're indoors, this woody scent will bring them to their happy place.
For the dad you'll never catch in jeans
While this dad is not afraid to admit that, on occasion, a pair of sneakers and denim are appropriate, most days, they appreciate a tailored suit. And any good suit should be accompanied by an equally sophisticated cologne. Infused with sage and geranium mellowed by fresh wood notes, this sleek bottle houses the kind of signature scent a dapper person like them deserves.
For the dad basking in retirement bliss
Retirement has been treating this dad very well. They traded their raised ranch for a house boat and left suburbia behind for good. With no more college tuition or mortgages to pay, they are living the simple life as an off-duty mariner (or whatever a retiree does). This fragrance is filled with the kind of aquatic, clean notes that can match their new laidback lifestyle (think: Calabrian bergamot, neroli, and green tangerine).
For the dad who never wants to feel "old"
This can include both the dad who's tired of being reminded they're "over the hill" and the dad who just became one. Life is coming at them fast and even with all of their responsibilities, they would love to feel young again — or at least younger. And if there were ever a fragrance for someone living for the thrill of it, it's this one. Individually, its notes — lavender, coriander, orange flower, and patchouli — are green and zesty, but when blended together they're audacious and unpredictable. Odds are that this dad won't be breaking the rules like a teen past curfew any time soon, but at least this scent will make them feel brazen enough that they could.
For the dad who's an earth sign
Earth signs are known for being the most grounded people of the zodiac, but sometimes they can be so down to earth that they forget how to just relax. This is why earth signs need a little water in their lives. Where earth is hard and practical, water is emotional and free-flowing. Fittingly, this fragrance pulls inspiration from both. While the ocean — any body of water really — smells kind of stale and sulphury, this aquatic scent is filled with refreshing notes like iris absolute and bergamot. The blue bottle may imply that this is strictly a fresh, watery scent, but the undertone of vetiver essence reminds everyone that, underneath it all, this fragrance is an earthy concoction.
For the dad who likes the finer things in life
Cashmere cardigans, 100 percent Turkish cotton robes, silvertone cuff links: These are just a few of the finer things this dad probably already owns — or has on a wish list. Odds are this fragrance is on there, too. Just like everything else they enjoy, this fresh and spicy fragrance is one of a kind. We dare you to find another scent that combines frosted grapefruit with leather or amber ketal with peppermint. The packaging — yes, it's a gold bar — is just the cherry on top.
This advertising content was produced in collaboration between Vox Creative and our sponsor, without involvement from Vox Media editorial staff.