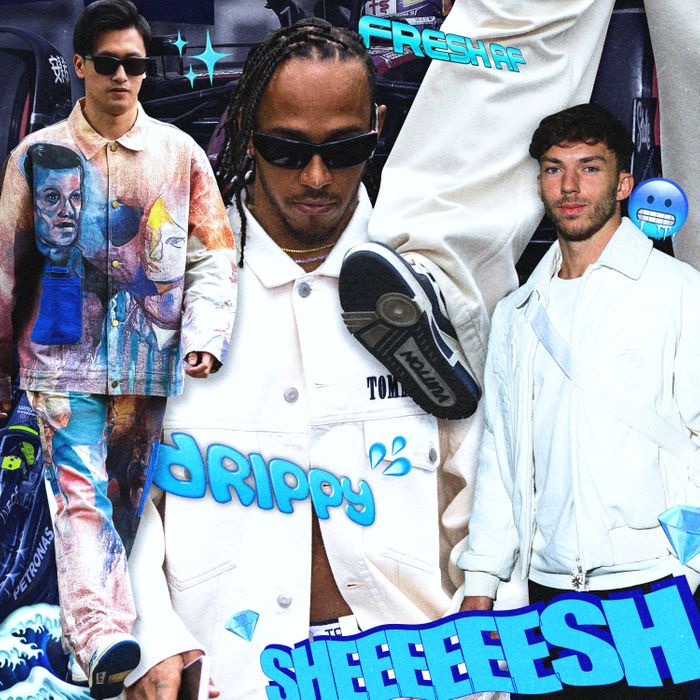 Photo-Illustration: The Cut; Photos: Getty
At the second annual Miami Grand Prix, helicopters flew low over the track, attempting to keep pace with the 20 cars and 20 drivers hitting well above 300 kilometers per hour below. But on the safety barriers that line the course, advertisements for luxury brands set a different tone. The classic Rolex was heavily featured, and behind the walls, fans lined up to purchase limited team merch. F1 has always been an expensive sport, the longtime fascination of billionaires and the cartoonish image of cigar-smoking celebrities and wealthy Europeans drawn to all things elite and exclusive. But with the recent push to grow Formula 1's popularity in the U.S. through shows like Netflix's Formula 1: Drive to Survive, and the ongoing celebritization of its charismatic drivers, the motorsport has experienced another shift. In a culture obsessed with glamour, F1 has become fashionable, too.
Formula 1's connections with the fashion world aren't new: The influence of Ayrton Senna's clubmaster sunglasses and Gilles Villeneuve's turtlenecks endure, fashion houses like Tommy Hilfiger and Benetton have long sponsored teams, and a sleek black racing suit or Ferrari red-leather moto jacket will always be chic. As the drivers become more visible, so does an evolved sense of style within the sport.
When you're a Formula 1 racing driver with Monaco as your playground and A-list sponsors, your outfits had better be fly. Case in point: the swell of driver participation at fashion weeks this year in New York, Paris, and Milan, where Team Scuderia AlphaTauri debuted a clothing collection to pair with a new car design, Pierre Gasly showed up at Louis Vuitton's menswear show, Esteban Ocon attended Givenchy, Charles LeClerc sat front row at Nahmias, and Zhou Guanyu stood out at Prada.
Guanyu exists in a unique spot at the nexus of the F1 and fashion worlds. The first-ever Chinese driver in the history of the sport has been staking his claim in the style arena: his favorite designer is Rick Owens, he's an ambassador for Lululemon, and even before he joined F1 and was still competing in F2, much of his public persona was tied to his keen eye for fashion. At a Chase Sapphire Lounge pre-party for the Miami Grand Prix, a friend alerted me to the fact that he arrived at the adjacent paddock in a Dior silk set, part of another brand-ambassador deal. In Monaco, a few weeks later, he made his first public appearance in Dior pants with kilt detailing from its pre–fall 2023 collection, which was very similar to an ensemble Lewis Hamilton wore in Bahrain months earlier. (Gasly pulled from the same runway in Miami but opted for the less courageous straightforward trouser.)
However, as a rookie, Guanyu owes much to the legacy of Hamilton, the only Black driver to ever compete in its seven-decade history and by far the best-known driver on the grid. Hamilton has always expressed interest in fashion, and just a few short years ago he faced criticism for expressing himself in that particular way. At the 2021 Met Gala, Hamilton bought a table to showcase young Black designers: Kenneth Nicholson, Theophilio's Edvin Thompson, and Aliétte's Jason Rembert. He starred in Valentino's 2022 Pink PP Fall collection alongside Zendaya and has designed clothing with Tommy Hilfiger. Hamilton has also worked with Zendaya's stylist Law Roach, who has dressed him in Louis Vuitton, Alexander McQueen, and Bottega Veneta. Now, he mostly collaborates with Eric McNeal, whom we have to thank for this custom Rick Owens sequined boiler suit and the Rick Owens x Dr. Martens boots Hamilton wore at the Miami Grand Prix this year.
A lot of the disapproval of Hamilton's flirtation with high fashion came from conservative naysayers like former F1 owner Bernie Ecclestone, who believed his style distracted him from his racing. (His performance proved otherwise.) Antiquated thinking around self-expression continues to plague the sport, but progress is being made nonetheless, and sometimes it starts with someone like Hamilton wearing loose-fitting neon-pink pants with heavy pockets at the ankle (courtesy of Collina Strada).
For some racing enthusiasts, following what the drivers wear is an extension of their dedication to F1 — an obvious next step for a sport outfitting its drivers in Gucci, Saint Laurent, and Hermès for fashion spreads. Those fans loudly support their favorites' fashion choices in spite of the F1 purists who believe the only true way to appreciate the sport is to examine the stats. Other fans share videos of what they plan to wear over the course of a race weekend like they might for Coachella.
There are plenty of F1 fashion accounts on Instagram, but one of the most popular is dedicated solely to Hamilton's style. Rashi Gaur runs @hamazinglew, a page that started as a fan account in 2013 and transitioned to focus on fashion in 2018 — about a year after Hamilton started appearing at fashion shows. Gaur currently has over 21,000 followers, which makes her page big enough to catch Hamilton's eye: Last spring, he told SkySports he is aware of the account. She attributes that on-camera revelation, as well as an explosion of interest in Hamilton's style and shows like Drive to Survive, for her page's rapidly growing follower count. "When he started experimenting with his clothes, nobody else was wearing anything different than a team shirt and sponsor sneakers," she says. "Now you see Zhou with Dior, Prada — you never saw that when Louis started all of this back in 2016."
Drivers are expected to wear their team's merchandise on the track (referred to as "team kits"), but off the track, expressive fashions have become more commonplace. It's not unusual these days to spot trophies and trophy cases designed by luxury labels like Louis Vuitton and Tiffany & Co. Ferrari's creative director, Rocco Iannone, feels that F1's link with luxury fashion is a "natural extension" of the lifestyle brand, and as the racing sport has veered into mass media, its "language and aesthetics" have followed suit.
We can see this beyond the grid with motocore becoming a dominant trend perpetuated by celebrities who wear moto jackets as casual outwear, as on Rosalia's Motomami album cover and in NCT 127's 2 Baddies concept. This is likely a reflection of a fashion industry dead set on reviving every Y2K fad; motocore had a moment in the Napster days. "I remember the Kate Mosses and supermodels of the world in the pit lane in the early aughts, way before this trend was contextualized," says designer June Ambrose, whose recent collaboration with Puma motorsport and Ferrari sold out within hours at Miami's Aventura Mall this month. "I think the acknowledgment of this style as a trend segment is a reflection of the growth of culture around Formula 1 as a sport."
The way F1 approaches publicity has recently been overhauled for the young and extremely online audience, and that population is drawn to stylish personalities. New social-media expectations for drivers and their teams means more posting, and collaborating with big fashion houses is a great way to make the drivers feel more reachable to their fans and to showcase growth in their careers and personal style choices. This means that on a racing track like the ultrachic one in Monaco, even the less sartorially minded drivers are stepping up their fashion game (like Lando Norris in his knitwear).
And for those fans who run and follow F1 fashion accounts, like Sarah Schäfer, a German teenager who curates a popular Instagram page dedicated to LeClerc's style, there's a unique kind of access to these drivers that could only happen in the social-media age. As Schäfer explains it, LeClerc's best friend, Joris Torche, follows her account and sometimes gives her the brand name of an outfit she's attempting to source for a post.
The fan accounts dedicated to the style choices of drivers sometimes follow the WAGs (wives and girlfriends) who have become "It" girl influencers in their own right. Following what the WAGs wear brings fans even closer to their favorite athletes, and because many wear fast-fashion brands like Zara and H&M, their style feels accessible to many. "It's casual, and it's something in this generation as well for the younger adults or older teenagers," says Schäfer. Those WAGs have a tendency to interact with the pages dedicated to their outfits as well, further validating the fan experience.
Beyond the fan accounts, the drivers' own Instagrams have a combined global reach of just over 100 million followers. This means that designer partnerships are simply good business, and in the past year, the trickle-down effect that F1 has had on the fashion industry was magnified: Thom Browne brought Red Bull reserve driver Daniel Ricciardo to the 2023 Met Gala (where he sat next to Olivia Rodrigo and went viral after Anne Hathaway approached him on the red carpet and revealed herself to be a big F1 fan), Italian streetwear label Palm Angels partnered with American F1 team Haas (elevating the casual fashions of less trend-inclined drivers such as Nico Hülkenberg),


Pacsun sold a limited-edition collaboration with F1, and Abercrombie & Fitch released a short-run collection of McLaren racing shirts.
This recent style explosion ultimately comes down to new revenue opportunities bolstered by fans' desire to dress in a way that communicates their love of the sport. There are finally some more affordable ways to dress like a F1 fan — compared to the $80 I spent on a black baseball cap embossed with a tiny Scuderia Ferrari logo at the Miami Grand Prix, those fast-fashion collaborations are a steal. (That is, if sustainability isn't an immediate concern.) For some fans, it's a way to identify your tribe, like wearing an obscure band tee. For others, it's a channel to luxury. And in the most optimistic circumstances, expressing yourself through F1-inspired fashion can promote tolerance, as when Hamilton wore a Burberry kilt at the Istanbul Park circuit in 2021 and announced to the crowd that "anyone can wear what they want."
"He's free. He does not restrict himself," Guar says of Hamilton's style. She hopes to emulate him by taking greater risks in her own wardrobe. If she's drawn to an eccentric item, she now considers whether Hamilton might wear it before purchasing it for herself. "It gives me this confidence boost."
As the sport continues to grow in popularity — and as drivers continue to post to social media, where they can let their individual personalities shine — so too will the connection between fashion and the apex of motorsports. Don't expect the brand deals to slow down: Stylish drivers have a certain appeal, and luxury-fashion houses have recognized their PR potential. And if you're the kind of person who likes to know everyone in the front row, there's never been a better time to get into Formula 1.