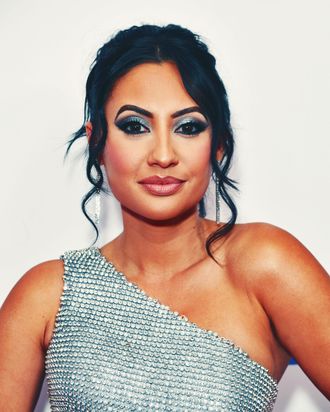 Photo: JC Olivera/Getty Images for National Hispanic Media Coalition
Listen, there's nothing wrong with passionate stanning, but a certain subset of Selena Gomez's has been taking things to truly violent levels lately, directing an astounding amount of vitriol and hate toward women they believe have wronged Gomez despite Gomez's repeated pleas to stop.
Over the past few months, overzealous Gomez stans have reportedly been harassing Hailey Bieber online for "stealing" her husband Justin Bieber from Gomez. Now, it seems some of them have set their sights on Francia Raisa, Gomez's friend and kidney donor, who was rumored to have had a falling-out with her in November after Gomez called Taylor Swift her "only friend in the industry" in a Rolling Stone interview. Raisa commented on an E! News Instagram post that featured the quote, writing, "Interesting," before quickly deleting the comment. She also reportedly unfollowed Gomez on Instagram. While rumors about potential beef between the friends took off, Gomez commented on a TikTok video breaking down the drama, writing, "Sorry I didn't mention every person I know."
Nothing else has since surfaced as evidence of Gomez and Raisa's reported "feud," and in a March episode of the Apple TV+ documentary show Dear…, Gomez called Raisa her "best friend." And yet! That did not stop some of Gomez's followers from reacting to a recent video where Raisa refused to answer a TMZ reporter's questions about her friendship with Gomez. In the video, Raisa was asked repeatedly while walking her dog in L.A. if she plans to refollow Gomez, which she responded to by commenting on the weather, the NBA championships, and the nearby trees.
Naturally, TMZ interpreted this as "serious shade," and in a new video where she crossed paths with the same reporter, she told him, "It's crazy that I'm seeing you again. I'm being bullied like crazy." Raisa said she's been flooded with awful comments online from Gomez's fans, one of whom said they "hope someone goes up your pussy and rips out your other kidney you fucking whore." Excuse me??? "In no way, shape, or form does anyone condone bullying, especially Selena," Raisa added, noting Gomez's mental-health nonprofit and saying that the comments are "messing with me mentally." She said, "She's literally out there saying, 'Please stop,' so I don't understand why it's not stopping — not just for me, but others that are also being antagonized online."