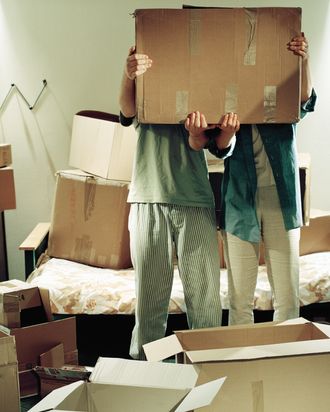 Photo: Colin Hawkins/Getty Images
Mayumi Buxton, 25, and her partner, 24, started dating in 2021. By the time their relationship hit the three-month milestone, they had come to the conclusion that living separately, both in New York City, "wasn't a financial option" and moved in together, sharing a two-bedroom apartment with another couple. But what was dubbed "apocalypsing" during the pandemic — pressing the accelerator down on living together early in the relationship — is today something that the couple can no longer afford in the face of inflation, rising rent, and an impending recession.
Now they are part of a new wave of younger couples who have been priced out of living together, and who have returned home to live with their parents instead. This can manifest in a number of ways, including couples moving into one parent's house or moving individually back with their own respective parents. With the bubble of living together burst for many, young couples are faced with navigating complex family structures, a lack of privacy, and general despair around the rental market. But they are also (somewhat accidentally) enjoying the benefits of intergenerational community: sharing meals, divvying up caring duties, and leaning on each other financially.
A 2022 study found that nearly a third of Americans between the ages of 18 and 25 live at home with their parents or other relatives and consider it a long-term housing solution. Among these are the young couples who know that going 50-50 on an apartment may not be enough to keep them financially afloat. If apocalypsing were encouraged by the uncertainty of pandemic life, the lingering threat of recession is all about hunkering down in your childhood bedroom with the hope of one day returning to living together as partners — alone — something that Buxton is currently working toward.
"Living together after three months was like a crash course on relationships," says Buxton. "But then we got to a point similar to going grocery shopping right now, where you have to ask yourself if you want meat or vegetables. You can't have both." For Buxton and her partner, the bigger toss-up was between having an apartment or a workspace, as her partner works as a designer and was filling their apartment up with stock. The couple currently lives with Buxton's parents and her friend (who also moved in to save money) in a four-bedroom. "Having parents that live nearby is such a massive privilege," she says.
Buxton says her current living situation has resulted in more "hard and open" conversations with both her partner and her friend. "We're working through stuff that if we didn't live together, we might have just avoided, because we have to," she says. This includes going for long walks together to "talk things out." Her partner's presence has also alleviated some of her care responsibilities at home, as Buxton is also a caretaker for her dad. "I think they're better friends than I am," she says.
Lexx Brown-James, a sex therapist based in Pennsylvania, says that considering the current financial state, Gen Z might be not only the "sexless generation" but the "delayed marriage generation." "We already know that millennials wait a long time for marriage, and, with noted recognition of sexlessness, loneliness, anti-polyamory stances, mental-health degradation, and social struggles, we might not see marriages happening as frequently as we have in the past," she says. For couples looking to go the distance, Brown-James says she's seen many move together into their parents' homes versus living separately. "I have seen parents welcoming their adult children back into the home, happy to provide a gentle landing pad as the world has gotten progressively harder to navigate," she adds. (It's worth noting that this is not always the case for queer couples with unaccepting family members.)
Louise Wakeling, a 30-year-old hairdresser in London, and her boyfriend, Jimmy McCarthy, 32, also a hairdresser, decided to move back to their separate parents' homes in September 2022. While they were ready to share a lease of their own, they hadn't yet lived together and didn't want their first time sharing a space to be with parents in the next room. "I decided to move back with the intention of staying a full year at my parents' house with the goal of saving a substantial stack of money," she says. "My partner decided to do the same as his landlord decided to sell. So we did it together." Wakeling says the couple has had to navigate "not having any privacy or your own space in a hectic environment with parents of a different generation," something they've both found challenging. Despite this, Wakeling feels immensely grateful to have a childhood home to go back to, which relieved her of the pressure that comes with paying a huge amount of rent. "It's allowed me to build a calmer routine and budget, so it's highs and lows," she says. Wakeling and her boyfriend often book weekends away in a hotel and have both been saving for the end of the year, when they hope they will be "nearer to moving out."
While couples living with family isn't exactly new, young people are increasingly navigating an unforgiving rental market where they feel powerless. Seventy percent of Gen Z believe that homeownership is out of reach, and their inclination to stay home is a sign of a bigger shift. Joy Ofodu, a content creator and host of the Dating Unsettled podcast who often gives dating advice to her 130,000 Instagram and TikTok followers, says Gen-Zers are feeling increasingly bogged down with anxieties around "making it" in the world and their future finances. "More time networking, pitching, and accounting can mean less time in community, serving, gathering, fellowshipping, or dating," she says. "It sometimes feels like there's not enough time in a day to be a good partner or friend as well as secure a financial future." Ofodu says she's seen friends break up because they wanted to move in but their partner didn't have enough space and they couldn't figure out a way forward.
Todd Baratz, a certified sex therapist and relationship expert, says the emphasis on independence within a hyperindividualist culture has made Gen Z a "lonely generation." "Historically, people were pressured to depend upon others — to get into families, have children, and do the traditional lifestyle," he says. "Now people have been encouraged to find themselves, find a life purpose, get a career, be strong and powerful on their own." With this in mind, younger couples who are deciding to move home may be pushing back against the culture of individualism (though perhaps not even by choice). The downfall of the idea that you can "girlboss" your way to the top may even lead to more Americans choosing to live in multigenerational housing.
You know times are tough when two major modern dating options are living with parents or swearing off partnership altogether. However, the results might mean the resurfacing of more communal structures. "We had lost the idea of the town square, a place where everyone can gather and have recreational activity or deep conversations with strangers or acquaintances," says Ofodu. "Living in spaces that feel too cramped will drive us back outside, which isn't such a bad thing. We need to gather."
Which is easier said than done if you're long-distance, like the couples who have to live far apart in hopes that they can one day live together. For Abigail Watson, who is 26 years old and living in New Zealand, that means waving her boyfriend of two years good-bye as he moves to Australia for work. "We started dating, and then the pandemic happened. I was already renting so we decided to do it together, but then rent was a bit ridiculous so we both moved back to our parents' houses," she says. "Thankfully we both have a great relationship with our parents, but moving home mentally can be a bit more difficult as it feels like a step backwards." Watson and her boyfriend moved to their respective parents' houses but see each other often in their small city.
After Watson's boyfriend received an irresistible job offer from a friend in Melbourne — with a salary triple what he was making — the couple decided it would be impossible to buy a house to live in together without her staying with her parents while he leaves the country to save. "I know it won't be easy at all," she says. "Check in in a month and see if we're still together."