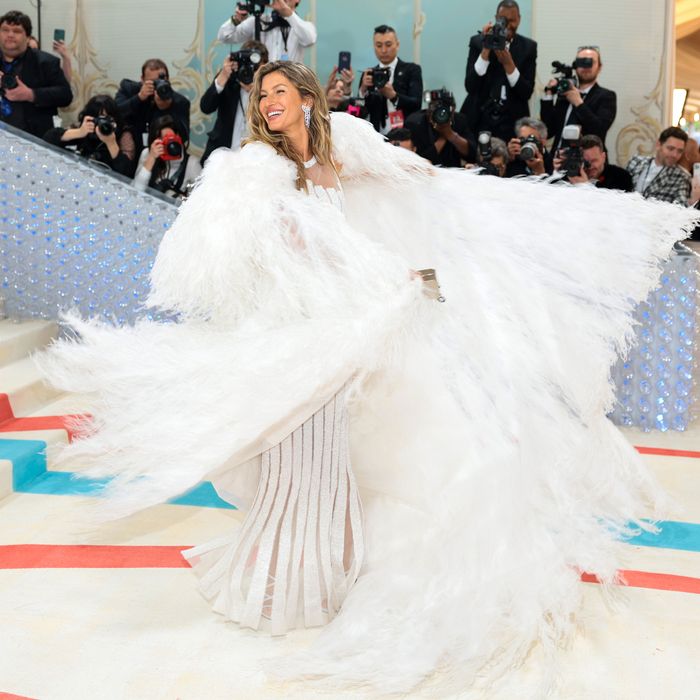 Photo: Dimitrios Kambouris/Getty Images for The Met Museum/
Gisele Bündchen: jujitsu enthusiast, retired Victoria's Secret Angel, and, as of tonight, newly christened Met Gala angel. For the event, Bündchen wore a voluminous feathery cape and stripe-y white gown, which billowed out behind her as she strutted out of the Mark Hotel:
Once on the off-white carpet, she spun around in her enormous cape, spreading her arms like a gorgeous bachelorette swan. The look is from Chanel's spring 2007 Couture collection, and it's not the first time Bündchen has worn it — the same year it debuted on the runway, it was featured on her in a Harper's Bazaar Korea shoot photographed by Karl Lagerfeld himself at Versailles. Bündchen worked with Lagerfeld often and was briefly the face of Chanel No. 5 in 2014.
Want more of the Met Gala? Sign up for The Cut daily newsletter so you don't miss any of our coverage. Newsletter readers will also receive exclusive interviews with attendees and Cut staffers' personal picks for the best — and worst — looks of the night.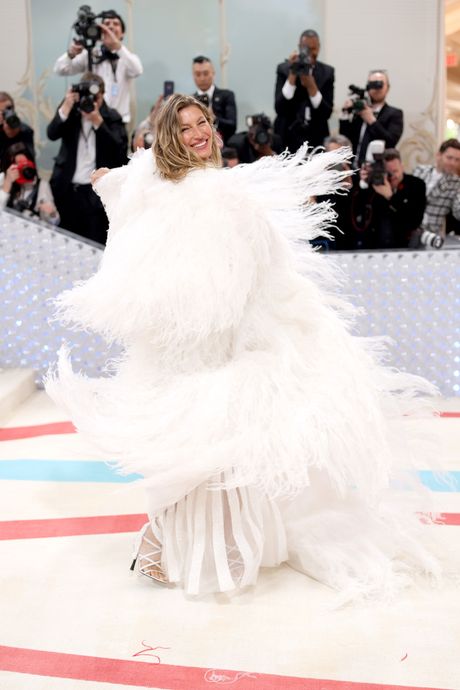 Anyway, back to tonight. Bündchen positively floated onto the red carpet this year; she's attending solo for the first time since 2006 following her divorce from her longtime husband, football player Tom Brady. Throughout their divorce, Bündchen has generally exuded the energy of a thriving, newly unburdened divorcée who can finally move out of Boston, and the Met Gala is no exception. Look at her swishing around. All that jujitsu has clearly paid off.
Peace out, indeed.