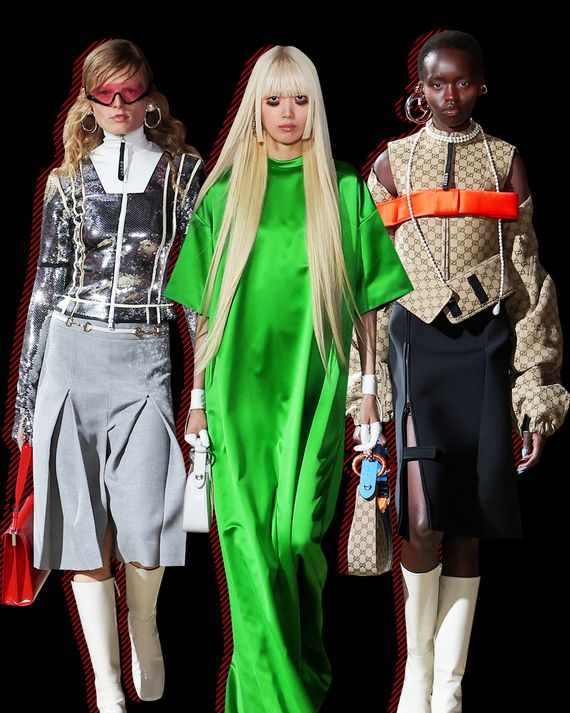 Photo-Illustration: by The Cut; Photos: Gucci
Just over a century ago, the French couturier Paul Poiret arrived in New York to begin a cross-country lecture tour evangelizing his craft, an event so novel that he was met by press photographers and reporters at the dock. In 1948, anticipating America's postwar economic boom — indeed, the boomers — and satisfied that by then Americans had learned to appreciate (and covet) European fashions, Christian Dior opened a boutique on Fifth Avenue. Then, decades later, in 2004, Karl Lagerfeld and Chanel hosted a show in Tokyo, followed by a Fendi extravaganza on the Great Wall. Showing in Paris had long been the goal of designers living outside the West — think of the early-'80s shows that introduced the genius of Rei Kawakubo and Yohji Yamamoto.
More recently, there's been a reversal, with major European luxury brands spending millions to stage shows in Asia. In just the past few months, Dior has gone to Mumbai, and Louis Vuitton transformed a bridge in Seoul into a catwalk. The other night in the South Korean capital, Gucci took over a former royal palace for its 2024 cruise collection, with 60 models parading around the lavishly illuminated courtyard at dusk before about 450 guests.
The reason is largely — but not entirely — to do with business. Koreans are reportedly the world's biggest luxury spenders, and if you didn't know that already, you'd quickly surmise it from a visit to Seoul. There, huge, brutalist-looking stores are wedged into the prime real estate of areas like Gangnam, creating their own buzz and surrounded by bars and cool, low-key restaurants, as well as hip independent stores like Boon the Shop and Gentle Monster. Surrounding the sprawling, gritty crush of office towers and miles of white, low-rise residential buildings are lush green hills and the wide Han River.
One thing that has certainly changed since Lagerfeld's Tokyo show is that designers today are more sensitive to local culture. They can't afford not to be. Gucci, like its competitors in the road-show game, flew in about 200 guests — journalists, influencers, some models, and celebrities, including Dakota Johnson, Elizabeth Olsen, and A$AP Rocky, who performed at an after-party. But the brand also dug into Seoul's widespread cultural influence, inviting the K-pop star Hanni of NewJeans and Squid Game actor Lee Jung-jae, among many others, and including the music of Jung Jae-il and the artwork of Ram Han, most notably with a cat's paw on an oversize T-shirt.
Though these travel shows seem an extravagant waste of resources and energy, they serve an important purpose — to broaden the definition of fashion and style beyond western values. You could say that the process began in the '80s with Kawakubo and Yamamoto and the late Issey Miyake, but it has accelerated with globalization, and we're seeing the biggest shift right now, in real time. For capitalistic reasons, brands like Gucci have to extend their market share, staking their red-and-green striped flag wherever they can (I've never seen a bigger display of double-G canvas, bamboo-handle bags, and loafers than I saw the other night at the cruise show) and shouldering the costs. Perhaps brands work so hard and spend so much because they know the very ground under them — centuries-old assumptions about style and form, what Poiret came to the U.S. to preach about — is shifting, even crumbling. And that cold fact makes this moment so exciting to observe.
The huge Gucci design team put together this collection because the house's new creative director, Sabato De Sarno, doesn't start until later this month. (His first show will be in September in Milan.) The team said in a press note that it sought hybrid looks — Seoul style cut with classic Gucci motifs, streetwear mixed with posh suiting, and so on. They handled that theme deftly, and many of the looks had a nice, underlying grittiness that saved the collection from being too pretty or rich-looking.
Among the more inspiring looks were fitted wool blazers in black and pastel pink worn with longish scuba shorts; super-snug tops that also referenced surf culture; and a gorgeous peony-pink, straight-line satin coat with a flat red bow pressed on a front, a style that evoked a traditional Korean hanbok. And the team showed a couple of bulky gangster coats, one in mildly distressed black leather and the other in a dark-blue or black fabric with a chunky chain belt. I don't know what they were a hybrid of, but they looked unexpected and cool.
What the collection didn't have was a driving mission, a fresh point of view or image for the Italian brand. That will presumably come once De Sarno takes over and gets into stride. That suggests another challenge in this ground-shifting time: how to propose high fashion that really and truly commands attention and feeds desire. People still want that, too.