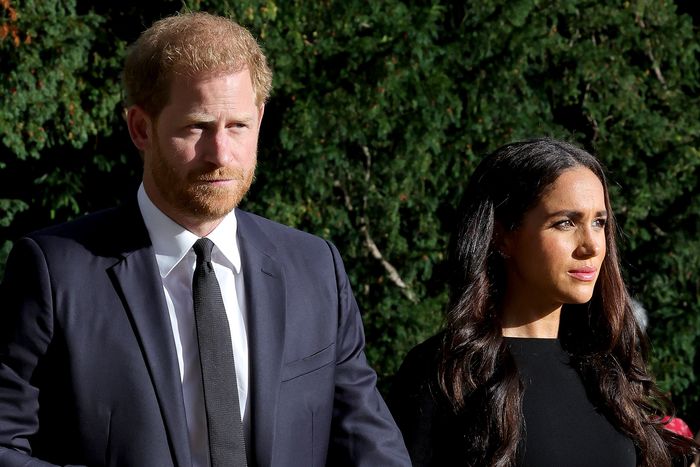 Prince Harry and Meghan Markle.
Photo: Chris Jackson/Getty Images
Prince Harry, Meghan Markle, and Meghan's mother, Doria Ragland, were involved in a "near catastrophic car chase at the hands of a ring of highly aggressive paparazzi" in New York on Tuesday night, a spokesperson for Harry announced in a statement.
Per Reuters, the chase began after the trio left the Ms. Foundation Women of Vision Awards — at which Meghan was honored — in an SUV. According to Harry's spokesperson, the "relentless pursuit" lasted over two hours and "resulted in multiple near collisions" with other drivers, pedestrians, and two NYPD officers. In a statement to the Cut, an NYPD spokesperson confirmed that they "assisted the private security team protecting the Duke and Duchess of Sussex" on Tuesday evening. While noting that there were "numerous photographers that made their transport challenging," the NYPD said there were "no reported collisions, summonses, injuries, or arrests." Meanwhile, Harry's spokesperson urged against dissemination of images from the chase, as sharing them "encourages a highly intrusive practice that is dangerous to all involved."
A member of the couple's security detail, Chris Sanchez, has also spoken out about the incident, telling CNN: "I have never seen, experienced anything like this. What we were dealing with was very chaotic. There were about a dozen vehicles: cars, scooters, and bicycles." Sanchez added that he was concerned not only for the Sussexes, but also for the safety of those who happened to be in the vicinity. "The public were in jeopardy at several points," he said. "It could have been fatal. They" — by which he presumably meant the paparazzi — "were jumping curbs and red lights. At one point they blocked the limousine [carrying Harry and Meghan] and started taking pictures until we were able to get out."
"People were on sidewalks and crossing streets and the [paparazzi] were crossing red lights," Sanchez added. "We did everything by the letter of law."
Addressing the chase in a public safety announcement on Wednesday, NYC mayor Eric Adams called the paparazzi "reckless and irresponsible." While Adams conceded that even a ten-minute chase would be "extremely dangerous," he also said he finds it "hard to believe that there was a two-hour high-speed chase" through New York City.
In the hours after the Sussexes announced the incident, the cab driver who picked them up from the police station also weighed in. Sukhcharn Singh told the Washington Post that a security guard hailed him outside the 19th Precinct on East 67th Street around 11 p.m. He explained that while two cars tailed his cab and took pictures, he didn't feel the situation was unduly risky. "I don't think I would call it a chase," Singh told the Post, noting that his passengers "were quiet and seemed scared." Still, he said, "I never felt like I was in danger. It wasn't like a car chase in a movie." But Singh picked up the Sussexes and Ragland after they'd already exited their SUV and witnessed only part of the timeline. "I think they were being chased the whole day or something," he told the BBC, "but the security guard, he was on it."
The BBC further reports that the photo agency Backgrid USA claimed it received photos and footage of the ride from four photographers, "three of whom were in cars and one of whom was riding a bicycle." In a statement to People, Backgrid said its photographers reported that "there were no near-collisions or near-crashes during this incident." The agency argued that these photographers were doing their jobs, and suggested that if anyone was "driving in a manner that could be perceived as reckless," it was the Sussexes' security detail. Backgrid says it will conduct its own investigation into the incident. Per TMZ, Backgrid also claims the Sussexes' legal team sent a letter demanding the agency "immediately" provide them with "copies of all photos, videos, and/or films" taken by freelance photographers during the alleged chase. Backgrid apparently denied the request, firing back with its own letter. "In America, as I'm sure you know," the agency wrote, "property belongs to the owner of it: Third parties cannot just demand it be given to them, as perhaps Kings can do."
Harry has been outspoken about the dangers of press intrusion, given the fact that his mother, Princess Diana, was killed in a paparazzi car chase. "Being part of this family, in this role, in this job, every single time I see a camera, every single time I hear a click, every single time I see a flash, it takes me straight back," he said in the 2019 documentary "Harry & Meghan: An African Journey." Also on Wednesday, TMZ reported that a 29-year-old man was arrested at the couple's Montecito, California, home for stalking; back in 2020, yet another man was arrested for repeatedly trespassing through the estate. Sources for "Page Six" report that the trio is "extremely upset and shaken" by the car chase.
This post has been updated.