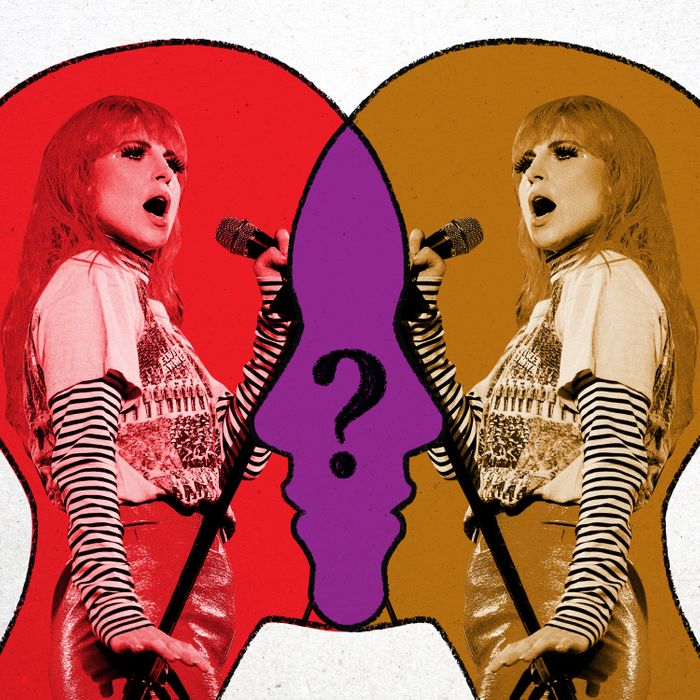 Photo-Illustration: by The Cut; Photo: Zachary Gray
Hayley Williams makes a strong case for staying inside on Paramore's newest album, This Is Why. But starting May 20, she'll be very much outside, embarking on one of Paramore's biggest, showiest tours yet. The Nashville resident is also embracing bigger fashion choices, with eye makeup and outfits that recall the glamorous mod girls of the '60s with the occasional hint of '70s Diana Ross. Her hair plays a big role in crafting her image for this tour, too. "A lot of harkening back to beehives, but a little bit messier, a little bit punker: what I would hope it looked like in real life versus the pictures in the yearbooks that I have of my grandmother," Williams says. "What did they look like at two in the morning when they were going home? I don't have a choice but to feel like that onstage with Paramore because I whip my shit around so much."
It's a new era for the band she has fronted since she was an angsty 15-year-old, following a yearslong hiatus Williams spent mostly in her home city, but since the tourists have taken over some of her favorite spots ("Dino's, RIP, baby. That shit is TikTok-ified. Dozen Bakery, TikTok-ified"), she's very ready to be back onstage. "This tour feels like we got our sea legs the most out of all the tours we've done for this album thus far," she says. "The album started out so shaky, and we kind of had to relearn: How do we write together? How do we move our bodies so that they don't break down on us, because after four years of chilling at home for the first time as adults, it was definitely zero to 60 — or more." This time around, she's breaking all her old rules.
What's your aesthetic vision for the This Is Why tour?
When we started the band, I was very fashion averse. I really did not want to stand out. And I did not want to be at all feminine. I always tried to ride this line that I think in some ways kept me very blended in — other than my hair, obviously. Now I'm working with a friend of mine, Lindsey Hartman, who has been styling me since Petals for Armor.
Who inspired your sense of fashion this time around?
You can always look back at history and see what was happening in fashion as a reflection of what's happening sociopolitically. I researched Jane Asher, who was engaged to Paul McCartney at one point and had her own career. When she wasn't being treated right, or she felt betrayed in that relationship, she did the thing that, very candidly, I did not do in my own life. She walked away from what took her power from her and she got it back. She was also famously a redhead. I was very inspired by her story. There's also Mary Quant, who made famous this silhouette of miniskirts and these mod silhouettes that we think about when we think of that time. That was kind of it for me.
Who are some of your favorite designers?
One of my favorite labels of all time is Courrèges. I love French mod. I've also been wearing a lot of SHUSHU/TONG since the first video shoot and the album shoot. Simkhai has been really cool to me, so I'm really excited to finally wear some of their pieces on this tour because it really suits the production. The silhouettes are very modern and flattering for me because I'm a very small person, so I like my skirts really short and for my legs to look as long as possible. Stella McCartney, always. She never has to stick to one particular thing, but there's always a through-line. I jump around a lot from wanting to feel like a little atomic sex kitten to wanting to look like a hard-core man in the '90s. It's a Gemini thing.
Some others that we're bringing on tour that I'm definitely going to be wearing: Saint Sintra, Batsheva, Anna Sui, Coperni as well. Most of them are women designers, and I love that as well.
How do you keep your personal aesthetic intact while building a vision for the whole band on tour?
We're trying to take the cinematic elements of certain videos and bring that to the stage structure. We referenced Stanley Kubrick and tried to ride the retro-futuristic line. It just feels like a big show, and it's been ten years since we've done an arena tour in the States like this, because we typically like playing smaller places, or playing outside. We wanted to make it look like we took this challenge seriously.
You moved to Nashville as a teenager, and in the years since, the city has ballooned. As someone who didn't grow up in Nashville but now is so synonymous with the city, what's the proper etiquette for people who have moved in more recently? 
Try to get outside the city a little bit and see the amazing places to go kayaking and canoeing, caves and waterfalls. We have beautiful parks. It rains a lot. We're like the London of the South. People come here, and they go to Broadway for like a party, or celebration, or bachelorette thing, or whatever. But we have an amazing DIY community — the punk scene is really growing. It's so community-driven from the inside. Try to find those kinds of places to actually understand where you live versus doing just the touristy stuff.
When we weren't on tour leaving home all the time, it gave us a better chance to connect with what's happening here locally on a political level. Tennessee's been in the news a lot lately. If you're moving here, I would ask you to please, for the love of God, have good social politics. And please vote. Please figure out who represents your districts. Try to get involved because we need good people on the ground here to keep this city community-driven. Get involved and try to make it a great place.
You've been an advocate for abortion rights and LGBTQ+ rights, and Tennessee has unfortunately been a leader in political attempts to control people's bodies. What does it mean to advocate for others, and do you have any personal rules you follow knowing the position you hold as a celebrity? 
If you are paying attention, it's maddening. I try to stay off of social media. I really never watch the news. I have other places I get my news from that I trust and that I feel, like, a little less overwhelmed by. It should be absolutely normal for any of us to want what's good for our neighbor. I'm tired of that being edgy and cool. Whatever I can do to normalize having a healthy respect for all humans and a healthy disrespect for people who don't value every human as an equal, that's the guide, or the gut feeling that I try to follow. What I want for our city is just equity for everybody.
My heart goes out to all the people who are organizing here in town and definitely the Tennessee three. There's still a lot of young people showing up at the courthouse day in and day out trying to get the attention of the policy-makers.
Your style has evolved so much over the course of your career. Can you tell me what your No. 1 fashion rule was earlier in your career, and what it is now?
My earlier fashion rules were to make the worst-dressed list, because more people will talk about Paramore. I had such an averse reaction to anyone wanting to doll me up or treat me differently than the boys. Every aspect of being a young girl in a band full of boys made my skin crawl, so I was as minimal as I could be for Riot!. I got really inspired after going to Japan, so then it was like, "Oh, just be a character." There was no sex or gender to it. It was just, "What colors do I like? Okay, cool. I'll wear all of them at one time." It was always comfort, comfort, comfort, and how do I disappear? How do I minimize myself? All of those things, while having neon hair, which was a total contradiction to the rest of my philosophy at the time.
When did that change?
Around our fourth album, the self-titled album, and definitely during After Laughter, I got introduced to more of what I thought was cool and what I felt comfortable in by someone who at the time was dressing Gwen Stefani, and she was sending me pieces to try out. I wore a lot of latex for our self-titled album. There was a lot of baby powder and lube backstage. So I completely went to the other extreme, like, nothing that I wear is comfortable, but I'm trying to own this place that I have this position that I have in the spotlight, and I'm trying to look really powerful. There was a lot of posturing. After Laughter was a happy medium where I really started to enjoy fashion just as a person. I loved monochromatic looks. This was 2017. I found my way into buying vintage designer clothing that I really enjoyed. That was my window back into finding myself and what I actually love.
What have you learned since then?
There's so much designer clothing I would have really written off as a teenager because it wasn't punk or it wasn't cool. And, actually, when you look at some of the biggest designers in the world, Vivienne Westwood, Marc Jacobs, they're fucking punk as fuck. I don't have to be so anti everything; I can just love what I love. I've discovered a lot of people that I'm wearing now, on tour and in my real life, that I really back — not only as designers, but I feel aligned with their philosophies. I love this adult life of having agency over these choices again.
Lately, you've been showing up more often to fashion shows. Do you have any rules for good etiquette at a fashion show? 
I think the cool thing that feels very natural to me is being able to understand it as an outlet for someone, the same way that my music is, or a video that we make might be a collaboration between me and the guys and the video director. Everything is art. Just have respect for what you're watching and what you're looking at.
What is your No. 1 rule on the tour bus?
It's gotta be clean, man. Gotta be organized. There's gotta be good beverages. There's gotta be incense or essential oils. It's sort of like a summary of how you live at home, but what can you bring to make it feel really comfortable and have your rituals that you do at home but on wheels? I'm gonna bring my dog, Alf, this time, and that's always a sure bet that it's gonna feel really cozy. I bring loads of blankets. You just gotta tell yourself that your home is on wheels.
Do you have any personal rules for etiquette onstage and offstage when you're performing?
Offstage is the real world. Onstage is when there's no rules, and I spit all over everything. My crotch is out half the time because my skirts are too short. It's a space where all of the margins of being a girl kind of disappear. The first time you get that experience of really letting go, and catharsis, it's amazing how the inhibitions go, and there's not really rules, and you're just raw energy.
There's absolutely no reason to have any sort of manners onstage other than … I will say, if I ever spot people fighting at a Paramore show in the crowd, I become like the worst teacher that you've ever had, because I will embarrass you and make you feel like what the fuck are you doing here?
Do you approach performances differently at music festivals versus on tour, and do you see a difference in audience etiquette? 
When we play festivals, my brain always goes to Bonnaroo 2018. It was a really large crowd. I knew that all those people were not big Paramore fans. They were still giving us their attention. I was like, "Okay, well, there's headliners after us. So what can we do to make them feel a part of this?" It happened to be the day that Anthony Bourdain had passed and I was struggling with my own mental health. So I kind of just sat down and was like, "Can we talk for a second?" Recognize the humanness of the thing that you're doing, which is cramming together and sweating on each other, and being expected to have a good time. We probably will never be with this group of people again, so how do we try to be as present as possible in it?
Why is that different at festivals?
I feel that more at festivals because I know that I'm not preaching to the choir. I know there's a lot of people that have never seen Paramore before or they've been on the fence about us. Maybe they've only heard a couple of singles. So how do we give them a snapshot of all of it and still be human together? At our shows, even in the heavy songs or the heavier moments, I always can spot someone in the front few rows that I know, and it kind of feels like an inside joke. A Paramore show is a much more intimate reunion.
Okay, more etiquette questions. What is your No. 1 rule for canceling plans?
Have friends that are empathetic, and you won't ever have to feel guilty about it.
What about your No. 1 rule for splitting the bill with friends?
Oh, I love it. That's why they created Venmo, right? So you can do that? Not for drugs, not for illegal transactions?
What's your No. 1 rule for meeting other famous people?
I wish someone had given me that rule a long time ago. I'm so antisocial. I have to push myself to meet my heroes. I'm finally going to meet SZA at Hangout Fest this weekend, and we've been texting for over a year. I think both of us have social anxiety. So you know, just get over yourself and go say that you love what they do.
What rules do you have around your phone for yourself and for others?
Throw it out the window! I take Safari off my phone a lot. It's just a boundary for me because I know I'm gonna look at the news, I know I'm gonna get caught up looking at stupid dog videos or some shit. I have to be a little bit more in control of my time lately. Put the phone down, look around, go and walk and limit your internet exposure if you can.
Do you have any rules in your home?
I live with my partner who's in the band with me. How do I say this without exploiting our relationship? Past a certain time of day, the phone is not used for the same things as it's used for the rest of the day. I'm trying to unplug. If I absolutely have a deadline, and I can't help it, then I'll have an edible and work while I'm high. The house has to feel like a safe place to really unwind. No bright lights, no cold LED shit. We're not being interrogated in the house. It's dim and cozy. And in the daytime, there's no lights on — ever — but when I get home at the end of the day from work, I want to feel like I'm in a bubble, and nobody can get to me. So however I can do that, whether it's unplugging or binging a TV show or being in the bathtub for three hours. The house is for as little work as possible.
Do you gossip?
Yeah, am I breathing? Of course I gossip! My bubble is really small. I watched this Oprah and Michelle Obama show that was on Netflix, and she talks about her kitchen table being the place where she can let it all out. I've been in public my whole life, and there are times where what I need to say about my own experience is really fucking messy. There's got to be a kitchen table where I trust someone that I can be a bad guy for five minutes and get that energy out of my body and then come back. I do not have a lot of friends outside of people I have grown up with or known very closely for a while, so I really love that comfort and that confidence. Even if we say something shitty that maybe another person might misunderstand, we know each other's hearts.
This interview has been edited and condensed for clarity.