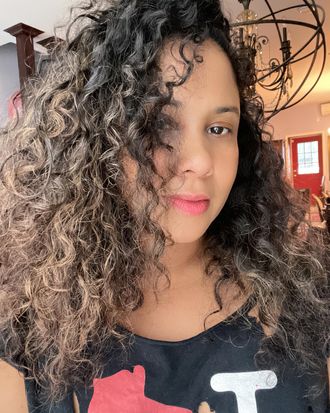 You may know radio personality Angela Yee from spending over a decade hosting Power 105.1's The Breakfast Club morning show, but recently, Yee has spread her wings and parted ways with the show. That new chapter includes hosting her own radio show, Way Up with Angela Yee, as well as other exciting entrepreneurial ventures such as co-owning a Brooklyn-based juice and coffee shop.
Ever since entering this new era, Yee's entire outlook on wellness has changed. She no longer gets only four hours of sleep. Instead, she averages about seven hours per night and has noticed a huge difference in her skin. She has added morning workouts to her daily routine — a promise she made to herself after leaving "The Breakfast Club" and finally getting ownership over her mornings again. She has even recently started therapy and cultivated a strong circle of support and community around her. How does she describe this season of her life? "I just feel light," she told me over the phone.
Yee's intentional-lifestyle habits may have shifted, she still wears makeup daily, but somehow Yee still maintains her skin's health under the glam. She considers herself a "product junkie" and these are the products she keeps in her lineup.
Here's Yee's routine:
She starts her skin care in the shower every morning. She jumps straight to exfoliating her skin with this tea-tree-and-aloe-infused scrub that simultaneously detoxifies and soothes.
Next, she uses Olehenriksen's dark-spot toner to brighten her skin and even out its tone.
One thing Yee swears by? Eye patches. Every morning, she uses Peter Thomas Roth's collagen eye and face patches, so she has the firmest and smoothest skin throughout the day. She keeps them on for the remainder of her routine, so the collagen can really seep into her pores.
For her final step, she uses a shea-butter moisturizer to deeply hydrate her skin and seal nourishment into her complexion, because she often suffers from dryness.
On the weekends, when she doesn't have to worry about wearing a full face of makeup, she'll use an oil. Her current favorite is Le Prunier's lightweight plum oil.
Her other go-to product for non-makeup days is The Lip Bar's highlighting skin serum, because it gives her a subtle glow.
At night, her routine is pretty similar, but she's all about the serums — especially her vitamin-A serum that plumps the skin and softens fine lines for a youthful appearance.
On treatments:
Yee wishes she could get monthly facials. Unfortunately, her schedule doesn't allow for it, but she still makes sure to go at least every three to four months. Apart from facials, she loves getting light chemical peels and microdermabrasion, because they ensure that her pores are as unclogged as possible. Next up on her list to try? Microneedling to treat scars on her skin. Her two spots she frequents for facials and other treatments are the Mandarin Oriental hotel and a Black-owned Brooklyn med spa, Fleur De Lis.
On eating balanced foods:
As someone whose weakness is desserts, Yee has to train her body and mind to intake in moderation. "You can see it all on your skin," she says. She's keen on educating herself on good and bad sugars, especially when it comes to her juice bar. She enjoys vegan food a lot. "I just want people to appreciate vegan food and not feel like they have to be a vegan. I think sometimes people are scared of it, but it can be delicious. I just try to be as balanced as possible."
On what she's learning in this new chapter of life:
When Yee announced she would be leaving "The Breakfast Club" last year, people were shocked and, of course, everyone's questions was what's next. Now, Yee says she's happy with the way her life has been going. She likes being able to take risks, even if things don't work out the way she intended them to. "I've always liked to challenge myself, but what I'm learning right now is that even though things are scary, I'm really good at jumping into it, and I'm proud of myself for that, because sometimes I don't give myself enough credit."
On cultivating her confidence:
As the only woman on a male-dominated show for years, Yee was a voice of reason for women. It's a confidence that she had to grow into, but it was frustrating at times. "I realize I'm not going to fight over every little thing — sometimes you can't change people's minds about things. There are certain things that we just have to agree to disagree on and move forward, and that's all you can do. For me, it's just a matter of knowing that I'm always prepared and that I'm trying to make sure I'm doing the research and feeling comfortable in who I am as a person. I know that if I wasn't on this earth anymore after tomorrow, I'm very comfortable with who I was in my life."