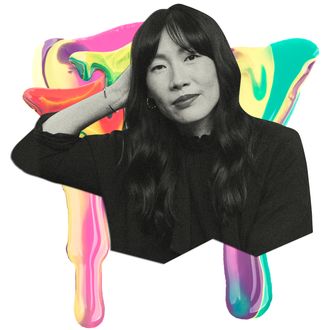 Photo-Illustration: by The Cut; Photo: Jeremy Liebman/Courtesy of Metrograph
Inge de Leeuw first fell in love with cinema as a teenager living in the Netherlands, when her mother took her to the International Film Festival of Rotterdam (IFFR) to see Korean films like A Day a Pig Fell Into the Well by Hong Sang-soo and Address Unknown by Kim Ki-duk. She went on to major in art and cultural studies in college at Erasmus University Rotterdam and earned a masters in film and media studies from Utrecht University. She started working as a volunteer for IFFR while still in university, eventually rising through the ranks to become programmer of English-language titles. During that time, de Leeuw also worked as a freelancer, building her career as a film programmer across Europe. She left IFFR in January 2020 after ten years with the festival and struck out on her own.
A year later, de Leeuw got a Facebook message that changed her life. "I don't use Facebook that much, but my aunt always sends me a message [through the platform] for my birthday, so I was looking at Facebook when I saw a message from my now-colleague," she tells The Cut. That colleague was reaching out to see if de Leeuw would be interested in discussing an open role at the Metrograph Theater in New York City. In January of 2022, her daughter was born, and by fall, their family had moved to the U.S. and she was curating series for Metrograph. Today she's gearing up for Metrograph's summer slate, which includes a series celebrating the work of Karl Lagerfeld and another celebrating "Cantopop Icons" in film. Currently, de Leeuw lives in New York City with her filmmaker husband and one year old daughter. Here's how she gets it done.
On a typical workday:
My mornings and evenings are usually the same: spending time with our daughter and cooking, playing, packing lunch for her, and cleaning. She either goes to daycare or she stays at home, it's a different schedule every day. We work remotely part of the week, but sometimes I go into the office. I always look at the numbers from the day before — how many people went to the theater, which films did well, which films didn't do so well.
In a regular week, I have a lot of meetings, but I try to schedule them in three days. Ideally I have two days to think about and develop ideas for programming, watch films, and research and write. But there's always things happening last minute. For example, we were showing Shrek, and then Mike Myers came to the theater a few weeks earlier with his wife, and said, 'Oh, I would love to do something at the Metrograph.' And we thought we should send him an email to see if he would like to introduce the film, so we did. So that changed the whole week because everyone was really excited that he was coming to introduce the film, and we had media attention…
On an element of her job that might surprise people:
The amount of research that has to be done before you can book a film. Also, how few films are available. In the Netherlands, you have film archives and you're very close to Paris and London, so most films are available. Then I came here and I learned there's a lot of Chinese films from the nineties and 2000s from famous directors that aren't here. The prints are gone.
And the most challenging aspect:
We have a really big program. Each month, we show around 200 films. The most demanding part of the job is to create a new context around each film, because a lot of these films have been shown quite often. It's our job to make every screening special and feel like a new experience. We do that through guests or collaborations with partners. It's not just showing a film and then you're done.
On self doubt:
It's something that I always have. I don't think it's a bad thing, especially when you're a programmer. It's good to look at your work and think, 'What can be better? How can I improve?' It was also quite an adjustment to go from working in the Netherlands to working in the U.S. It took some time to get used to the work mentality. In the Netherlands, people stay in one place of employment for a long time, maybe until they retire. In New York, people are more ambitious and they want to move more quickly. The team I work with, they want to develop themselves professionally, which I think is good. But it's very different. In the Netherlands, people don't really ask for promotions right away. Here, it's constant.
On the moment when she felt like she'd "made it":
One thing that did strike me as quite important was the moment when I was able to say no to other jobs. At one point in my career, I felt I needed to do everything. I was doing different jobs at the same time. And then I thought, 'Oh, maybe I don't need to do everything.'
On winding down at the end of the day:
With a young child, it's a natural transition [between work and home life] because she needs all the attention. And after we put her to bed, I usually do some work — check my emails or watch films. And then I have some quality time with my husband, which is usually watching reality TV. I like Below Deck, which is something my friends in the Netherlands were raving about. We didn't have television in the Netherlands, and then we came here and got Peacock and started watching Below Deck. It's just fascinating.
On the people who help her get it done:
We're very lucky that my husband's cousins live nearby. And I have a couple of good friends that live very close to us and help us out a lot. My husband manages everything around the house — the cooking, the finances. And our daughter is very happy and very easy going. She goes to daycare three days a week, when my husband works on his films. We do it together. So, if I go to work, I'll pick her up from daycare when I go home. Then if we need babysitting, there are his cousins and our friends.
And the team at Metrograph is supportive as well. When I interviewed for the job I was pregnant, and then I started freelancing remotely, had my pregnancy leave, moved to the U.S., and they were supportive throughout.
This interview has been edited and condensed for length and clarity.