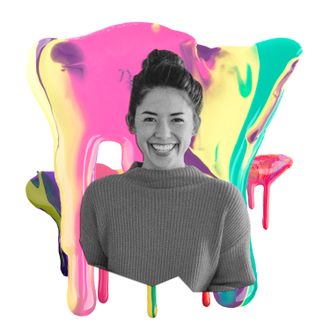 Photo-Illustration: The Cut; Photo: Chantell Quernemoen/Yulia Reznikov
Molly Yeh got serious about food blogging in 2013. She had just moved with her now-husband, Nick Hagen, to his family farm on the Minnesota–North Dakota border, where they grow sugar beets and wheat. While he was working the fields, Yeh would write during the day and moonlight at a local bakery to make ends meet. "When I started developing Betty Crocker recipes for a few hundred bucks, I was like, Oh my gosh," recalls the 33-year-old mom of two. A decade later, Yeh has spun the blog into a string of successes: She's just wrapped filming for the 13th season of her Food Network show, Girl Meets Farm; written an award-winning cookbook celebrating her Chinese Ashkenazi heritage; and opened Bernie's, an all-day restaurant and bakery where she slings hot-dish casserole, smoked whitefish, and cookie bars, this past October. 
Yeh has enjoyed a prolific food career, but she doesn't really believe in setting goals. "At the heart of it all is just wanting to be creative and to spotlight the different cuisines that influence me so strongly," she says. "They're the types of projects I would take on even if I wasn't making a living off of them." Yeh moves between her multiple roles seamlessly, a fact she credits to hard-core planning and setting firm boundaries between work and family life. From her farmhouse bathroom ("I'm hiding from my kids") in East Grand Forks, Yeh explains how she makes it all work.
On her morning routine:
I wake up to Bernie crawling into bed with me around 7 a.m., when the sun comes up. We'll cuddle for a few minutes and then I'll breastfeed Ira before I go downstairs to do weights and yoga. Sometimes Bernie joins me; she really crushes a happy-baby pose. Now that it's warming up, I'm going to start going on walks. Prioritizing something that's at least along the lines of a workout keeps me really balanced. Then I'll have breakfast, which is usually some variation of yogurt, granola, and fruit; toast with nut butter; or a smoothie made from blueberries, kale, almond milk, peanut butter, and maybe hemp seeds.
On a typical workday: 
I always check emails first thing and then it's a mix of sitting behind my computer and cooking. I'll develop recipes for the blog or run over to Bernie's, which is just a few minutes away from home, to check in with the team.
The biggest thing that shifted in my work life after having kids was that my time management and my efficiency had to skyrocket. When they're napping, I'll be like, Okay, I have an hour. I'm going to bang out a batch of blondies. Things definitely move at a slower pace. Working from home a lot of the time, I am able to spend little bits of time with them throughout the day. Every single morning when I'm filming Girl Meets Farm, I sit down in the hair-and-makeup room and the girls toddle over to me. My youngest daughter latches on, and my oldest picks out my lip gloss and "assists" my makeup artist. I always have lunch with one or both of them, and usually with my husband if he's not in the fields. I'll also take breaks throughout the day to feed my daughter and put her down for her naps. If I don't bring my phone into the bedroom while I'm feeding her, that's when I have all the ideas. My mind runs wild when I'm not stuck to a device.
My day ends at 5:30 p.m. unless I'm needed at the restaurant. Sometimes when I get into the kitchen at the end of the day, I have to force myself not to look at a recipe or cook anything even remotely tied to what I'm working on for work. I make sure everyone knows when I'm offline.
On the challenges of opening a restaurant:
It's like having a newborn: I've lost so much sleep over it, and I've had to learn so many new things. For example, I was so excited about putting babka in the bakery, and for the first few weeks, zero people bought babka. I spent so much time developing this granola bar and then we opened and they just sat there behind the bakery case. Everything else sold out, but nobody touched the granola bar. Those really were kill-your-darlings moments. I've dealt with that disappointment many times with blogging, where I'd post a recipe thinking everyone's going to love it and they don't. If I do a blog post and nobody likes it, what am I out? Nothing much. Whereas if we develop a new recipe, we have to reprint the menus and order all the ingredients and train all of the staff on it. But I've learned that you've just got to be light on your toes in this business.
On prioritizing:
It takes about a month to film a season of Girl Meets Farm, and during that time I set up my life as if I'm away. I prepare everything else — things at the restaurant, recipe-development stuff — so that all I focus on during that time are my family and the show. I'm a very, very, very big planner — literally, I plan my planning. Every Friday, I sit down and figure out what recipes I need to work on the next week and when I'm going to be at Bernie's. I always have time carved out to sit behind my computer and do action items. Then I'm just tied to that schedule; I really try to stick to it.
And managing a team:
Before I opened the restaurant, it was only me and a couple of assistants, freelancers, or photographers. Now I lead a huge team and want to make sure they feel taken care of and satisfied in their work. Management has challenged me, but in a positive way. With baking, there's so much logic; if you use this amount of baking soda, your cake is going to rise this much. I'm such a math-and-science brain that when there isn't a very clear answer, I'm like, Uh, what do I do? I waffle between being chill and micromanaging. I'm evolving as a manager and learning alongside my fantastic team, who I'm grateful to have working with me. I've gotten all these management books by Will Guidara and Danny Meyer and I'm getting there. But I just want to be Ted Lasso already.
On taking maternity leave: 
I was all-in on the book The First Forty Days, by Heng Ou. For both kids, I took 40 days to do absolutely nothing and didn't work for three months. I pushed back filming and had my out-of-office email set. I did a lot of preparation — I wrote a ton of blog posts and banked Instagram posts — so I could totally take that time off, which is a huge advantage of working for yourself. I'm very grateful that I was at a point in my career where I could pause. It was a huge priority for me.
On co-parenting: 
My husband and I switch off based on our work schedules. During the busy farming season, which is about to start, he might not come home from the fields until after they're in bed. So I'm more on with the girls then. But then this past winter, when we were getting dinner up and running at Bernie's, he was all in on the girls. It usually works out.
On winding (everyone) down: 
After I finish work, my husband comes in and we have our family time. I cook dinner and then we have a really long bedtime routine: It's playing in the bath, reading 12 books on the potty, and brushing teeth. Ira will feed for 30 minutes. Then we'll all snuggle up, and the girls are usually asleep between 8 p.m. and 9 p.m. For me, all it takes to switch off is putting my phone out of sight. I plug it in on one side of the room and then I watch TV for a bit with Nick. Right now, we're deep in Succession and Mrs. Maisel. Then I go upstairs, wash my face, and read rom-coms in bed until I fall asleep. Right now, I'm into a series called American Royals, which is like if America was a monarchy. It's Gossip Girl meets, I don't know, Bridgerton? Oh man, I feel so exposed right now.
On the people who help her get it done: 
I have an amazing nanny who is with us Monday to Friday during the day. Speaking of my nanny, she did just text me that Ira's getting sleepy, so I'll have to hop off and go feed her in a couple of minutes. We also have grandparents on both sides that are super-hands-on, helping out with the kids. I have an assistant, who is wonderful; an incredible restaurant team; an agent; and a PR group. We have a great village.
This interview has been edited and condensed for length and clarity.