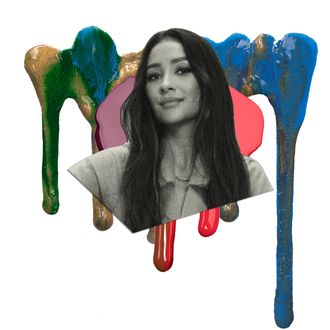 Photo-Illustration: by The Cut; Photo: BEIS
Shay Mitchell knows you're skeptical of celebrity brands, but she's not relying on her household name to build a successful business. Her Béis weekender bags speak for themselves — the company has already surpassed $120 million in profitable gross revenue. The brand was founded in 2018, when the Canadian-born actor and entrepreneur wrapped up her role as Emily Fields on the 2010s touchstone Pretty Little Liars and her former team propositioned her to get into business. "They were like, 'Makeup and skin-care is going to be the next big thing. What do you want to do?'" Mitchell's response: a luggage, bag, and accessories line. "I've had an obsession with bags since my youth, especially since I was fortunate enough to be able to travel so much," she says. At that point, she'd already spent three years doing "Shaycation!" YouTube series that brought fans along as she journeyed through the Ubud Monkey Forest in Bali and the markets of Marrakech. "People started to know me as somebody they could trust when it came to traveling," she says.
From there, it was a matter of identifying a gap in the market. "You either had these superexpensive bags that were chic but not even very functional or these other ones that just screamed, 'I'm very cheap and will break in a couple uses,'" Mitchell says. She started Béis to fill in the blanks. She has also made her mark on the traditionally male-dominated alcohol industry as co-founder and chief brand officer of tequila-seltzer brand Onda, which launched in 2020. She lives in Los Angeles with her boyfriend, Matte Babel, and their two young daughters, and she balances business with her acting career and motherhood. It's a full slate but a labor of love: "It's never something I feel like I want to clock out of," Mitchell says. Here's how she gets it done.
On her morning routine: 
I have a 3-year-old and a 10-month-old — our alarm clock is pretty much our kids. They share a room, but they have very different sleep patterns, so they never wake up at the same time. Atlas will come in at six in the morning and lay with us until Rome starts crying. Then I give Rome a bottle and Atlas cereal and strawberries, which is her go-to. I'm not a breakfast person, so for me, it's usually my coffee-protein shake — an odd concoction of cold brew, ice, two scoops of protein, and a handful of spinach. Some days, I'll start with celery juice or tea and water with lemon. That varies, but all mornings start with music. Today was Bob Marley.
I love working out and look forward to the gym. Since having kids, I've started getting into weights. It's invigorating to lift heavier than before. I'm an Aries — we're very competitive with ourselves and other people. These days, I love doing anything for the bum. On TikTok, I'm seeing all these girls with the little scrunch pants, and I bought a pair for myself and … it didn't do anything. That's how I knew it was still time to build a bum.
On (not having) a typical workday: 
Some days, I'm fully working on Béis, and others, I'm dedicated to Onda. It varies. I wouldn't say I'm always working, but at the same time, it brings me so much joy. I'm grateful to do what I love with people I love. Today, I have a few Béis meetings. We're going over our summer 2024 designs on Zoom. We don't have an office yet, but we're looking for one, which is exciting. Whenever we do meet in person, we usually go over samples or I look at swatches. I'm often deciding on new luggage colors and materials. The other day, we had a 12-hour photoshoot for our new, tenth product category, which launches on May 17. I was talking to one of the girls from my Béis team until 12:30 a.m. the other day, but it's not like either of us is like, "Ugh, time to clock out" or "Can we be done yet?" It's so much fun.
Even on days when I'm not leaving the house and I'm just at home with the kids, I'm a chauffeur, chef, art teacher, and PE trainer. That's what it feels like to be a mom. I just enrolled my daughter in a Frozen dance class, and if I'm not picking her up from school or dropping her off (Matte and I usually swap), I'll take her to dance lessons. It's exciting, because I was such an avid dancer myself growing up. There will be a little performance at the end. I'll just bawl my eyes out the first time I see her perform.
On the moment when she felt she'd "made it" professionally: 
I was in Argentina shooting a show in this random horse lodge. I didn't know anybody was there other than us and the crew, and this girl walks out with a Béis fanny pack on. Someone on my team asked her about it, and she was like, "I love Béis. Are you guys fans?" She didn't know! It had superseded me, which is exciting. I love seeing Béis in the wild.
On her professional ethos:
If I don't understand something, I'll ask questions. I never need to be the smartest person in the room. I just have to be the most passionate and eager. I didn't go to school for marketing, design, or any of that. I still do all of my drawings on paper with a pen. I don't even know how to do that on a laptop or iPad. For me, it's about embracing the fact that I don't necessarily know everything and enjoying that. I once heard, "You want to hire people that are smarter than you," and it's true. My team crushes it, and I get to learn from them every single day. That's the best form of education for me. I've had experiences when I didn't have everything in order, didn't check the material, or the zippers didn't match, and I was like, "I can't put this out there," and we had to delay everything. My problems aren't crazy at the end of the day, but it's still a learning curve. Having kids shows me that making mistakes is really the only way to learn. Atlas makes a mistake closing a bottle and learns: Okay, if I don't put the lid on right, all the water's going to pour out. Now I do it properly.
Criticism is something I take with the same grain of salt as I do compliments. If you take things to heart too much, that's such a roller coaster of emotions to be putting in other people's hands. And I just can't do that. Now listen, if I get a bad review on something or somebody's like, "Hey, this happened in my bag" or "Could you improve this?" — I love that. That's a very different thing. If you're just being negative to be negative, that never has any effect on me, because I know that those people are hurting themselves. I had that experience being in high school. I've been bullied. I've gone through that, and I've had enough therapists to tell me it has nothing to do with me. So at this point, being in my mid-30s, anything just negative to be negative will never affect me. I can promise you that.
On unwinding at the end of the day: 
You're going to think I'm just pitching my own stuff, but I really am not. I always have an Onda. It's my favorite drink, and I don't want to wake up feeling shitty. I don't go crazy during the week. I have one or two and maybe some wine on the weekend. I don't want my kids to see me scrolling on my phone all the time, so I wait until they go to bed, which is around eight o'clock. And that's when I go on and do my social-media stuff. Or if I just want to look at a couple videos or other people's content, I'll go on and do it when the kids are in bed or I'm away from them.
Before I go to bed, I'll have sleep tea or something like that, because it's sometimes difficult for me to turn off my mind.
On the people who help her get it done at work: 
My Béis team. We were five people when we started, and now we're 24. We'll be 40 by the end of this fiscal year. Kayleigh (my right hand, project director, strategist, and assistant) helps me get everything done and reminds me to keep my life in order and stay hydrated. My publicist, my nanny, my content creators. I have amazing videographers and photographers I can count on. Then my glam team! None of us looks like this without them. We're like race cars with a team of experts.
And the ones who help her get it done at home:
My partner, of course. My parents live in Vancouver, but I have family an hour away — a couple of close aunts and cousins I can count on if Matte and I go out of town or something. We also have an incredible nanny. The girls love her. The hardest thing to find is somebody you can entrust with your kids. Once you do, treat them like gold. She's like family now. I feel so fortunate that I have somebody I can leave the kids with and feel good about it.
This interview has been edited and condensed for length and clarity.