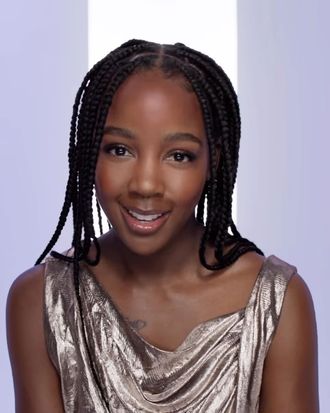 Actress Thuso Mbedu's grandmother was the epitome of beauty when she was growing up. The way her grandmother could walk in a room and have her scent invite everyone to look at her was a skill — some could argue a skill that Mbedu inherited. And it was her bright grin, fearless ability to go on the dance floor with no one else around, and funky style that drew me to her at a recent L.A. event for Dior Beauty's Gris Dior, a fragrance campaign that she stars in. "If there's music, I will dance," she says, laughing.
The actress, 31, started acting in her home country of South Africa in 2014 and rose to fame in 2016 for her performance in a television drama series. It wasn't until 2021 that she made her U.S. acting debut in the miniseries The Underground Railroad, and last year she made her U.S. big-screen debut in The Woman King.
Trying new things has become self-care for Mbedu, but she also has other things high on her list of priorities, like getting ample rest and drinking her water. She doesn't shy away from a nap and drinks jugs of water a day; it's what she genuinely enjoys. "I have to remind myself that I can go to the refrigerator and drink a juice, one that's probably been in there for three weeks," she says, laughing. But her skin looks just fine without drinking anything else, so the water is doing its job. Aside from that, she has a very minimal routine that she turns to daily — a cleanser, serum, and face cream. She believes the basics are all she needs.
Here, Mbedu's routine:
To start, she cleanses her skin with Neostrata's gentle facial cleanser, formulated with PHAs to lightly exfoliate the skin while leaving the complexion replenished and smooth. She slowly cleanses her face before moving onto her next step.
For her one serum of choice, she uses oSea's hyaluronic acid, a snow-mushroom and Japanese miru seaweed–infused serum that is said to provides skin with ultimate hydration and a plump appearance.
Last, she applies Neostrata's moisturizing cream. It soothes and calms irritated skin while removing any dullness (hence why she always looks glow-y and sun-kissed).
On her beauty as a Black woman:
"I think what makes me feel most beautiful is being appreciated and acknowledged and recognized for the color and the shade of my skin. A couple of years ago, I made a decision that brown should be one of my favorite colors because of the different shades that it comes in. With every Black woman that you see, there's just something about their tone that can't be replicated, so when I'm being embraced for looking the way that I look, [I feel most beautiful]. From the malleability of our hair, to our personalities, to how we're able to welcome people and make them feel like they belong."
On loving fragrance:
While her skin-care routine may only be three steps long, Mbedu indulges in other forms of beauty like fragrance because of the memories that it holds. For the longest time, she was scared to experiment with scents she liked because she was so used to associating scents with people that she looked up to, like her grandmother and sister. But now she's developed her own taste; she likes intense fragrances. Her current go-to, Gris Dior, makes her feel badass. "When I wear it, I see myself doing something daring and rising to challenges. I'm a daredevil. I want to try things that people told me I can't. I grow and I learn from that, so why not wear something that makes me feel confident in doing so?"
On when she feels most powerful:
Mbedu feels most powerful when she's conquering new things and when something actively feels like it's bigger than her because she knows that means she's on the other side of her growth. The last big fear she conquered? Going on holiday last year and jumping off a cliff as someone who is afraid of heights. "It was scary, but it was exhilarating. That's the powerful feeling I look for."