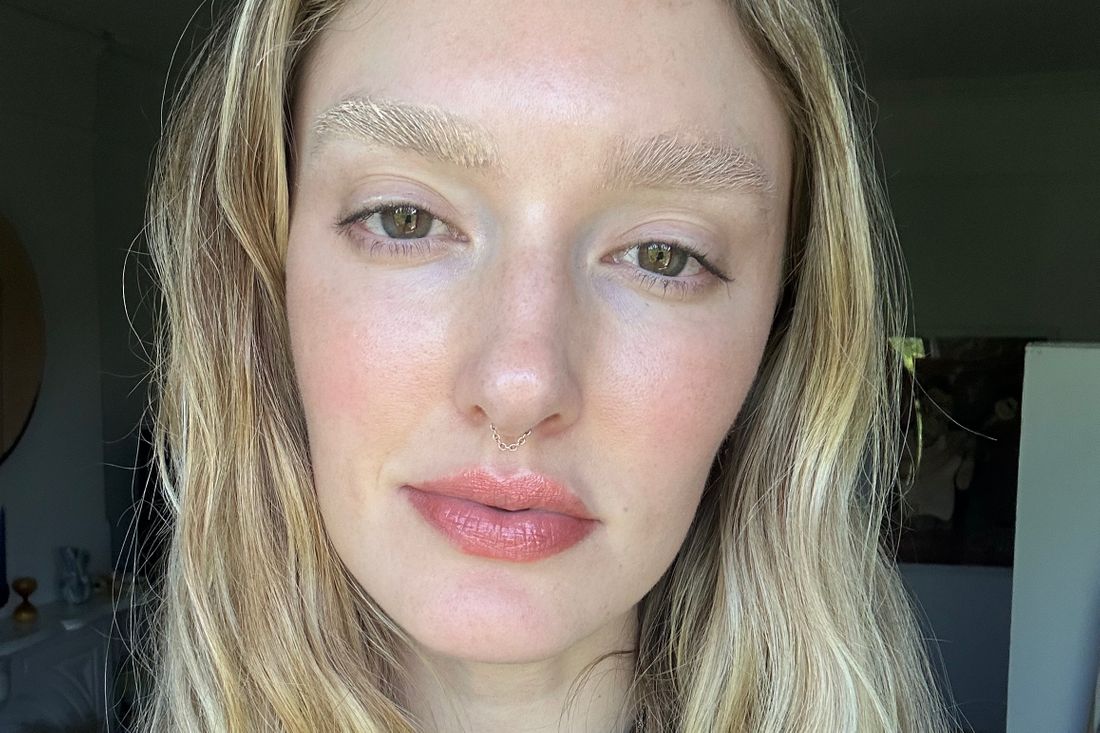 There are a specific handful of beauty choices that convey an almost painful level of cool. A shaved head comes to mind — just look to Oscar winner Lupita Nyong'o, who recently debuted her freshly shorn scalp on Instagram to a flurry of flame emojis. Bleached eyebrows are another. Even if you're a casual fashion fan, you've likely seen a photo or two of models strutting down the runway at Versace, Peter Do, and Valentino, among others, sans brows. Julia Fox, Bella Hadid, Lizzo, and Kendall Jenner have also recently partaken in the bleached brow trend, proving that the fashion set has fully embraced the bare brow aesthetic. So while I cherish my eyebrow birthright in the form of fluffy, dark brows that blessedly grew back after plucking them to death in the early '00s, I've always wondered whether I could pull off the celeb-approved look, or if I'd end up like a sickly alien — and not in a chic way.
"It's definitely something kind of punk and fashion-y," says celebrity brow stylist Joey Healy, who incidentally has also groomed and tinted my brows for the last five years at his NYC salon, Joey Healy Eyebrow Studio. "It kind of makes you look like you're from outer space, and it's not aligned with the classic, western beauty. It's kind of hardcore in the brow world to have a bleached brow."
While I wouldn't necessarily describe myself as hardcore (despite my septum ring and arms riddled with tattoos), I'm always game to try something outside the proverbial beauty box. But bleaching my precious brow hairs almost felt like too much of a gamble — what if they became so damaged they wouldn't grow back? "If possible, we do want to avoid bleaching for the overall health of the hair follicle," says Healy, who has talked me out of going the bleach route at more than one appointment. "Bleach is not particularly great for brow hair just like the hair on our head doesn't particularly love it because it removes the lubrication from the hair and makes it drier."
To that point, I've indulged in a full head of blonde highlights every four months since I was 20 years old, but I'll acquiesce that my head hairs outnumber my brow hairs by a significant margin — if I lose a few, the damage looks fairly minimal by comparison. So what's a gal to do when she wants to play in the cool kids arena but is simply too chicken to actually bleach her brows? To my delight, Healy says you can fake the look with a few key products.
How to fake bleached brows like a pro:
Depending on how far you want to go to make your brows appear lighter (since bleach is, in fact, removing the pigment from your hairs) you have one of two routes according to Healy: A light tinted eyebrow gel or concealer. If your brows are already blonde, you'd do best skipping straight to concealer since you're likely already using the lightest brow gel option, but for those of us with brown, black, or red brows, a lighter gel can help to conceal the hairs ever so slightly for a faux bleached look. Just comb it through your brows like you normally would and your hairs will be lightened and brightened in no time.
I, however, have medium brunette brows and also enjoy the shock of a new beauty look (I once chopped off 18 inches of hair in the corner of my old office, to the dismay of all my coworkers) so I went with Healy's second suggestion of using concealer, which he says can essentially erase your brows for the day.
"The key is to use a spoolie brush, similar to the Joey Healy Duo Brow Brush, and not to use too much product," he says. "Massage it into the brow, comb up, and push in the opposite direction to get to the roots." He iterates that the brows should be coated but not cakey, so using a concealer that is not too thick is important to keep the effect looking as natural (or rather, un-naturally lightened) as possible.
Testing the faux bleached brow look:
Armed with my brow professional's top tips, I set off in search of my own faux bleached effect. Healy suggested Kevyn Aucoin Sensual Skin Enhancer, one of the most celebrated concealers in the beauty world, to fake a bleached brow, and I was also curious to try my favorite NARS Radiant Creamy Concealer. I used shade SX02 for Aucoin and Light 2.5 for NARS, the former being slightly lighter than my natural skin tone and the latter being an exact match.
After cleaning and drying my brows, I scooped about a corn kernel's worth of the Sensual Skin Enhancer (which is slightly thicker and very creamy) onto my right brow with a small flat brush and three doe foot scoops of the Radiant Creamy Concealer (which has a more lightweight feel) onto my left. With a clean spoolie brush from Anastasia Beverly Hills, I brushed upwards on tip. Quite a bit of product smeared onto my skin — I used too much of each — but I took a cotton ball and ran it through each brow, down to the skin, and cleaned up the edges before brushing a few more times. I then blended any remaining product into the skin (the benefit of using a concealer), and added a bit of Revlon SkinLights Prismatic Highlighter in Twilight Gleam under my brows to boost the brightening effect.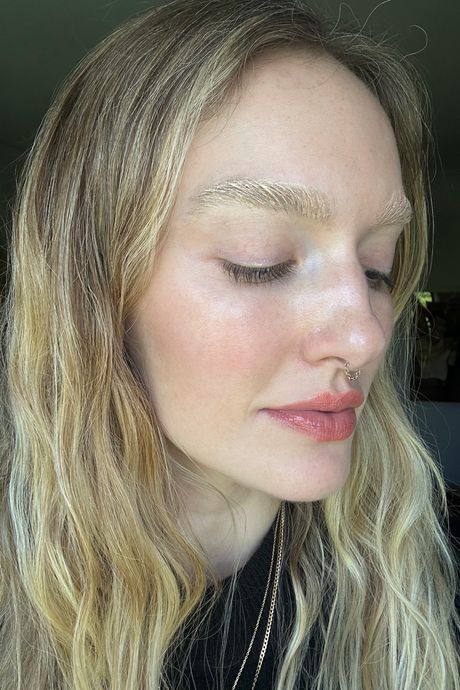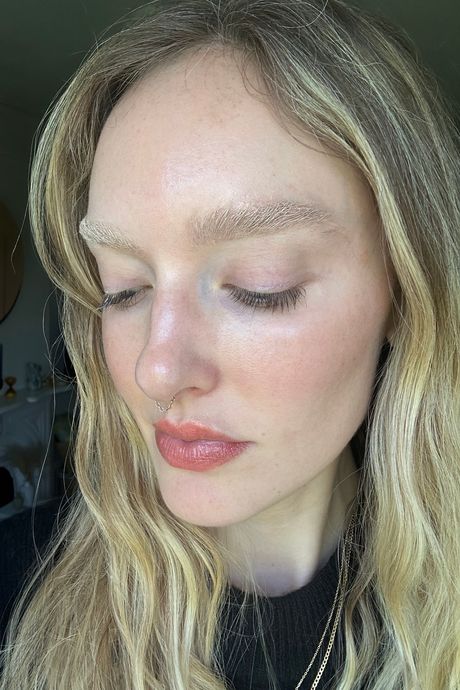 Considering these are both exceptionally good concealers, I wasn't surprised that they covered the brown pigment in my brows, but the overall effect was extremely realistic. The Sensual Skin Enhancer had better coverage but looked slightly clumpier on the brows, while the Radiant Creamy Concealer almost looked like I had shaved my brows — it's that exact of a match to my skin tone. If you got up close to my face, you might have noticed that a few errant clumps of pigment clung to each hair, but from a normal distance, it truly looked like I had gone ahead and bleached my brows. In fact, when I posted a selfie to Instagram, more than a few people demanded to know whether or not I had finally embraced the trend.
In terms of wear time, the products didn't dry down the way concealer does on your face, so if I accidentally scratched or wiped my brows, the pigment smeared off a bit, but even after a few hours the look remained shockingly consistent. Even my deli guy seemed taken aback by my new beauty aesthetic. I haven't gone so far as to wear them to a work event just yet, but now that I know how to fake the bleached brow look, I might be tempted to debut them at a cocktail party within the near future. While I'm still not game to fully commit to the true bleached brow look, you can consider me a covert member of the cool kids club from here on out.
This advertising content was produced in collaboration between Vox Creative and our sponsor, without involvement from Vox Media editorial staff.