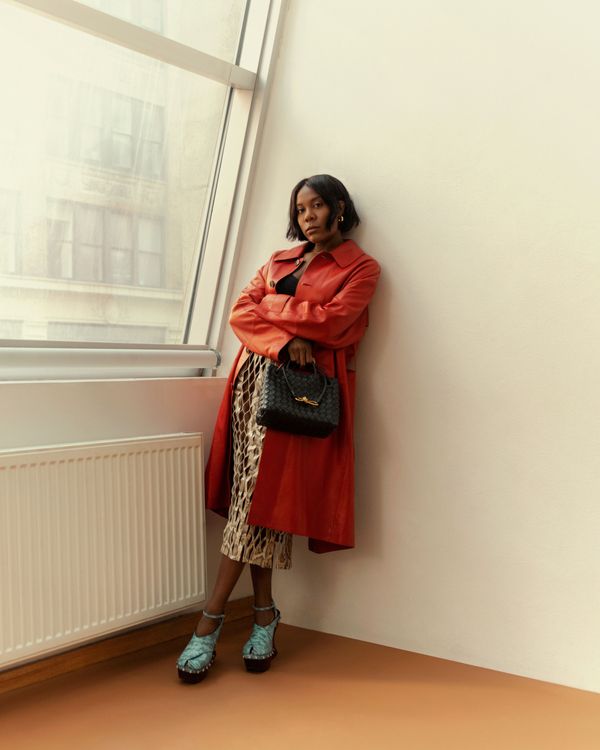 For more of the Cut's favorite fashion, beauty, and home finds, sign up for the weekly Cut Shop Newsletter.
It's officially the season of not knowing what to wear. The weather is unpredictable, but if you can get it right, you can thrive. If you get it wrong, you end up looking like Adam Sandler. Luckily — for us and you — the Cut's fashion director, Jessica Willis, can help. Here in this first installment of "The Jess Edit," a new weekly column focused on styling, Willis discusses the transitional trench.
The three style words that Willis lives and dresses by are: timeless, functional, edgy. In this outfit, she mixes all three by combining textures (a laser-cut skirt), colors (red and blue), and silhouettes (a midi skirt with high-heel pumps.) Let's break down the anatomy of this look.
Start With a Hero Piece: A Transitional Trench
Instead of starting with a typical black leather jacket or classic trench (the world doesn't need more khaki trenches), start with some color. Willis chose this vivid-red lambskin leather trench from Tod's. Her pro tip: "Think of this red as your new neutral and proof that outerwear doesn't have to be boring or plain to match what you already own."
Since this trench is lambskin, think about fabrics.
This soft, buttery leather sets the tone for the look. It's not as heavy as other leather trenches so it's great for this time of year. Add to it by pairing it with softer textures like a classic T-shirt.
The laser-cut texture is a pleasant surprise especially in motion.
Next, layer different textures.
Willis's style veers to the unexpected, so she added a laser-cut snake print. Too bold? You can choose another texture like silk or denim instead. To add even another texture, Willis chose a Bottega Veneta bag featuring their signature intrecciato weaving, which subtly mimics the surfaces of the skirt.
Early and often, build on the unexpected.
These sky-high platform clogs from 16Arlington offer a fun and edgy contrast, part of Willis's signature style. The clogs feature a sculptural heel and crystal accents. Even though they're striking, they complement the coat, proving that this red is as good as any neutral.
When adding pieces, think of complimentary colors.
Willis put red and blue together in this outfit. How do you know what colors complement each other? Look at a color wheel. Blue and red are on the opposite ends of each other, which makes them a match.
Tie it all together with the little details.
With the woven texture, this small bag is far more interesting than your regular everyday bag.
Don't overlook accents. In this outfit, Willis is wearing gold jewelry, which ties in with the gold hardware of the Bottega bag.
Where can I get it?
While the trench from Tod's is a great find, here are five similar trenches (that are just as good) to add to your closet.
In a blush pink, this faux-leather trench features shine and standout wide lapels. It also has a belt at the waist, which gives any look some definition.
Available in sizes XXS to L.
This ankle-grazing trench is available in several colors including this spring-ready yellow. The belt makes it feel dressy for any occasion.
Available in sizes XS to XXL.
This belted trench features an extra-high collar that's as chic as it is practical. Plus the synching at the wrists allows for more options — you can pull the sleeves up and make it look more casual.
Available in sizes XS to XL.
The high-shine trench is available in two shades, but we're partial to this rich brown.
Available in sizes 0 to 14.
A pastel trench with croc details? Sign me up.
Available in sizes 0 to 14.