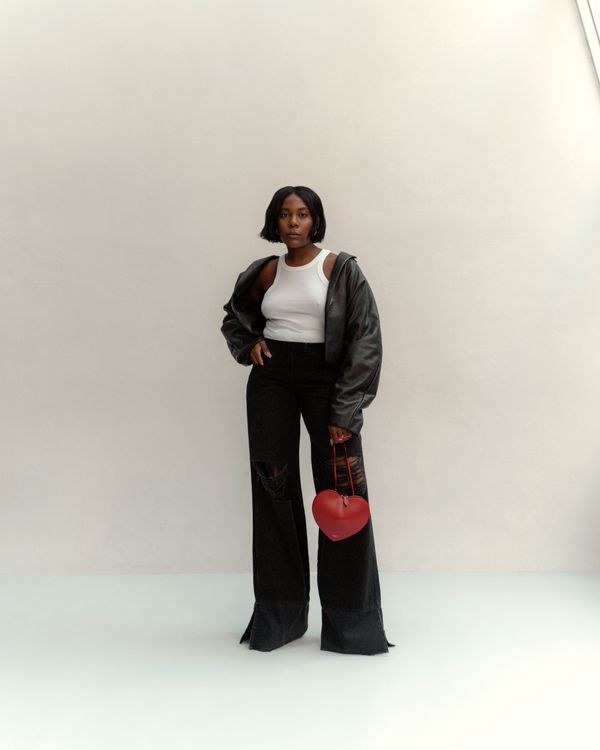 For more of the Cut's favorite fashion, beauty, and home finds, sign up for the weekly Cut Shop Newsletter.
We have a lot of basics in our closet. But life it too short for them to be boring. Plus it's better if we consider these the building blocks of our wardrobe instead. So the Cut's fashion director, Jessica Willis, considers the white tank top worth investing in.
If Willis had to choose three words to describe her style, they would be timeless, functional, and edgy. In this week's installment of "The Jess Edit," she adds an edge to the timeless classic with ripped denim, platform shoes, and Alaïa's eye-catching heart bag. Here, we show the anatomy of this outfit.
Start With a Hero Piece: The White Tank
Willis chose Toteme's tank because of its shape, form, and just the right amount of stretch. "It has the feel and fit of a white tee fresh out of the dryer, slightly shrunken," she explains, "but it keeps its form throughout the day." Sure, this tank is $105 when a five-pack of Hanes tanks will cost you less than $10, but Willis makes the argument for investing in things you use every day instead of splurging on a fancy dress you'll wear to just one wedding, then shove in the back of your closet.
Made of a mix of organic cotton and elastane, the tank doesn't sag or get bent out of shape. Since it's so formfitting, you can skip the bra if you feel so inclined.
A racerback cut is going to be the most flattering
When it comes to finding your perfect white tank top, it's all about the best style. Toteme's tank has a slightly different cut compared to your standard Hanes tank top, but that makes all of the difference. The racerback shape and curved straps help play up the collarbone and add to the appeal of this tank.
Add on denim that highlights what you like
"The classic way of wearing a white tank top is with blue jeans," Willis says, "but I did it a little bit differently and paired it with high-waisted black jeans." Pro tip: Play with proportions. "I like my long legs, and high-waisted pants make your legs look longer," she says. Extend that length with a pair of platforms — Willis added shoes from 16Arlington.
Figure out what works for you. If you have a smaller waist and fuller hips and thighs, Willis suggests high-waisted denim to help accentuate your shape and avoid the annoying gap at your waist.
Incorporate some contrasting texture with an easy and transitional leather jacket. Willis's cropped leather jacket helps accentuate the waist.
Keep your accessories playful
Go against your instincts to keep this casual. "If I have a casual look, I love to add a fun bag (like an evening or party bag) just to give life to the look," she says. Her bag of choice is Alaïa's luxe leather heart bag in cherry red. You don't have to treat your bags like they're precious — use your ribbed tank as a simple backdrop to accentuate your fun accessories. In turn, you'll end up bringing more attention to the bag. "Not everything has to match," Willis says. "That's the fun part."
Get the Look
Sure, you have tank tops but none quite like these. Here are seven more ribbed tanks to dress up.
Orseund Iris's snug tank doesn't require a bra. With its exaggerated racerback shape, it can be worn inside out or backward.
Available in sizes XXS to XXL.
This one has extra-thick straps, should you decide to wear a bra, and lots of five-star reviews.
Available in sizes S to XL.
Stretchy, soft, and slightly sheer, Ref's tank shows plenty of skin.
Available in sizes XS to XL.
Luxe and stretchy, this tank with thicker straps has a similar fabric composition as Toteme's.
Available in sizes XXS to 2XL.
Here's a cropped option for pairing with high-waisted denim or low-rise pants — if you dare. The scoop neck shows off plenty of collarbone.
Available in sizes XS to XL.
With superthin straps, this stretchy tank has a flattering high neck that puts all the attention on your shoulders.
Available in sizes S to 5XL.
Then, of course, there's the classic. Preshrunk, extra-soft, moisture-wicking, and enough tops in a pack to last you all summer.
Available in men's sizes S to 3XL.