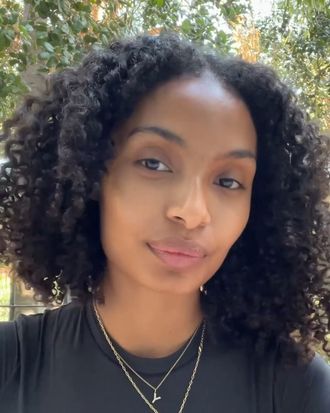 Photo: Yara Shahidi/Instagram
We've been watching Yara Shahidi on the big screen since she was 6 years old. Now, at 23, after being in the limelight for nearly two decades, the Black-ish actress admits something you probably didn't know about her: "If I am being so honest, I fall asleep when I am getting my hair and makeup done on set. I'm sure there are plenty of tips and tricks I've missed while sleeping in the chair," she says, laughing.
While she might not have picked up an arsenal of pro tips and tricks, she has become a beauty icon in her own right. She's also a Dior Beauty ambassador, a role she announced in 2021, and often stuns in the brand's campaigns alongside stars such as Natalie Portman. Shahidi graduated from Harvard last year and most recently starred as Tinker Bell in Disney's new live-action Peter Pan & Wendy movie.
But as for her perfect curls? The actress credits Aunt Jackie's Curl La La Defining Curl Custard as one of the key products in her hair-care routine, and she prides herself in always having poppin' curls. But her hair routine is just half of it.
A few years ago, Shahidi would lather about ten serums on her skin after cleansing. But lately she's realizing less is more (welcome to adulthood, Yara!). Does she still have quite a few steps in her routine? Absolutely. But to her, this routine is minimal.
Here, Shahidi's routine:
She starts every morning by cleansing her skin with Dr. Barbara Sturm's foaming cleanser for darker skin tones, which is blended with salicylic acid to unclog pores and prep the skin for other products to follow.
Her lengthy serum routine has been condensed to two products: a hyaluronic acid and a vitamin C. First up is her hyaluronic serum, Dior's Capture Totale Le Sérum, which she loves for the added hydration that gives her skin a dewy glow.
Next is her go-to vitamin C, BeautyStat's Universal C Skin Refiner, a highly potent blend with 20 percent vitamin C. It helps fade dark spots and brighten her skin.
She seals her serums in with Dior's Prestige La Crème moisturizer. Is it an investment? Absolutely. But for Shahidi, it's one that's worth it because it's so intensely rich. Literally rich — it's $430. She likes to layer on so much that you can see it sitting on her skin, and instead of rubbing it in until it disappears, she just lets it slowly soak in.
One step she is committed to never forgetting is applying sunscreen. "I've finally been using sunscreen consistently," she says. She's been reaching for Black Girl Sunscreen — a rich lotion formulated specifically for melanin-rich skin tones — which gives her a glowy finish.
Every now and then, she likes to give herself a facial massage. Sometimes she just uses her knuckles, but other times she uses a gua sha, specifically one that's stainless steel. Not only do stainless-steel gua shas have a cooling effect, but they also don't hold bacteria the way other gua sha tools do.
Shahidi's final step of her routine has nothing to do with skin, but it's just as important to her: Dior's cult-favorite lip oil. For her, it's nourishing and glossy, the perfect finish to a no-makeup look.
On dealing with breakouts:
Breakouts aren't foreign to Shahidi, so at all times she carries benzoyl peroxide, a gel used to treat acne and reduce bacteria on the skin, which a professional normally prescribes. But dealing with the breakouts isn't always as easy as applying her gel; it's an emotional moment for her: "I deal with a lot of anxiety when I have breakouts, bad skin moments, and eczema flare-ups. I've had to learn how to give myself grace. I often deal with the anxiety of the skin but also the shame around how silly it sounds out of all the things I should be concerned about."
On the evolution of her relationship with beauty:
Being onscreen since she was a child, Shahidi's approach to makeup was different than most people's. It was something she was introduced to early on in life and had no choice but to wear it. "When I was younger, I had the stress of having to wear makeup. I was 13 and on a show where I was wearing a full face of makeup. At that moment was a moment where I didn't think of it as self-expression but more so this mandatory thing to feel I was ready or prepared for the day," Shahidi says. But as she gets older, it's no longer a crutch or something that's mandatory. Instead, she has shifted her perspective and thinks of makeup as a form of self-expression: "I've intentionally tried to reframe my idea of makeup so that I feel comfortable in my own skin. Now when I am putting makeup on, it feels like a choice and an extension of who I want to be that day versus this thing I have to do to cover up."
On wellness:
As she enters her mid-20s, Shahidi is approaching wellness from the inside out. While she loves lathering on her moisturizers and doing facial massages, her priorities are shifting. Skin care is still one of her top priorities, but wellness is starting to take the lead in her life. "I am realizing the importance of holistic wellness, like paying attention to the vitamin-D levels in my body and taking iron supplements daily," she says.